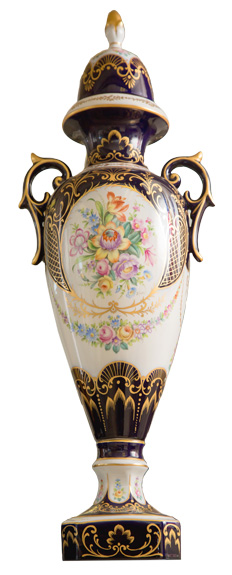 World Organization of China Painters Museum
Oklahoma City
Founded: 1989
The late Pauline Salyer began painting porcelain in the '40s as a hobby, and she found that she had a knack for the artistry. She began teaching the craft, and in 1967, she published the first issue of The China Painter, a publication that still exists as a quarterly. She had a vision for a headquarters and museum that would pay homage to porcelain painting, and after buying a plot of land in Oklahoma, her vision came to fruition. Today, the museum houses china from all over the nation, as well as from countries including Paraguay and Australia.
Mary Early, director of operations at the museum, says that the collection has come largely from donations. One of the most impressive pieces of the collection is an Alfredo Toledano-painted 36-inch vase that has scrolling gold and European-style flowers. There is a place setting of china depicting the state's wildflowers that is used at the governor's mansion. An antique fish platter belonging to the late Mrs. O'Mealey of O'Mealey's Cafeteria fame is also on display.