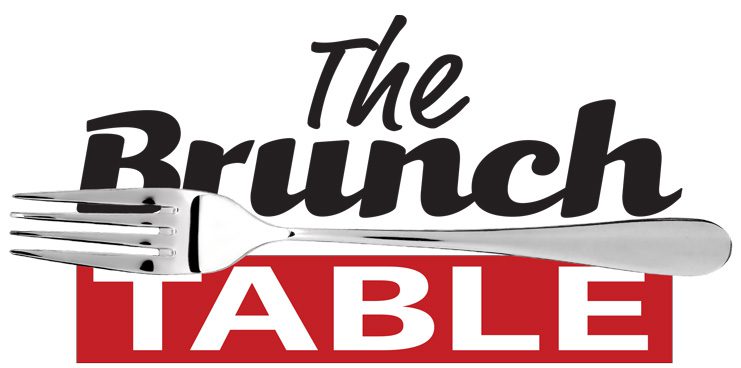 It used to be that brunch was something that only occurred on Easter and Mother's Day. But over the last several years, the late morning meal has been heightened to the status of cool. Now young and old spend weekend mornings and afternoons sipping coffee, eating eggs and reading, chatting with friends or simply enjoying the feel of a lazy day.
Oklahoma is full of places to get a terrific brunch experience. Though the state's two largest cities are where brunch is most plentiful, many restaurants in large towns or small cities also offer the experience of kicking back with a good meal and great friends.
Legend:
: Bloody Mary Bar

: Vegetarian Options

: Outdoor Seating

: Seasonal Menu
Lucky's Restaurant
Brunch at Lucky's Restaurant in Tulsa is an institution. Hungry diners begin lining up at 11 a.m. to get a much-coveted table. Once inside, the coffee and mimosas flow freely. Large storefront windows allow natural light to stream in as diners enjoy the classics featured on Lucky's brunch menu – including huevos rancheros, French toast and omelets. Lunch options are also available on Sundays for those looking for midday delights.
Standout Dish: Chicken-fried steak and eggs, cooked to perfection and smothered in gravy.
1536 E. 15th St., Tulsa
www.luckysrestauranttulsa.com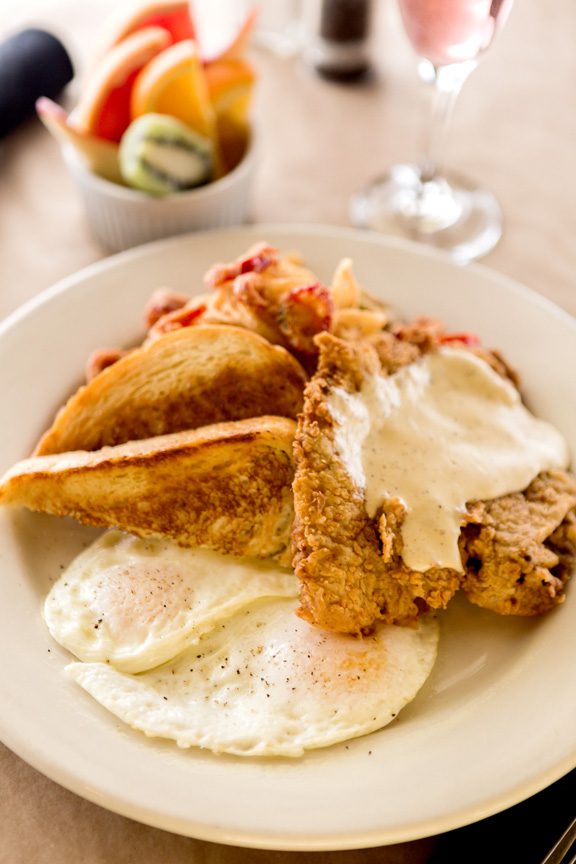 ---
Café 501
Café 501 created a loyal following with its standout pastries and homemade soups and sandwiches. A few years ago, the Edmond establishment opened a second location in Oklahoma City's trendy Classen Curve shopping center. Now there are two places to quell the desire for brunch specialties like pancakes, fruit and yogurt and eggs Benedict. The sleek lines and large patio at the Classen Curve location make it a popular hangout during al fresco dining season.
Standout dish: Huevos rancheros are cooked to perfection and served alongise tomatoes and a rich, hearty red chile sauce.
501 S. Boulevard, Edmond; 5825 NW Grand Blvd., Oklahoma City
www.cafe501.com
---
Café Do Brasil
A popular Oklahoma City restaurant that pays homage to the cuisine of the largest country in South America, Cafe Do Brasil provides diners with delicious food in an environment that exudes Latin flair. Dishes are prepared traditionally with flavors that are rich, earthy and spicy. Dinner is always a treat at Cafe Do Brasil, but brunch is a special treat – it's tough to beat a large plate of ovos rancheros served with a spicy Bloody Mary.
Standout dish: Ovos rancheros are prepared expertly, with eggs, potatoes, beans and a rich, savory red sauce.
440 NW 11th St., Oklahoma City
www.cafedobrazilokc.com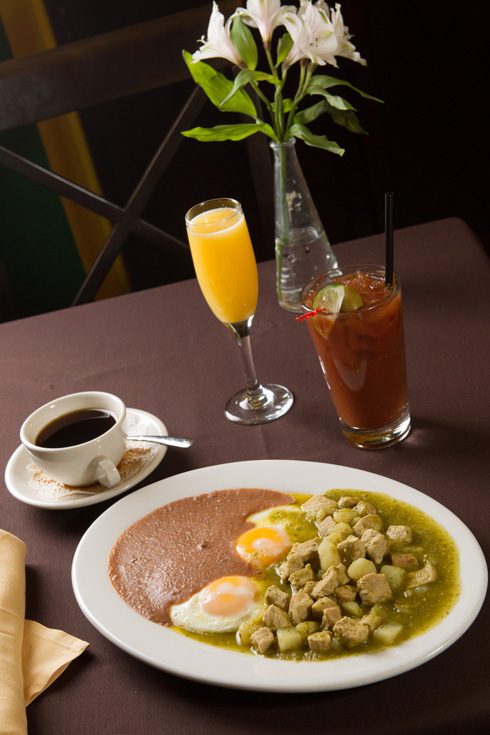 ---
Chalkboard Restaurant
Brunch is a weekend affair at the Chalkboard. Diners can enjoy the restaurant's brunch novelties both Saturdays and Sundays at this restaurant located inside the Ambassador Hotel. A mix of breakfast and lunch dishes, the menu offers something for everyone, from the meat-and-potatoes eater – try the grilled pork chop served with hazelnut apple sauce on a bed of potato puree – to the brunch fanatic – The Chalkboard Breakfast, which includes a choice of bacon, sausage or steak served with eggs, hash browns and toast.
Standout Dish: Eggs Benedict are served classically and are a timeless favorite at the Chalkboard.
1324 Main St., Tulsa
www.chalkboardtulsa.com
---
Cheever's Café
The café's Southwest inspirations are clearly seen in the brunch menu. For years, Cheever's has served as an anchor for development along 23rd Street and has cranked out beautiful dishes that are as delicious as they are accessible, and brunch is treated no differently. Buffalo gravy is used to smother freshly baked cheddar biscuits, and the Green Chile Pork Stack is a revved-up version of traditional huevos rancheros. For those looking for something a little bit lighter, Cheever's also offers small plates that are great for sharing.
Standout dish: Giddy up for the Cowgirl Benedict, a dish of skillet potatoes, chicken fried steak and a fried egg covered in red chile hollandaise and topped with avocado.
2409 S. Hudson Ave., Oklahoma City
www.cheeverscafe.com
---
Chimera Café
Chimera easily lives up to the dual-part essence of the Greek mythological creature its name and logo conjures. This downtown Tulsa café is extremely versatile in appearance, drink selection and menu options. A large community dining table top, made from white oak, sits on two vertical steel beams, acting as the space's centerpiece and strangers' meeting place. An exposed brick wall forms the backdrop of Chimera's full bar, coffee and tea selections. A cozy gathering place for brunch, as well as lunch and dinner, Chimera caters to carnivores, vegetarians and vegans. During Sunday brunch, the smell of freshly brewed coffee mixes in the air with the sounds of the Tulsa Vinyl Society.
Standout Dish: Cinderella's Big Score features egg, wilted arugula, tomato, feta and chipotle crema wrapped in a tortilla for an otherworldly breakfast taco experience.
212 N. Main St., Tulsa
www.chimeracafe.com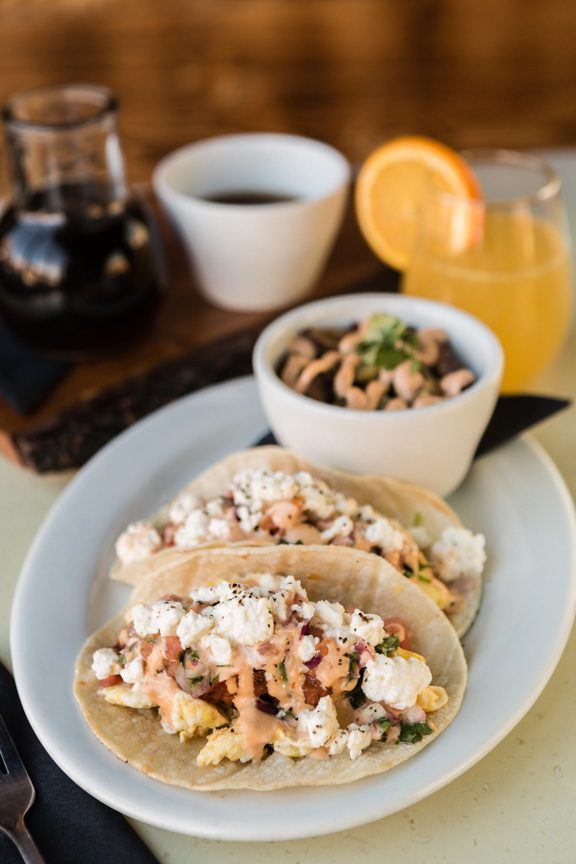 ---
Doc's Wine & Food
It's a piece of the French Quarter dropped in the middle of Brookside, and Doc's delivers powerful flavors with a distinctly Cajun twist. Fresh seafood is the highlight, whether it's served on ice, like oysters on the half shell, or cooked into other dishes, like oysters and eggs or the Creole scramble. If it's a hangover that ails, Doc's has a full bar ready to deliver the hair of the dog. A modestly sized dining room drives many to Doc's well-appointed patio.
Standout Dish: Shrimp and grits covered in Creole barbecue sauce are heavenly any time of day, but especially served at Sunday brunch.
3509 S. Peoria Ave., Tulsa
www.docswineandfood.com
---
Museum Café
Browsing the galleries of a world-class art museum most definitely calls for brunch afterward. It's a good thing that the Museum Café at the Oklahoma City Museum of Art offers museum-quality food to hungry patrons. The varieties of Benedicts are numerous and are offered traditionally or with spinach, salmon or steak. A beautiful patio complements any dish, as does a sunny, crisp Oklahoma day.
Standout Dish: Baked Bread Pudding French Toast is decadence in food-form.
415 Couch Dr., Oklahoma City
www.okcmoa.com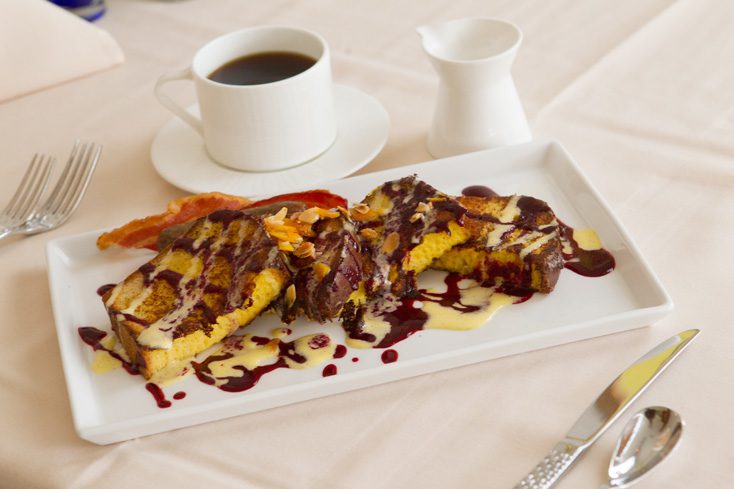 ---
Palace Café
Located on Cherry Street in Tulsa, Palace Café has been a mainstay for brunch-goers for years. With an ever-changing menu that offers the best of what's in season, the restaurant is a great stop for everything from creative brunch dishes to pastries and coffee. A traditional lunch menu, featuring salads, sandwiches and soup, is also offered alongside the brunch menu.
Standout Dish: Dales Famous Migas, chock-full of eggs from nearby Fisher Farms, jalapenos and onions served with home fries and black beans.
1301 E. 15th St., Tulsa
www.palacetulsa.com
---
Packard's New American Kitchen
Brunch is easy and fun at a restaurant that's in the heart of Oklahoma City. At Packard's the drinks flow and the eggs go on Sunday mornings and afternoons, when Oklahoma City's residents emerge for a few hours of Sunday Fun Day. Fun is prevalent at Packard's, where dishes and cocktails are as playful as they are delicious. Bacon, egg and cheddar biscuits are smeared with jam, and duck confit is transformed into hash. Packard's colorful rooftop deck is currently closed for the season, but warmer weather finds patrons basking in the sunny space – usually with mimosa in hand.
Standout dish: The Crunch Berry French Toast utilizes the nostalgia of that childhood classic along with more sophisticated touches, like whipped mascarpone and fresh fruit.
201 NW 10th St., Oklahoma City
www.packardsokc.com
---
Pearl's Oyster Bar
It's a champagne brunch that awaits at Pearl's. The famed Oklahoma City restaurant finds every excuse to infuse Cajun flair into its brunch offerings, and the results are both luscious and delicious. Light, fluffy eggs envelop shrimp and crawfish in a decadent omelet, while other dishes, like the Cajun Eggs Benedict, topped with a Cajun crawfish sauce, showcase the restaurant's signature Louisiana-style cuisine.
Standout dish: Pearl's Crabcake Monique features succulent crab cakes topped with perfectly poached eggs and hollandaise sauce.
5641 N. Classen Blvd., Oklahoma City
www.funfresh.com
---
Picasso Café
The café in the Paseo District is best known for its large number of vegetarian and vegan options, and that trend carries over from the lunch and dinner menus into Sunday brunch. Several dishes are available in vegetarian and vegan forms, including eggs Benedict and huevos rancheros. A large cocktail menu offers diners a special treat with brunch, with everything from Bloody Marys to housemade Ginger Ale, made with ginger liqueur, lemon-lime soda and a splash of Coca-Cola.
Standout dish: For meat lovers, the House Cured Pork Belly BLT is an epic upgrade to an old favorite.
3009 Paseo St., Oklahoma City
www.picassoonpaseo.com
---
Polo Grill
One of the most awarded restaurants in Oklahoma, Polo Grill is known for cooking perfect steaks and chops. But on Sundays, the big meat is put away for more delicate fare: Think buttermilk pancakes, frittatas and rich breakfast enchiladas. The menu is quite different from its weekday counterpart, but the service and luxury expected of Polo Grill remains. Brunch cocktails include the traditional Bloody Mary, Mimosa, Kir Royale and a creation called Irish Breakfast: Butter Schnapps, Jameson Irish Whiskey and orange juice.
Standout Dish: Buttermilk pancakes, fluffy and delectable, served with a side of applewood-smoked bacon.
2038 Utica Square, Tulsa
www.pologrill.com
---
SMOKE. On Cherry Street
Smoke is in the food, and it's also what some patrons do at this cigar bar and upscale dining establishment. For brunch, smoke is found in the house-smoked bacon, grilled flatbreads and grilled steaks. Meals are formidable at SMOKE, as are the drinks: The restaurant delivers a powerful one-two punch with its Bloody Mary bar and Manmosas.
Standout Dish: The classic corned beef hash is ratcheted up with house-made corned beef cooked with potatoes and vegetables and topped with cooked-to-order eggs.
1542 E. 15th St., Tulsa.
www.smoketulsa.com
---
Stella Modern Italian Cuisine
Well known for authentic Italian dishes with upscale twists, Stella extends that vibe into Sunday brunch. Eggs with polenta, Italian scrambles featuring peperonata and roasted potatoes and breakfast pizzas all offer Stella's signature swagger. Prosecco mimosas complement any menu choice.The eclectic and elegant décor makes Stella a place brunch-goers can see and be seen.
Standout dish: A brick oven pizza topped with bacon, scrambled egg, roasted red pepper and mozzarella serves a bite of Italian morning.
1201 N. Walker Ave., Oklahoma City
www.stella-okc.com
---
Stonehorse Café & Market
Brunch doesn't always mean eggs and champagne on a Sunday; at Stonehorse Café & Market, the eggs and champagne are served Tuesday through Saturday at lunchtime. The Utica Square eatery offers a true brunch – a menu that includes egg dishes such as quiche, omelets and fruit-and-granola parfaits along with lunch standards like salads, soups, salmon and pasta dishes. Of course, champagne goes with anything – so order with abandon.
Standout dish: The deep-dish quiche is complemented by a simple green salad and fried potatoes.
1748 Utica Square, Tulsa
www.stonehorsecafe.com
---
Tavern on Brady
The Tavern's cool vibe imbues its brunch menu, inspiring everything from traditional eggs-and-toast plates to the daily grilled cheese. Salads are also plentiful for brunch at this Brady Arts hotspot. The Tavern features a wide variety of brunch drink classics to diners, including Bloody Marys, Red Brews and crafted cocktails like the Moon Walk – fresh grapefruit juice, Grand Marnier and rose water. Come early and with an empty stomach to enjoy the bounties in the Brady.
Standout dish: A Dutch Baby filled with bacon and cheddar cheese and topped with maple syrup is an impressive, filling meal.
201 N. Main St., Tulsa
www.taverntulsa.com
---
Waterfront Grill
Dining on the water is a luxury that not many restaurants in Tulsa can offer. Luckily, Waterfront Grill delivers just what it promises. The swanky restaurant offers a diverse brunch menu, including a create-your-own-omelet option, biscuits and gravy and all things sweet from the griddle, including pancakes and Belgian waffles. Enjoy brunch inside the luxuriously appointed restaurant, or outside on the banks of the Arkansas River.
Standout Dish: Chicken and Waffles features a waffle studded with bacon and cheddar cheese topped with a fried chicken cutlet and smothered in maple syrup.
120 Aquarium Drive, Jenks
www.waterfrontgrilljenks.com
---
West Restaurant
Saturday and Sunday brunch at West is not for the timid. Most everything on the menu is over-the-top, including the Chicken Fried Beef Tenderloin and eggs. The restaurant's close relationship with Johnnie's also benefits diners, who can choose from a select menu of Johnnie's original burgers for brunch. A cheese Theta with onion rings makes a great late morning meal.
Standout dish: The West Breakfast Sandwich is piled high with fried egg, bacon, cheese and a potato cake between two pieces of Texas toast.
6714 N. Western Ave., Oklahoma City
www.westbar.com
---
The Wild Fork
The Utica Square mainstay recently began offering Sunday brunch, which is welcome news to those who swear by The Wild Fork and enjoy great food and drink on Sunday mornings. The menu is a little light on breakfast options and puts the "lunch" in brunch. Sandwiches, burgers, corn cakes and even pot roast can all be ordered off the brunch menu. Even the military-grade S.O.S. is given an update: Braised beef and caramelized onions are served on toasted Italian bread and covered in green chili gravy.
Standout Dish: Grillades and Grits, a creative take on a southern dish, features pork medallions atop cheese grits garnished with tomatoes, scallions and Creole brown gravy. Eggs are cooked to order.
1820 Utica Square, Tulsa
www.wildfork.com