When Melissa Aust, executive chef of Stella Modern Italian Cuisine, runs specials, they're called "additions"… because everything at the restaurant is special, she says.
The woman donning the tallest toque at one of Oklahoma City's favorite dining spots and watering holes is not only a permanent "addition" herself, but she is driven, passionate and excited to bring a modern leap into the world of Italian cuisine.
Born and raised in Riverside, California, smack dab in the middle of orange grove country, teenage Aust took over family cooking duties when her mother, allergic to orange blossoms, could not prepare daily meals. From there, her love of the kitchen grew, and every step through the universe seemed to drop hints that maybe she should try cooking professionally.
"Fast forward to 1990 when two friends opened a coffeehouse [where] I would help with catering," Aust says. "From there, I helped open a small cafe called Aroma Cafe, all while working for the family's plastic injection molding business. At this point is when I decided to start my culinary path."
After graduating at the top of her class in culinary school, Aust worked two seasons on Martha's Vineyard. Taking a detour on her way back to California after her contract was up in Massachusetts, she stopped in Oklahoma City to visit a friend … and the rest is history in the 405.
"It took awhile to convince Lori [Burson, owner of Stella] to interview and hire me," Aust says. "I started out under chef Jonathan Krell [now at Patrono] and quickly worked my way from pantry to sous chef. After a couple other executive chefs, the position opened up once again … and I asked Lori not to interview anyone. I wanted it."
In the three years that she has been in charge of the kitchen – and in the middle of the recent explosion of new, shiny eateries in OKC – Aust has made sure that no one puts Stella in the corner.
"Our customers have come to love seeing what 'additions' we have, as well as attending our six yearly wine dinners, where we really get to play [with] exotic ingredients: rabbit, pheasant, all game … and even produce like fiddlehead ferns," she says.
In June, Aust rolled out the summer menu with a revamped favorite – chicken and corn risotto – and an exactingly new pasta verde with arugula lemon pesto. Changing the menu seasonally allows her to access local and organic ingredients, as well as keep many regulars happy and ready to consume innovative dishes, she says.
The goal of Stella is to be a midtown neighborhood spot attainable to everyone, so the dishes have to be interesting, unpretentious and delicious.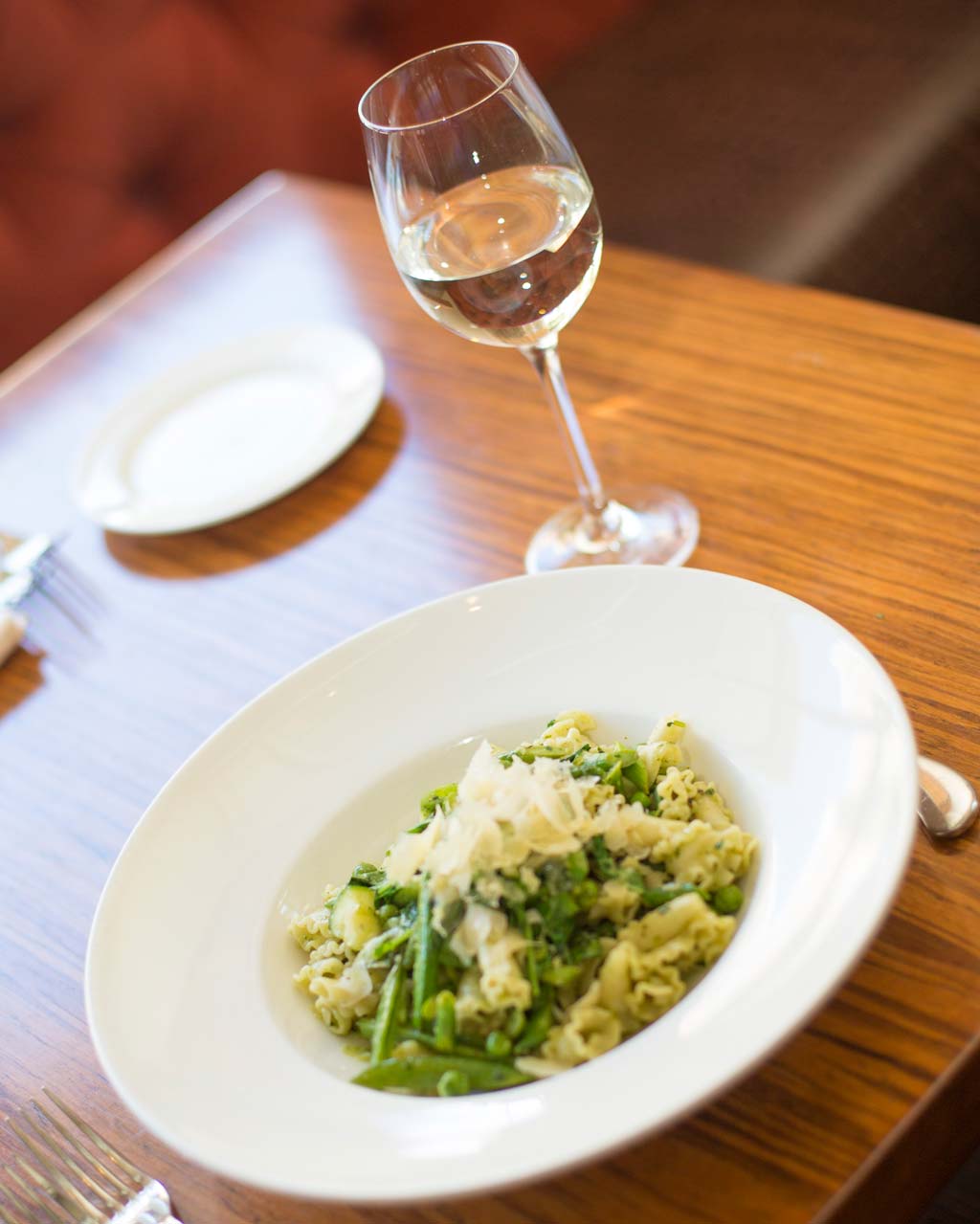 Arugula Lemon Pesto
4 cups arugula, packed tight
½ cup almonds, toasted
½ cup Parmesan cheese
1 tbsp. kosher salt and white pepper blend
2 lemons, zest and juice
3 cups blended oil
Place ll ingredients in a blender and mix until smooth.
Store hen label and date.