Happy birthday, America! It's almost the Fourth of July, and towns across the state are donning their red, white and blues to celebrate. So take in some music, grill up a hot dog and bask in the rocket's red glare this Independence Day at any of these fun events.
1. IN TULSA
[media-credit name="Photo courtesy Signature Symphony" align="aligncenter" width="1298″][/media-credit]
4th on the 3rd – July 3 – TCC Van Trease PACE
Get the fun started early with some live music at Signature Symphony's rousing 4th on the 3rd. Honor the past and present United States Armed Forces and have some air-conditioned fun with this Tulsa tradition, featuring musical selections including "Armed Forces Salute," "Battle Hymn of the Republic," and "A Salute to the Big Bands." Go to signaturesymphony.org to get your tickets.
[media-credit name="Photo courtesy Tulsa Drillers" align="alignleft" width="300″]
[/media-credit]
Drillers Baseball – July 4 – ONEOK Field
What better way to celebrate Independence Day than with America's pastime, baseball? The Tulsa Drillers take on the Northwest Arkansas Nationals this Thursday. Be sure to stick around after the game for a spectacular fireworks show! Head to milb.com/tulsa for tickets.
[media-credit name="Photo courtesy River Parks Authority" align="alignleft" width="300″]
[/media-credit]
Folds of Honor FreedomFest – July 4 – River West Festival Park/Veterans Park
Mosey over to Tulsa's River West Festival Park and Veterans Park for some of the best spots in the city to view the fireworks of the Folds of Honor FreedomFest, with festivities all day and fireworks starting at 9:30 p.m. Launching from the 21st Street Bridge, this show is visible from miles around and is estimated to have around 80,000 viewers. Go to freedomfesttulsa.com to see the full list of activities.
[media-credit name="Photo courtesy BoomFest" align="alignleft" width="300″]
[/media-credit]
Boomfest – July 4 – RiverWalk, Jenks
In Jenks, visit Boomfest at RiverWalk for numerous family events and music beginning at 2 p.m. and fireworks at 9:45 p.m. Touted as the largest fireworks display in Tulsa, there will be two stages with multiple acts throughout the night and activities across the RiverWalk all day and night long. Visit riverwalktulsa.com for a full line-up of events.
Fish and Fireworks – July 4 – Oklahoma Aquarium, Jenks
The Oklahoma Aquarium in Jenks hosts Fish and Fireworks from 6:30 to 9:30 p.m on the holiday. Spend the day marveling at the aquatic exhibits inside, then take your picnic blanket to the lawn for a front-row seat to the most vibrant fireworks display in the area. Grab a bite at the concessions and enjoy the show, both inside and out. Tickets are available at okaquarium.org.
2. IN OKC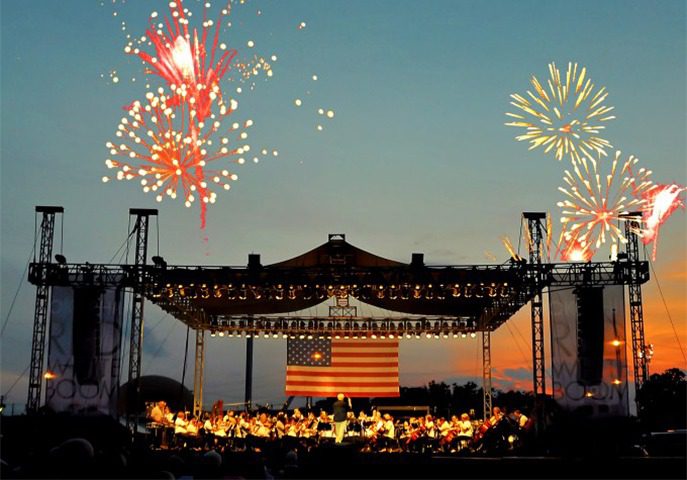 [media-credit name="Photo courtesy OKC Philharmonic" align="aligncenter" width="687″][/media-credit]
Red, White and Boom – July 3 – State Fair Park
The OKC Philharmonic hosts its annual Red, White and Boom at State Fair Park at 8:30 p.m. on July 3. Featuring a free concert conducted by Alexander Mickelthwate, the show is followed by a spectacular fireworks display. Bring a lawn chair and set up for a free night of beauty to hear and see. Find out more at okcphil.org.
[media-credit name="Photo courtesy BoomFest" align="alignleft" width="300″]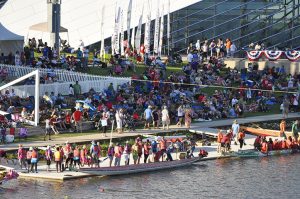 [/media-credit]
Fourth Fest – July 4 – RiverSport Adventures
Downtown Oklahoma City's RiverSport Adventures throws the patriotic Fourth Fest, filled with on-the-water events, food trucks and fireworks all day long. Ride the rapids, zip through the air and light up the night in celebration of this national holiday. Go to riversportokc.org for more information.
Celebration in the Heartland – July 4 – Buck Thomas Park, Moore
Take in a car show, enjoy some concerts, eat your way through a bevy of food trucks and take a tour in a helicopter at Celebration in the Heartland in Moore. This event features arts and crafts vendors, breweries and wineries for the adults and inflatables and activities for the kids. Fireworks start at dark. Head to cityofmoore.com to see the full list of activities.
[media-credit name="Photo courtesy OKC Dodgers" align="alignleft" width="300″]
[/media-credit]
Dodgers Baseball – July 4 – Chickasaw Bricktown Ballpark
The Oklahoma City Dodgers take to the field against the Round Rock Express on July 4th. Enjoy a special deal on drinks as you take in a rousing game, then stick around after the match for post-game fireworks! milb.com/oklahoma-city is the place to go for tickets.
Independence Day Fireworks Celebrations – July 4, July 6 – Frontier City
Head down to OKC's premier theme park and enjoy two days packed with thrilling rides and exciting activities. Munch on some yummy treats from the park's special Fourth of July menu, and light up the night with a dazzling fireworks display on both nights. Go to sixflags.com/frontiercity for tickets.
3. AROUND THE STATE
LibertyFest – June 27 – July 4 – Edmond
Selected as one of the top 10 places in America to be on the Fourth of July by CNN and USA Today, LibertyFest in Edmond is a ten day spectacular of events featuring rodeos, concerts, a kite fest, a car show and a multi-day carnival. On the fourth, catch a spectacular parade followed by a shower of fireworks. Visit libertyfest.org to see the full calendar of events.
Freedom Fest – July 3 – July 4 – Yukon
The fun starts in Yukon on the third with a tribute to veterans and a spectacular fireworks show, and continues all day on the fourth with a parade, concerts, a car show, a hot dog eating contest, free ice cream and watermelon, four amazing concerts and yet another fireworks show. Best of all, it's all free! Head to yukonok.gov to find out more.
Freedom Festival – July 4 – Eldon Lyon Park, Bethany
Fireworks light the sky at the Freedom Festival at Bethany's Eldon Lyon Park, with more than 20,000 attendees expected for activities. This free, family-friendly event begins in the morning with a day full of inflatables, pony rides, carnival rides and games for the children. The smell of classic fair food fills the air, while adults browse awe-worthy rides at the car show. Go to travelok.com to learn more.
Fourth of July Celebration – July 4 – Grand Casino, Shawnee
Celebrate Independence Day at Grand Casino Hotel and Resort by watching a spectacular fireworks display and catching a live concert. Before or after the fireworks, head inside this Shawnee casino for Vegas-style gaming action, thousands of slot machines or table games galore. More information is available at grandresortok.com.

Grand Lake Fireworks – July 5 – Grand Lake, Disney
July 5 is Grand Lake's annual fireworks show, accessible "by land and Grand" in Disney, with fireworks beginning at sundown. Fireworks will be launching from barges just in front of the east spillways near Disney, so set up a chair on shore or take to the water in a boat to see this dazzling display above the lake. Find out more at grandlakefireworks.com.