Thanks to COVID-19, every sector of society has been upended. But for Locust Grove native Jason Pirtle, a tight end at North Texas, 2020 has been even weirder.
That's because for the first time he can remember, he's not catching passes from longtime friend and now-former teammate Mason Fine, who left UNT holding many of the school's career passing marks and, before that, threw passes to Pirtle in high school.
"It's been a lot of years [being teammates with Mason]," says Pirtle. "It's pretty weird, honestly, at least it was to begin with. But once you get out there playing, you're not really thinking about it. You really think about it more off the field."
A pre-season 2020 All-Conference USA selection at tight end, Pirtle was recruited by and plays for Seth Littrell, a Muskogee native who is in his fifth season coaching the Mean Green.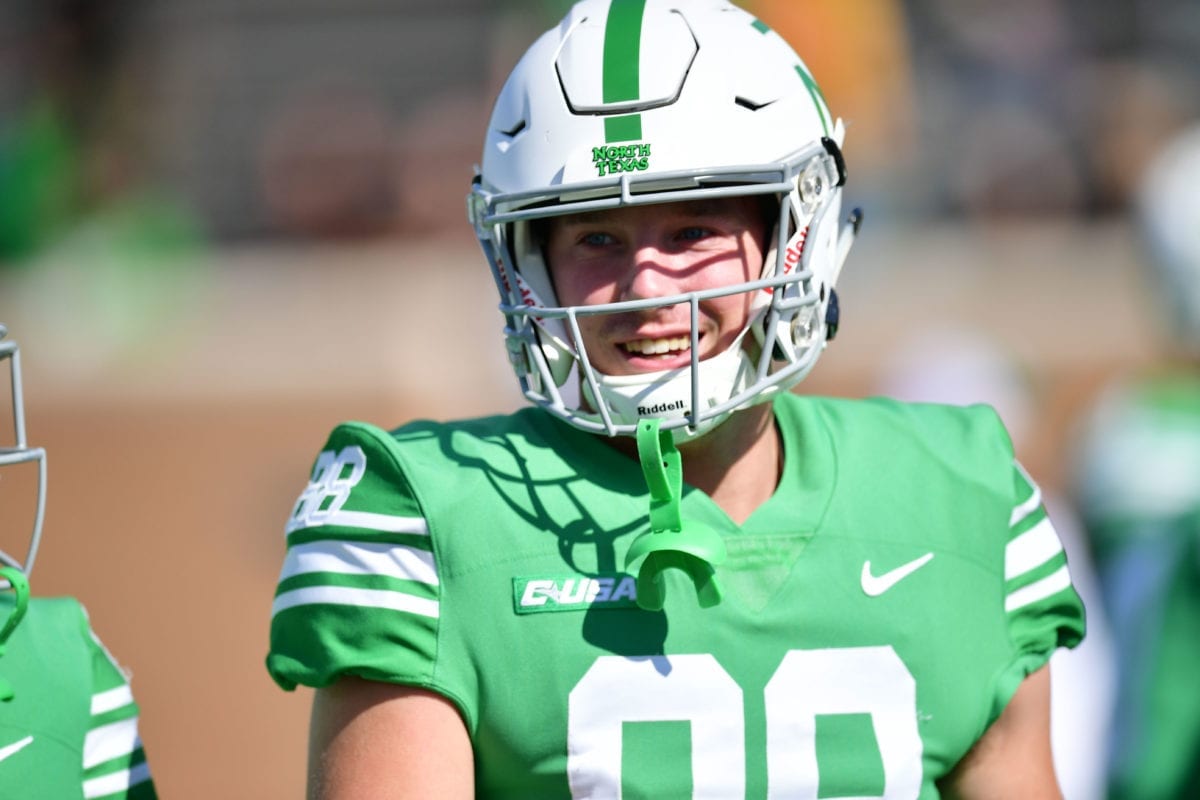 Pirtle says he and Littrell quickly bonded over their mutual Okie status.
"Every time you meet an Oklahoma guy that's here, it's cool," he says. "There's not a whole lot of us. It's not a huge state, like Texas is. You're all close in Oklahoma in a way. It's nice to bond over that."
Like collegiate student athletes across the country, Pirtle has contended with his routine being turned upside down by the pandemic. However, like most, he has found a way to persevere and looks to finish what could be his fifth and final year as a collegian on a strong note.
Through early October, UNT had played three games. A September road game at Houston was canceled due to COVID-19 and the Mean Green started their season a few weeks later than scheduled.
But returning to the field has been a welcome diversion for Pirtle and his teammates.
"Yeah, being able to get back out here has just been a blessing," he says. "Thought it would be really weird with such a limited number of fans, but it really hasn't been that bad. Once you get into the game, that's all that matters."
He continues: "Really enjoy[ing] the time with the team. [It's] great to have some part of our life be normal. Being able to get back out on the football on Saturdays and act like everything's normal for a couple hours is pretty nice."
Due to the pandemic, the NCAA has granted an additional year of eligibility to some student athletes, so that remains an option for Pirtle – one he will address once the season is over. And while he has thoroughly enjoyed his five years in Denton, Pirtle admits there are still things he misses about life back home in Locust Grove.
"More than anything, just my family. Being in a small town and being able to know everybody. Everybody you see is a familiar face," he says. "Mainly just having a familiar face everywhere you go. There's no strangers and stuff like that. That small-town feel. That's the main thing to me."