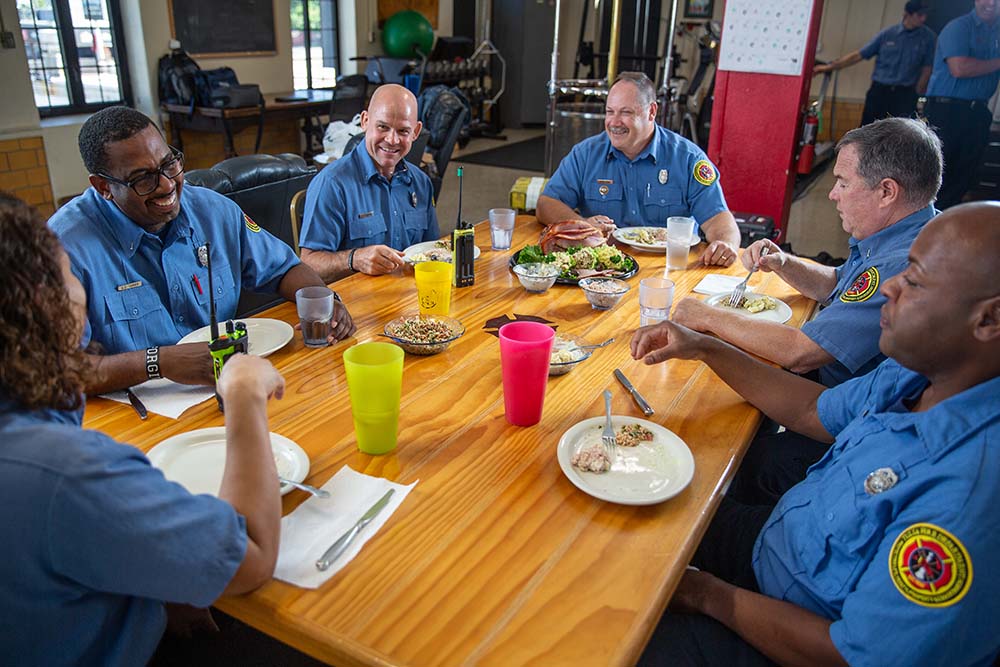 Walk upstairs to the cozy kitchen at Tulsa's Fire Station No. 5 and you're met with a rowdy group of firefighters, accommodating as all get out, ready to help our staff.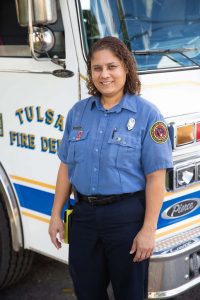 Shooting photographs with a group unaccustomed to cameras can be awkward, but these folks act the opposite – cracking each other up, ribbing one another with inside jokes. It feels like a table full of brothers and sisters, and, while we're around the table on Thanksgiving, they and firefighters across the state are at their respective stations.
Miriam Bryant, who says she's the only Hispanic female member of the crew in Tulsa, has been a firefighter for 14 years after working as an emergency medical technician.
"It was the perfect fit," she says. "It gives me more time with my family."
The schedule isn't less hectic, however – she works for 24 hours, then has 48 off. This is hour 5 of 24. Emergencies wait for no one, so occasionally she's called to a scene on hour 24, and that's that. She also doesn't blink twice when asked about missing holidays.
"It's part of the job," she says. "You either celebrate the day after or the day before. Or you wake your kids up at 4 in the morning and have the holiday early."
Chance Skidgel, in his 17th year with the Tulsa department, was an athlete in college. He looked for similar camaraderie in a job and found it here, although the journey was tough.
"It took me six years," he says. "When I first tried, they were offering 16 positions and there were 1,500 applicants. My bubble kind of popped. But they want to see people keep trying, so I became an EMT and stuck it out."
We always focus on fire, police, the medical field, but there are lots of folks who work on Thanksgiving morning that aren't in the spotlight.
Skidgel has seen his share of ups and downs during this season on the job.
"Some of my greatest holidays have been at the fire station, and some of my worst," he says. "We cook a big meal and you get to be around the other fighters' families. But it can also be hard because you're responding to incidents with people having the worst days of their lives."
Driver Keith Hickson has been at Station No. 5 for 20 of his 24-year career. He says this is the oldest working station in the city – built in 1917, torn down and built again in 1932. He has a law-enforcement background and pursued a career in the FBI before deciding against it. When asked about any regrets, he answers swiftly.
"Not one bit," he says. "I went from having to judge people to now saying, 'We're here to help whoever.' I prefer it."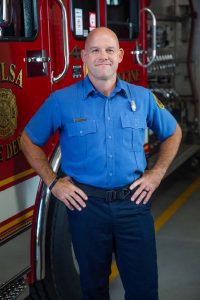 He says the job has changed over the years; it's less fighting fire now and more interacting with people in medical emergencies. He sees tragedy spike around the winter holidays.
"One incident we had was several days after Thanksgiving," he says. "We walk into the home and the meal was all laid out, salads on the plate and everything. No one showed up, I guess, so we were dealing with an OD. We want people to have a blessed day, but sometimes it just doesn't happen."
Fire Station No. 5, on 18th Street at Boston Avenue, is in a diverse area – subsidized housing near wealthy neighborhoods.
"The poorest people in Tulsa live about 2 miles from the richest people in Tulsa, and we go both directions," Capt. Mick Fenn says.
Hickson adds: "Poverty creates problems, but the most influential people in town have their issues, too. That's why I enjoy the job. We've enjoyed being able to serve, regardless of who we're helping."
Fenn, a firefighter for 30 years, is rounding the bend on his retirement.
"I'm struggling already; I don't want to miss it," he says. "It feels like giving up my purpose."
Regarding work on holidays, Fenn makes an important point.
"We're not the only profession that does this," he says. "We always focus on fire, police, the medical field, but there are lots of folks who work on Thanksgiving morning that aren't in the spotlight. This is family, though, and most workplaces aren't like that. Spending the holiday with that extended family isn't really that big of a drag.
"They're the best friends you'll have in your life," he finishes. "It comes down to them being like your brothers."