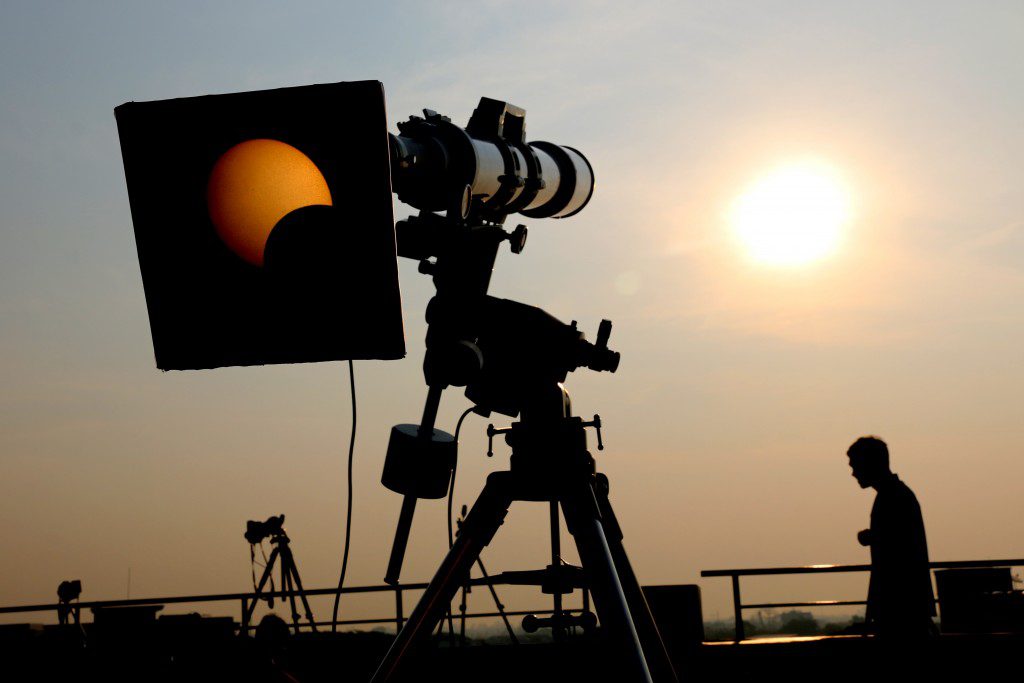 Unless you've been living under a rock for the past six months, you know there's a total solar eclipse from coast to coast on Monday, Aug. 21. Although Oklahoma isn't in the direct line of totality, a partial eclipse will still be viewable around the state, beginning in the late morning, around 11:40 A.M., and peaking around 1:05 P.M. If you'd prefer to view the eclipse with others, there are plenty of places ready to celebrate this solar phenomenon with you.
Science Museum Oklahoma (Oklahoma City)
From sciencemuseumok.org: From 10 a.m. to 3:30 p.m. on Aug. 21, the museum's Planetarium staff will be on-hand to answer questions, assist guests in safely viewing the eclipse using telescopes and host special eclipse-themed shows in the Kirkpatrick Planetarium. Visit sciencemuseumok.org for more information.
Myriad Botanical Gardens (Oklahoma City)
From oklahomacitybotanicalgardens.com: Myriad Gardens is hosting an eclipse gathering on the Great Lawn from 11:30 a.m. to 2:30 p.m. At this event, we will have a limited number of glasses confirmed by NASA and AAS as approved glasses to use to view the eclipse for short periods of time. We encourage visitors to our gathering to share these glasses and enjoy the festivities. Head to oklahomacitybotanicalgardens.com for details.
Norman West Library (Norman)
From pioneerlibrarysystems.org: Norman West Library is hosting a Solar Eclipse Viewing Party from 12 p.m. to 2 p.m. All ages are welcome to experience the solar event of the decade. Visit http://pioneerlibrarysystem.org/hometowns/norman-west for more information.
Tulsa Children's Museum (Tulsa)
From tulsachildrensmuseum.org: Discovery Lab will celebrate the once-in-a-generation, cross-country eclipse by offering families a hands-on, educational viewing experience. Guests are invited for a viewing party, including interactive activities, just outside the museum in Owen Park. Visit tulsachildrensmuseum.org for more information.
Total Eclipse of the Park (Tulsa)
From riverparks.org: Join us at Turkey Mountain to see a once in a lifetime event! In Oklahoma, we will be able to see 90 percent of the solar eclipse, so we will be hosting a viewing party! Let's all get together with picnic lunches and solar viewing glasses. We will have activities for kids and adults to learn about the eclipse and there's probably no better spot in town to view the eclipse. For more information, visit riverparks.org for more details.
Guthrie Green (Tulsa)
From guthriegreen.com: Join Guthrie Green for the total eclipse! There will be free Salt Yoga Tulsa and DJ Spinster Records Tulsa will play Dark Side of the Moon. As always, this event is free and open to the public. Visit guthriegreen.com for more information.
The Boxyard (Tulsa)
From facebook.com/tulsaboxyard: Join us in observing one of the most spectacular astronomical events of our time. Admission is free and all are welcome. Visit facebook.com/tulsaboxyard for more information.