Because there are always stirrings and rumblings before something bursts into the mainstream, it's often difficult to pinpoint the beginning of a pop-culture trend. Some say, for instance, the musical movement known as the rock 'n' roll revival actually began in the late '60s among people who preferred the relative innocence of '50s tunes to the more threatening hard-rock and psychedelic songs of the time.
Many others, however, point to the 1973 hit movie American Graffiti as the revival's real kickoff. Sporting the tagline, "Where were you in '62?," director George Lucas' first big hit successfully brought back the zeitgeist of the late '50s-early '60s by using plenty of songs in conveying the ambiance of the era.
Soon, in addition to providing new work to old rock 'n' rollers who were still around and functioning, the American music scene became populated with new acts playing what were then referred to as "golden oldies." These rock 'n' roll revivalists included such successful groups as Sha Na Na, and Flash Cadillac and the Continental Kids.
A few years later, in the summer of 1980, Tulsa came up with its own spin on the trend. That's when American Theatre Company first presented Eddie & the Ecclectics, a musical full of classic rock 'n' roll tunes that centered around the character of Eddie Edwards (played by Bob Bethel), a performer who claimed to have written many, if not most, of the era's greatest hits. After a sleepy beginning, the live show took off on an amazing run of nearly two decades.
That brings us to the Retro Rockets, a new group drawing generally from the rock 'n' roll revival and more specifically from Eddie & the Ecclectics. In fact, if you'd seen these vocalists and musicians a few months ago, you would have actually seen them as Eddie & the Ecclectics. In February, according to Retro Rockets director David Bagsby, the group "blasted off in a new direction as the Retro Rockets," leaving the auspices of American Theatre Company but continuing to perform at Tulsa's Studio 308, where the members had just finished a six-month run of Eddie.
"The Retro Rockets are a secret division of the USO who were sent to Skylab in 1976 to entertain the astronauts," says Bagsby, setting up the premise of the new production. "However, on the return flight, a freak solar storm created a time dilation, which threw the crew forward into the future of 2018. The Retro Rocketeers realize this conundrum but are still only aware of history from their origin point. So there's a lot of talk about things like Space Food Sticks, Billy Beer and Grit newspapers."
He adds that the Retro Rockets were a rock 'n' roll revival group in the '70s. So what the production offers, in essence, is a double twist. It's not just a nostalgia show – it's a nostalgia show about a nostalgia show. And while it's not Eddie & the Ecclectics, it does utilize the same cast members and much of the same musical palette in conjunction with its very different backstory. Given all that, it's not surprising to find that most members of the Retro Rockets band have a long history with the ATC production.
"This is pretty much the same [Ecclectics] band I joined in, I believe, 1983," keyboardist Jim Downing says. "They're all first-call players, and we're even better than we were 35 years ago."
"It's like finding out your prom tux still fits," he adds with a laugh.
Bagsby was also with Eddie in the early days, playing bass and rhythm guitar during the production's first two years. An actor as well as a musician and composer, he was appearing in ATC's Caine Mutiny Court-Martial in March 2017 when he saw something from the company that mentioned "the return of the Ecclectics," he recalls.
"So I asked, 'Hey, what's the deal with this?' And they said, 'Well, we're just seeing what kind of a reaction we'll get.' I said, 'If you need a guitar player, I'll do it.' And then later I said, 'If you need a music director, I'll do it,'" Bagsby says.
When the company decided to do an Eddie & the Ecclectics reboot as a fundraiser, it took Bagsby up on both of his offers. And Bagsby, a veteran Tulsa music figure with his own record label, knew the musical direction he wanted to pursue.
"After I left the [Eddie] show, I didn't see it again until its last year, I think, and they were doing all kinds of stuff, like 'Love Shack' and all this music from the '70s," he says. "They had definitely exploded the filter beyond what it had been.
"I thought the reason the show was successful was because it was rooted in the [rock 'n' roll] era. So, when they asked me to do the benefit, I said I'd like to go back to the concept of pre-Beatles rock 'n' roll and do the surf-music set and 'The Peppermint Twist' and all the stuff they had done originally that made the show great."
That's what he did, working with some of the performers from Eddie's original run who reunited for this special event, including Karl Krause, Greg Roach, John Riggs and Melanie Fry, who directed the special show as well.
"It was such a success that we carried it over a second night, an encore on Sunday," Downing says.
That, in turn, led to a re-formed Eddie and band beginning a run at Studio 308 with actor-vocalist Mike Buckendorf stepping into the lead role and Bagsby taking over as director.
Publicity material indicates that the Retro Rockets may expand on the Ecclectics' repertoire by including material from the '70s, but indications are that reviving golden oldies is still the name of the game for the new production, which carries the tagline of "Space Age Rock 'n' Roll."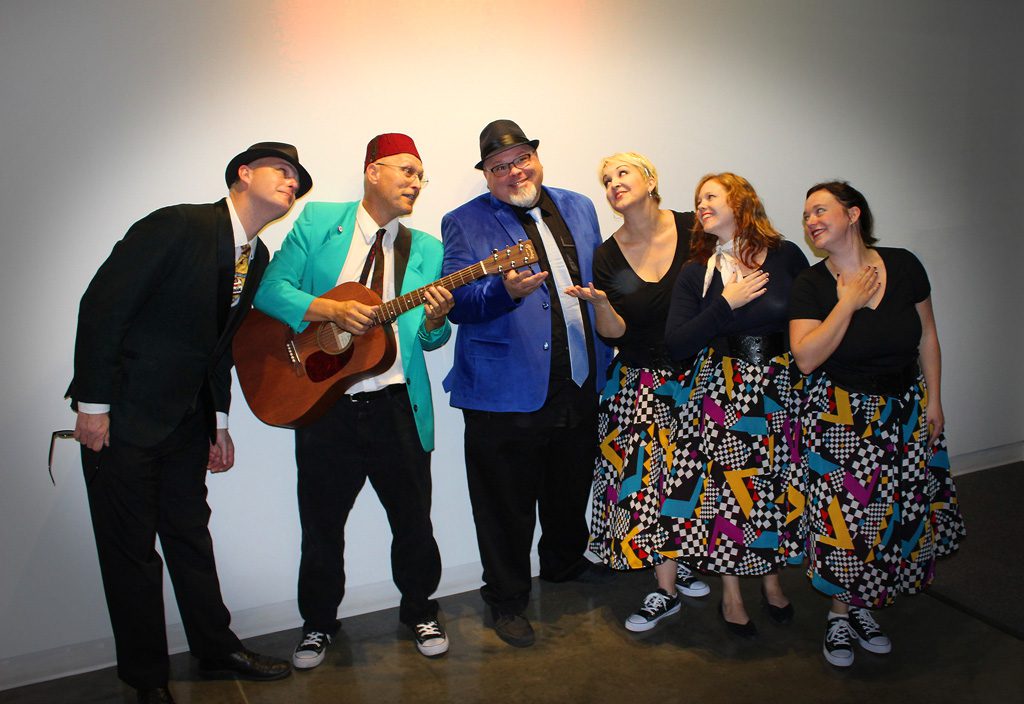 "We do a couple of songs that came along after the Beatles, like 'Chain of Fools,' and 'Devil with A Blue Dress On' and Good 'Golly Miss Molly,' but most of it is pre-British Invasion," Downing says. "That's the general focus of it. Dave wanted to do a lot of doo-wop to begin with, and while we haven't quite mastered that yet, we do things like 'Get A Job' and 'I Only Have Eyes for You.'"
Bagsby adds: "I do want to be doo-wop-centric. And I'm hoping to do some Beach Boys songs, really super-complex harmony stuff that I think we can pull off."
In addition to Buckendorf, vocalists include Denise Hoey, Anna Neal, Gayle Wolfe, Mick Casper and Bagsby himself. Kara Steiger is featured in some of the group's performances.
"The singers we have are really quite adept," Downing says. "The girls all have tremendous voices, and Mickey Casper is a magnificent tenor." As is the case with Bagsby, who plays bass and appears as a character in the production, and Downing, the rest of the band is made up of well-known Tulsa music figures. They include Bagsby's brother Steve on steel guitar and fiddle, Scott Mariner on drums and Tom Hanford on guitar. Both Hanford and Mariner have spent time with Downing in the long-lived Tulsa band the Zigs.
The Retro Rockets' next performance is set for April 21 at Studio 308. Ticket information can be found at studio308tulsa.com or by calling 918.329.0224. Other planned shows include Utica Square's Fifth Night on June 14 and Broken Arrow's Tuesday in the Park on June 19.