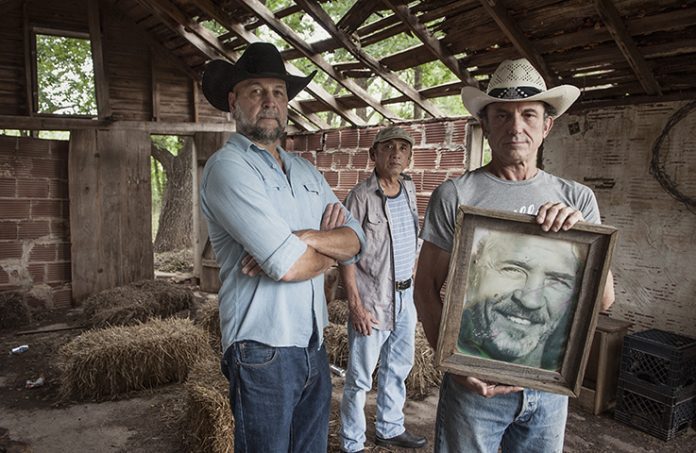 It happened in the early '90s in an Oklahoma music store. John Cooper of the Red Dirt Rangers was chatting with the proprietor when the latter, who was both a musician and music historian, asked him how long the band had been together.
"At that time, I think it was five or six years," Cooper says. "And I said: 'We're having a great time. We're going to keep this thing going for a long time.'
"He said: 'Well, it won't last that long. All bands break up.'
"'Man,' I said, 'I don't think ours will.'"
A quarter of a century later, it hasn't.
Pioneers of the earthy, intelligent and unmistakably Oklahoman amalgam of country, blues, folk and rock 'n' roll known as Red Dirt, mandolinist Cooper and two of the band's other founding members, guitarists Ben Han and Brad Piccolo, have faced the vagaries of the music business together for more than three decades while traveling the country and playing from coast to coast – and occasionally beyond.
In addition to dealing with the sometimes jarring personnel changes one might expect in a group with this kind of longevity, Han, Piccolo and Cooper also suffered through a horrendous 2004 helicopter crash that injured them all and took the lives of the pilot and a fellow passenger. Add to that 30-plus years' worth of the usual bedevilments all bands face, from broken promises of gigs to shifty venue owners, and the Red Dirt Rangers' longevity becomes even more impressive.
Surely, in all those years, especially given the ups and downs of making a living with music, there has to have been at least one or two times that the Rangers came close to disbanding. Hasn't there?
"Actually, no," Piccolo says with a laugh. "I can't speak for everyone, but I'm pretty sure no one has said, 'Let's throw in the towel.' We've said, 'Let's take a little time off,' but we've never uttered the word quitting. And that even melds over to our side guys. They've been with us for over a decade at the minimum.
"There's something that happens when people get into our thing. It's sort of like a black hole – but in a good way."
He laughs again.
"It's a good sort of black hole."
That spirit of camaraderie and collaboration – another characteristic of their musical genre – is why the Red Dirt Rangers became a band in the first place.
"The first time we really made an appearance together was on the [Oklahoma State University] campus," Piccolo says. "Bob Wiles and I signed up to do a talent show at a place called Aunt Molly's Rent-Free Music House. It was an open-mic kind of thing at the student union. We invited Coop up, and he sang 'Mannish Boy.'"
That was in 1982, and the three, including guitarist-bassist Wiles, continued to play together regularly and informally.
Meanwhile, at the University of Oklahoma Health Sciences Center in Oklahoma City, Han had arrived to take a position as a cell photographer. In his native Borneo, he'd seen some success as a lead guitarist with a number of bands, and, thanks to a co-worker, he was soon jamming with the folks who'd eventually coalesce into the Red Dirt Rangers.
"I met a guy at the Health Sciences Center named Dave Clark," Han says. "He played a little guitar, and he said, 'I've got some friends I want you to meet. We hang out at college.' I said, 'Sure. I'd love to meet those guys.'"
Cooper adds: "Dave was a guy we jammed with a lot and who was an early guy with the band and pre-band. They got to talking, Ben told him he played guitar, Dave told him we had a jam, and Ben showed up at my house in Oklahoma City. Even in a real informal setting, we immediately recognized Ben for the great talent he is and said, 'Oh, boy – let's play with this guy.'"
It would still be another few years before the band played its first official engagement. And when the gig came, it was courtesy of Red Dirt pioneer Jimmy LaFave, who put together one of his musicians' reunion shows at Willie's in Stillwater.
"We're having a great time. We're going to keep this thing going for a long time."
"He came by, heard us, and said, 'You guys sound great. Come play,'" Cooper says. "And we were like, 'Nah, we don't think we want to do it.' But we did do it, and it went pretty well – as well as it could for an eight-piece mariachi band that had never been on stage."
That show was in fall 1987; the next March, the group played its first-ever booking as the Red Dirt Rangers, appearing at the Paseo Arts Festival in Oklahoma City. At that time, as Cooper's mariachi reference suggests, the group included two accordion players. Early press releases describe their repertoire as "folk-rock/Tex-Mex music."
As the band picked up steam, changes affected its style and sound, beginning with the departure of the accordionists. Other instruments and players were added and subtracted, even as the Rangers found themselves recording albums full of original material and performing for an expanding market. As the '90s rolled along and the demands of the group began taking more time and energy, Piccolo, Han, Cooper and Wiles decided to become full-time musicians.
"Back then," Han says, "it was just music, music, music. Play this. Play that. And sometimes someone would ask, 'What day is this? I can't remember.'"
He laughs.
"We were pretty much road warriors, and it was so good."
But, as any working performer can tell you, the road can be tough as well. In 2002, afflicted with both weariness and a case of carpal-tunnel syndrome so severe it required operations on both hands, Wiles left the group. The four have, however, remained friends to this day. (Wiles now has the band Cowboy Jones.)
Following Wiles' departure, Don Morris – a recording artist and solo act in his own right – came aboard to play bass and became the first of the "side guys" mentioned by Piccolo. For several years now, the other two sidemen playing with the Rangers have also been well-known veteran talents: multi-instrumentalist Randy Crouch and drummer Rick Gomez.
The Red Dirt Rangers continue to bring their music to the world via recordings and personal appearances. Their career has amassed any number of memorable high spots, from playing in Switzerland or opening for Willie Nelson to recording with Augie Meyers (organist with the rock band the Sir Douglas Quintet – a huge influence on the Rangers) or having the late studio whiz Steve Ripley produce several of their discs. ("He was our hero," says Piccolo of Ripley, their friend for many years.)
Cooper cites the band's appearance at Buck Owens' Crystal Palace in Bakersfield, California, as a personal highlight, while Piccolo mentions the Rangers' 2017 induction into the Oklahoma Music Hall of Fame.
For Han, the term high point has a different meaning, one that goes a long way toward explaining why the Rangers endure.
"First and foremost, I think friendship is the high point. We've known each other so long, they might as well issue a marriage certificate for the three of us," says Han, laughing. "The first 10 or 15 years we were playing together, we saw each other a lot. And now that we're not seeing each other as much, the relationship lingers. The less we see of each other, the more we love each other.
"For me right now, every time we go play music, every time we do a gig, it's the best day of my life."