Executive chef Christine Dowd of Aunt Pittypat's Catering has major street cred when it comes to the food scene in Oklahoma City.
Taking her well-earned experience from restaurants to catering fits in well with family time, along with her love of food and fulfilling the wishes of Aunt Pittypat's customers.
"I started cooking at a young age and was always interested in cooking," says Dowd, noting that her jump into the kitchen was part necessity and part fascination. "I was raised by a single mom and she was not the best cook, but we watched a lot of Julia Child together, so my interest really peaked. Also, my grandfather would take me to see shows in New York, and I loved going because I knew he would always take me to a 'fancy' dinner afterwards.
"Family played a huge part in my cooking."
From making her own profiteroles and cream as a kid (and thinking she would focus on being a pastry chef) to being drawn to the cook's line at culinary school in Hyde Park, New York, Dowd found herself "drawn to the fire" and began the journey many other chefs have taken: the "grand tour" of finding her place in the world of cuisine.
"I attended the Culinary Institute of America and really had a fantastic education from there," she says. "I worked in New York City and was sent to France to cook, which really cemented my love for cooking. Cooking professionally has allowed me to travel around this country. I've cooked in many cities and that really has been exciting."
Jump to Oklahoma City in October 2004, when Dowd and partner Maggie Howell bought Aunt Pittypat's Catering from Howell's father, the legendary Bob Howell. That acquisition did not stop the two from delving into the restaurant side of business; they opened Trattoria Il Centro, once a downtown OKC favorite, and owned it for seven years.
"We were just a little ahead of time in the downtown market," Dowd says. "Closing that restaurant was one of the hardest things I ever had to do."
OKC residents remember that extensive revitalization projects downtown, simultaneous construction and unforeseen delays caused some businesses to close their doors. That is the nature of the beast sometimes with chefs and restaurants, built and dearly loved with blood, sweat and tears.
OKC's restaurant community has a substantial foundation with people like Dowd, who wants budding chefs and entrepreneurs in the business to understand that.
"It is long hours and working holidays," she says. "It is being away from your family and missing moments, but the hard work pays off in the end. For young women, entering the field now it is much different from when I started. Stand up for yourself and be better than the person next to you. Keep reading and be aware of trends in the industry, work for a great chef, or pick up and move across country for the job you really want.
"Be determined and don't let anyone get in your way. You'll always be able to eat."
In the kitchen, Dowd's pork Milanese is a great dish for spring and early summer. She takes her time when pounding the meat and uses tasty breadcrumbs for the coating. Dowd recalls when, in Florence, Italy, her then 3-year-old daughter Scout tried the pork Milanese for the first time.
"We ate at this wonderful restaurant called La Maremma," Dowd says. "When she took the first bite, her eyes lit up and she dug right in."
She smiles and adds that a second order was immediately placed after the dish was finished.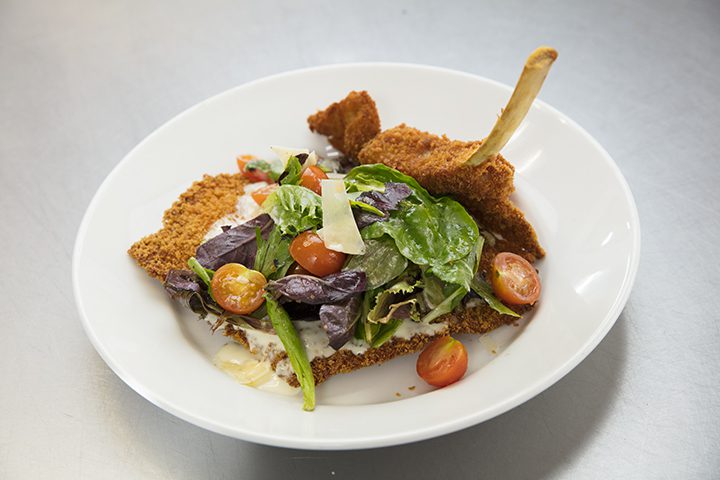 Pork Milanese
Ingredients
1 1/4 cup panko
1/2 cup grated Parmesan
2 tablespoons chopped parsley
1 1/2 teaspoons thyme
Pinch salt and pepper
1/3 cup flour
2 large eggs, beaten
5 tablespoons olive oil
6 cups baby arugula
1 cup cherry tomatoes, halved
1 tablespoon lemon juice
Combine on a plate panko, Parmesan, parsley, thyme, 1 teaspoon of salt and 1/2 teaspoon of pepper.
Place flour and eggs in separate, shallow bowls.
Sprinkle chops with salt and pepper and dredge them in flour, shaking off any excess, then dip them in the eggs. After, dip them in panko bread crumbs, pressing so the panko adheres to the chop.
Place them on a separate plate.
Warm two tablespoons of olive oil in a large skillet over medium high heat. When oil is hot, add the chops to the skillet and cook, turning once to cook both sides golden brown for about 5-6 minutes.
Mix arugula and tomatoes in a large bowl and drizzle with the remaining olive oil.
Season with salt, pepper and lemon juice and toss gently.
Divide among plates and place it on top of the pork cutlets. Serve.