Ned Shadid Sr. and Ned "Neddie" Shadid Jr. weren't exactly Bing Crosby and Bob Hope starring in a Road To… movie while they catered for and toured with country music stars, and dreamed of a neighborhood spot … but they were dang close.
Ned Shadid Sr. has rocked the Oklahoma food scene for decades. From The Brass Apple in El Reno to Ned's Catering, this man from a close-knit family of entrepreneurs and restauranteurs is a pro in large-scale catering circles and has state and national recognition to back up his (and his son's) latest adventure, Ned's Starlite Lounge. Landing the location of the old Nomad's restaurant on North May Avenue in Oklahoma City made perfect sense for the Shadids' retro-styled joint and their delicious, unpretentious menu.
The dynamic duo has traveled all over North America with some of the biggest names in country music by feeding the bands and road hands. But one thought in the father's mind never went away: a local eatery he'd dreamed about for years.
"You know, if you go up north, there's places like this in every neighborhood, in the middle of housing additions in Iowa or Illinois," Ned Sr. says. "My grandparents lived in Cedar Rapids, Iowa, and there's a couple of places like [Ned's Starlite Lounge] … and that's what we patterned it after."
Glittery, gold, high-back, tufted corner booths, beside vintage 1970s flocked wallpaper, let you know this lounge comes courtesy of a different era. Smack-dab in the middle of the dining room, a generous bar with spirits, wines and suds is the perfect spot for an after-work happy hour, a New Age Meds cocktail (gin, St. Germain, honey and a cannabidiol rinse), Sunday Funday brunch or a Bloddy Hell (yes, that's spelled correctly – with Ardberg 10-year-old scotch, Jameson Irish whiskey and bloody mary mix). There's even a comfy perch to belly up to for late-night snacks and sips with Ned's Wake and Bake (house vanilla vodka, coffee liqueur and cinnamon).
"Dad had this concept in his head for 15 or 20 years, but we've been holding out for the right location for the last three," Ned Jr. says.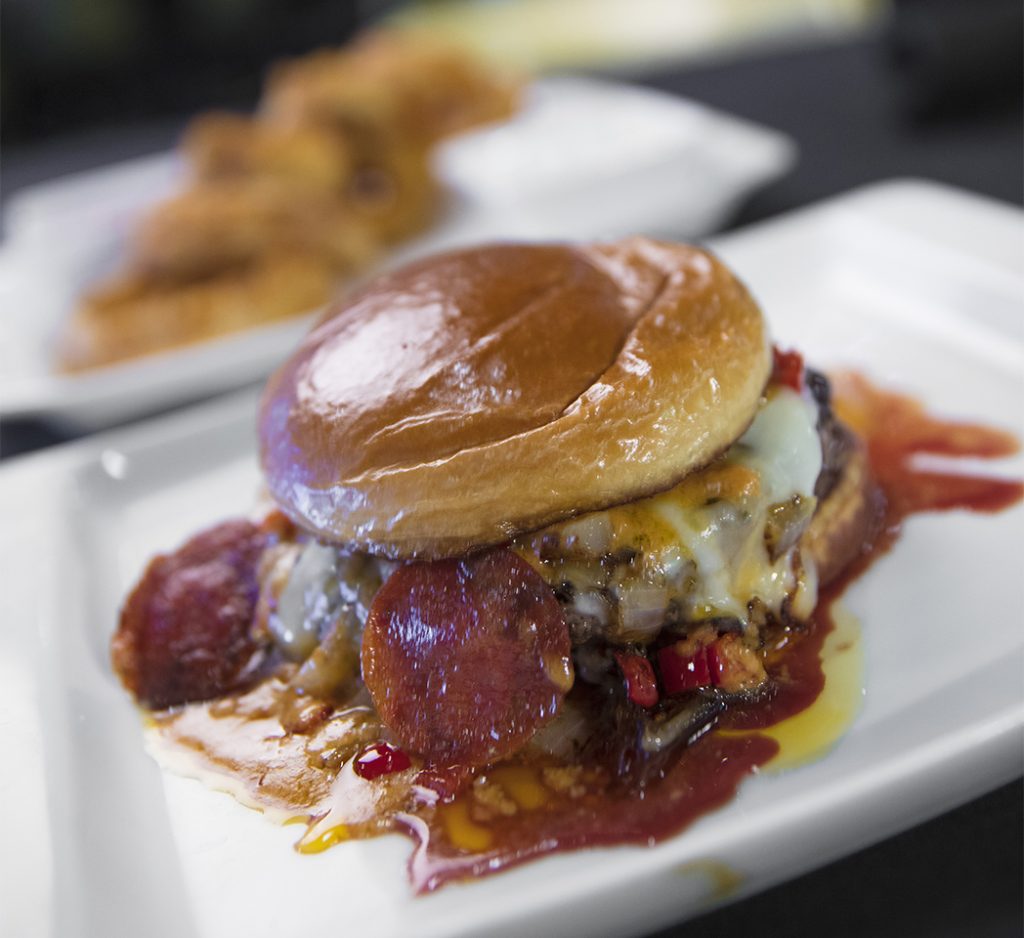 With the old Nomad's space, the son says: "We pull from Nichols Hills, Lakehurst and surrounding neighborhoods. Twenty-one thousand vehicles pass here daily on average. This location had the demographics we wanted, so we grabbed it."
The menu at Ned's is a bonus trip through some of Oklahoma's greatest hits, with a respectful nod to the former establishment and a delicious bit of creative Shadid nuance. Six burger choices are a half-pound each, but the Nomad adds all the fixings with fried pepperoni, topped with an amazing roasted garlic-tomato reduction that will have you putting down the fork and knife and licking your fingers.
Because no one can chicken-fry a steak like an Oklahoman can, the Shadids hit it out of the park with their house version: thick steak, perfect crust-to-beef ratio, paired with Yukon Gold mashed potatoes under a blanket of cream gravy. Or you can have grilled salmon over sautéed greens, Southwest chicken and polenta cakes, salads, sandwiches and hummus like only a Shadid can make for a dining experience well met.
Check out Ned's Starlite Lounge the next time you venture to OKC's north side.