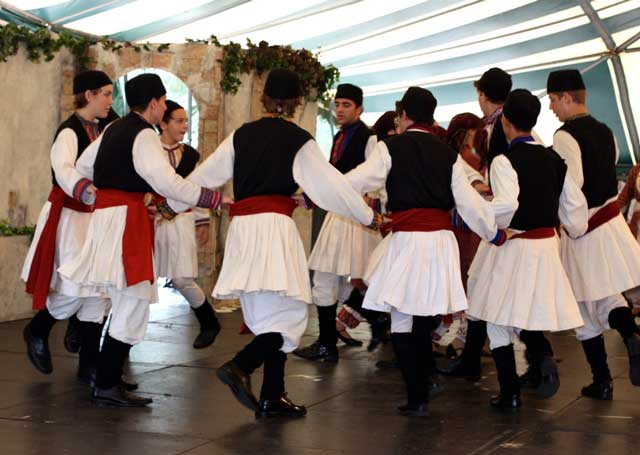 September in Oklahoma is festival season – from cultural to athletic to musical celebrations, there's an occasion for every type of Oklahoman this month.
In Tulsa, combine heritage, culture and delicious food at the annual Greek Festival, running Sept. 10-17 in downtown Tulsa. Created in 1960, this event has added new aspects every year to keep audiences coming back – like toga runs, auctions and traditional dances.
"As always, you will find delicious Greek food, mouth watering pastries, dancing and entertainment. But be prepared for an expanded menu, new venues, additional family friendly activities and a brand new look," says Tonya Van Zandt Boone, the marketing and VIP chairman of this year's festival.
In Oklahoma City, the Regatta Festival offers a unique experience with amazing spectator perks – front row seats to the boat races that include rowing, kayaking, dragon boating and white water rafting. Other happenings include food trucks, beer gardens, live music and breathtaking views. The festival will run Sept. 29-Oct. 2 in the Boathouse District.
And the Bluegrass and Chili Festival, running Sept. 8-10, is a highlight for Claremore's residents. Competitions, live music and delicious food make it a unique staple in the city.
"We are excited to expand the fun Outhouse Races this year. We did a trial run last year after about a 15-year hiatus," says Dell Davis, the festival coordinator. And yes – the Outhouse Races are just what they seem: festivalgoers construct their own mobile latrines at the Claremore Expo Center and race them down a track. It's doubtful you'll find another festival that can offer that kind of entertainment.
Other festivals
In Tulsa
• PostOak Wine & Jazz Festival Sept. 2-4 – PostOak Lodge & Retreat
• Blue Whale Comedy Festival Sept. 9 – Cain's Ballroom
• Let It Be Natural Arts Festival Sept. 10 – Chandler Park
• Rock n' Rib Festival  Sept. 15-18 – BOK Center
• SCOTFEST  Sept. 16-18 – River West Festival Park
• McNellie's Harvest Beer Festival  Sept. 24 – Downtown Tulsa
• ShalomFest  Sept. 25 – Temple Israel
In Oklahoma City
• WestFest OK  Sept. 3 -Oklahoma City
• Septemberfest  Sept. 10 – Governor's Mansion, OKC
• Banjo Fest  Sept. 10 – Civic Center Music Hall
• Mesta Festa Sept. 10 – Perle Mesta Park
• Turkish Festival Sept. 24 – Myriad Botanical Gardens
Around the State
• Choctaw Nation Labor Day Festival & Powow  Sept. 1-5 – Durant
• Backwoods Music & Camping Festival  Sept. 1-Sept. 5 – Tatanka Ranch, Stroud
• Dusk Til Dawn Blues Festival  Sept. 2-4 – Oklahoma Blues Hall of Fame
• Choctaw 2016 Oktoberfest  Sept. 2-10 – Choctaw Creek Park
• Stone River Music Festival  Sept. 16-18 – Chandler
• Medicine Stone Music Festival Sept. 22-24 – Diamondhead Resort, Tahlequah
• Grape Stomp Festival  Sept. 24 – Slaughterville
• Groovefest  Sept. 25 – Andrews Park, Norman
• Oklahoma International Bluegrass Festival  Sept. 29–Oct. 1 – Guthrie
• Wild West Festival  Sept. 30-Oct. 1 – McAlester