[dropcap]Just[/dropcap] one mile from the Indiana-Michigan border lies a small town nestled in sand, sun and serenity.
New Buffalo, Mich., sits at the mouth of Lake Michigan, the seemingly endless expanse of water in the northern U.S. The town is sleepy and small – population 1,883 – but during the summertime and on weekends, New Buffalo swells with tourists who arrive primarily by train and automobile from destinations like Chicago, Indianapolis and Detroit to escape the hustle-bustle of big city life.
Cliffside beach houses surround the shores of Lake Michigan. Cottages, inns and condos intersperse with local restaurants, bars, spas and gift shops along Buffalo Street, the main corridor. You're hard-pressed to find any nationally affiliated storefronts in the town, save for the occasional bank or investment firm. This local feel aids in the escape from something larger. New Buffalo is made for relaxation.
Things To Do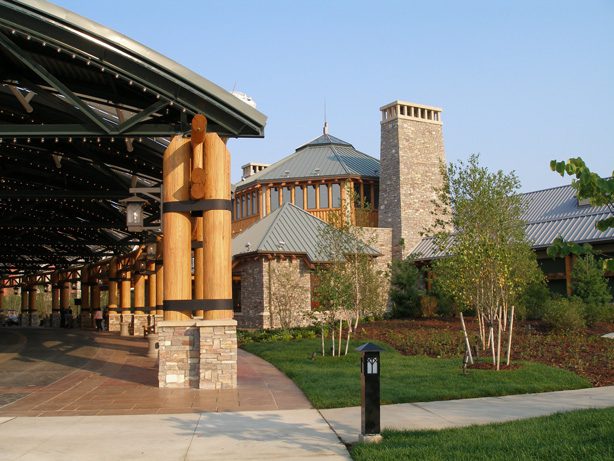 Four Winds Casino
Michigan's first casino, Four Winds Casino is situated next to Lake Michigan in New Buffalo. The casino offers slot machines and table games like craps, blackjack, roulette and baccarat. A 415-room hotel is attached to the casino, and several restaurants, including Hard Rock Café, are located within Four Winds Casino.
Fishing
Fishing is a popular pastime in New Buffalo. Perch, varieties of salmon, rainbow trout, walleye bass and crappie are all popular catches pulled from the waters of Lake Michigan and Galien River. Pier and shoreline fishing are available at several locations, but for those looking for more of an adventure, several companies offer fishing charters.
New Buffalo Public Beach
The beach is separated from the rest of the town by train tracks but is within walking distance of most of the small town. The beach stretches along the shores of Lake Michigan and is ideal for swimming, picnicking and building sand castles. The beach is located next to the Galien River harbor, which houses all sizes of boats. A small snack shack located on the beach serves milk shakes and other indulgent treats.
New Buffalo Railroad Museum
This museum is a favorite stop for first-time tourists. It houses the history of the area and the integral role that railroad transportation played in developing southwest Michigan.
Relaxation
New Buffalo is home to many spas. Evolve Spa offers several services, including massage, facials and waxing. Revive Spa also offers massage and facials and adds body treatments and sauna sessions. For those looking for active relaxation, Dancing Feet Yoga offers classes on the beach.
Places to Eat
Barney's Market
For those who choose to stay in a cottage with a working kitchen, Barney's is a great place to go to stock up on kitchen staples as well as gourmet foods. Upscale meats, cheeses, gluten-free options, a prepared foods counter and bakery help keep it simple for those shopping with purpose. www.barneysnb.com
The Lazy Perch
Indicative of its name, this restaurant serves locally caught perch, either on a sandwich, sautéed and topped with lemon-caper buerre blanc or fried and served with tartar sauce. Other menu specialties include steaks, burgers, salads and sandwiches. www.lazyperch.net
Pierre Anne
Housed in a historical home, Pierre Anne serves light fare with European flair. Sweet and savory crepes, homemade soups and salads highlight the menu at this breakfast-and-lunch hotspot. www.pierreanne.com
The Stray Dog Bar & Grill
A large restaurant with a raucous atmosphere, The Stray Dog is a favorite among both locals and tourists. A large bar anchors the main dining area and serves local beer, wine and specialty cocktails. The food is simple, straightforward and served in large portions. Burgers, nachos and fish tacos are favorites. www.thestraydog.com
Stay In Style
Lake Country Inn
Ten distinctive rooms comprise this inn, located in downtown New Buffalo. Within walking distance to the beach, shopping, dining and entertainment, Lake Country Inn also offers a complimentary breakfast to its guests. www.lakecountryinn.com
New Buffalo Inn & Spa
Located along Buffalo Street, New Buffalo Inn & Spa is comprised of six rooms of varying size and price. The inn is within walking distance to surrounding restaurants and Barney's and is just a short car or bike ride to the beach. www.newbuffaloinn.com
Marina Grand Resort
Balcony views from this hotel offer sweeping views of Lake Michigan. Its central location provides easy access to all the amenities New Buffalo has to offer. Suites intended for extended stays include a European-style kitchen, dining area and living room. www.marinagrandresort.com
10th Annual Harvest & Wine Festival
Oct. 10
Local wineries, craft brewers and restaurants bring sips and tastes to visitors at this annual event that includes live music, hayrides and a farmers market. www.newbuffalo.org
Arrive
By Train: Most city dwellers catch the Amtrak to New Buffalo. Amtrak services New Buffalo with two stops a day. Service is available from Oklahoma City's Heartland Flyer, though for a substantial charge. To find a train route, visit www.amtrak.com.
By Car: The trip from Tulsa to New Buffalo is around 750 miles and 10.5 hours. Take 1-44 toward Chicago, then 1-80 through Gary, Ind. Veer onto I-94 into Michigan. Take Exit 1.