A chef needs a few key elements to succeed: creative flair; experience and understanding of how a kitchen should run; and a good mind when it comes to business and profitability. A chef must also be a leader, mentor and teacher to those who seek guidance.
Michael Paske of the Hamilton Supperette and Lounge in north Oklahoma City combines all these traits and has earned his culinary stripes. Born and raised in Oklahoma City, but with small stints in southwest Texas and suburban Chicago, Paske is proud to claim OKC as home.
Becoming a chef, however, was not his first plan after high school; instead, it was sports medicine for the then-athlete. After figuring out college was not in the stars, Paske turned to the dining business.
"I knew I loved cooking and had been working in restaurants for a while," he says. "So I put my head down, worked my way up through corporate kitchens and eventually got to a small, independent restaurant called Primo's, where I was the co-executive chef."
Paske's ambition did not stop at that Yukon establishment, and his cohorts knew that. They suggested he study under Kurt Fleischfresser, the lauded OKC chef and mentor, to get the education and guidance he longed for. However, life kicked in and becoming a single father meant time with his daughter was more important than the long hours of a chef apprenticeship.
Paske eventually found a way to combine his culinary smarts with his desire to mentor young cooks through ProStart and Odyssey de Culinaire. ProStart, an organization through the National Restaurant Association's educational foundation, reaches out to students considering the hospitality industry as a career. Odyssey de Culinaire, a fundraising dinner through the Oklahoma Restaurant Association, takes chefs from Tulsa and Oklahoma City, along with ProStart kids, and they prepare the feast. Paske found a home with these organizations and gets understandably emotional when discussing them.
"A lot of the kids that you spend time with don't have much," he says. "I didn't have much as a kid. This gives me an opportunity to give back to the community. Some of these kids need a positive role model and to know that someone does give a damn about them. It makes me happy to be able to do this."
Before looking up, Paske wipes his eyes and mumbles, "You got me."
Back at the Hamilton, that same sense of mentoring pervades in his kitchen; Paske understands that he and his kitchen crew sometimes see each other more than they do their loved ones. He emphasizes teamwork, cohesion and responsibility.
"We all work as a team here," he says. "Some weeks are really busy, and everyone is worn out, but we have to stay positive and show every customer who walks through our doors the same love and hospitality that we showed the first day. If we can't take care of our customers that way, then we might as well find something else to do."
For Paske, being a chef is a lot more than knowing how to cook. In addition to the relationships that evolve, it means not taking blessings for granted.
Ask Paske. He'll show you.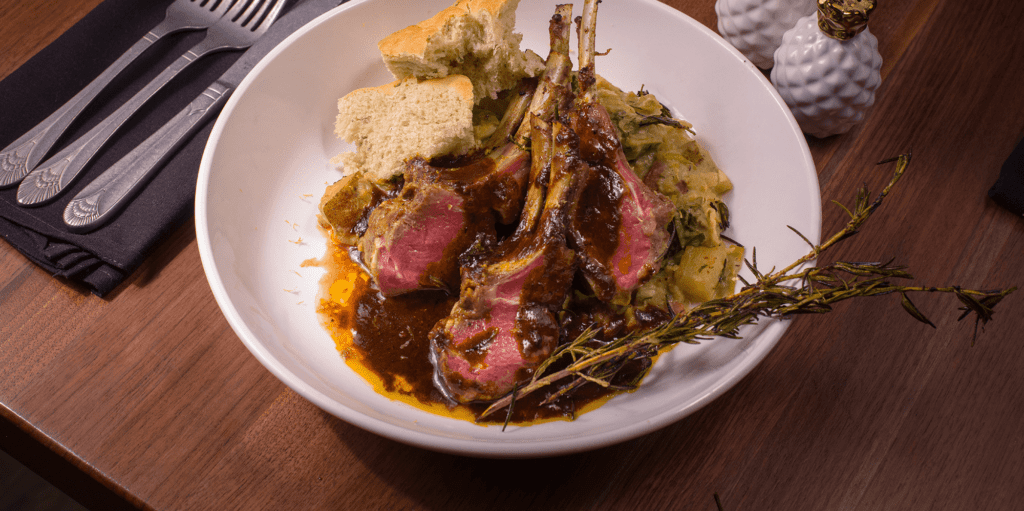 Michael Paske's Potato Colcannon
3 medium potatoes, baked, cooled and diced into medium cubes
2 tablespoons butter
1 cup heavy cream
1 cup water
1 medium yellow onion, roughly chopped
2 cloves chopped garlic
3 stalks kale, torn with ribs taken out
½ head white cabbage, chopped into medium sized squares
Salt and pepper to taste
Warm butter in a 2-quart stalk pot until frothy
Add onions and cook until translucent
Add cabbage and potatoes and cook for 10-15 minutes on low heat
Add garlic and cream
Reduce cream by half
Add kale
Add water as needed
Season to taste