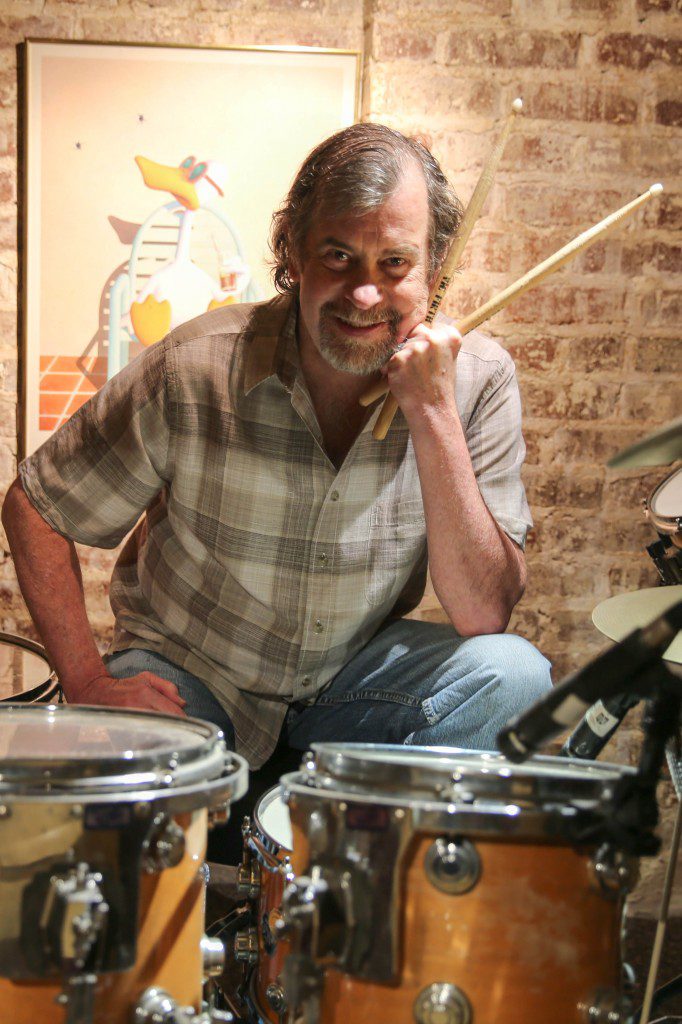 When asked how long he's been working on his first solo album, the impressive and entertaining Magic Pocket, Bill Belknap laughs heartily
"Do you want the truth?" he asks. "I think Ed and I wrote one of the songs, 'Bonjour, Monsieur, for Sure,' in about 1987. I've just been writing over the years, and finally it came together as something I thought was more cohesive, because I was kind of writing all over the board. These songs, even though they are kind of diverse, fit together better than some of my other stuff; the last three or four I finished here at Loudoun Road, but that's been over almost an eight-year period."
So it's fair to say that Magic Pocket has been, as the Cecil B. DeMille movie promos used to say, years in the making. But that's hardly all, or even much, of what Belknap has been up to over the years. The "Ed" he refers to is his longtime partner in Tulsa's Long Branch Studios, Ed Robinson, who also plays keyboards on the new record. And Loudoun Road is the studio Belknap founded, with Robinson as an associate, following the demise of Long Branch in 2003.
And even as Belknap and Long Branch were working on big '80s and '90s studio projects like the soundtrack for Francis Ford Coppola's Rumble Fish and sessions with Gene Simmons and Bon Jovi, Belknap was also finding plenty of work as a drummer with area bands – as well as with a national recording act.
"I started with a group called Fantasy in the '70s," he remembers. "It was a bunch of Bartlesville boys, a Chicago kind of band with horns and stuff. Then I worked with Donna Williams and Fat Tuesday for a while, and I was the drummer for Dave Barber for a bunch of shows. Then it was Andy Gravity."
Coming along in the mid-'80s, the band Andy Gravity not only became a popular Tulsa-area rock act, but also made its mark on, strangely enough, the Michael Jackson universe. In 1987, the Ideal company brought out a line of stuffed animals called Michael's Pets, each accompanied by its own cassette tape.
"On one side was a story about the animal, and on the other was a little song," he explains. "Andy Gravity did the writing and the instruments and so forth, and we had different singers come in. Michael Jackson actually owned the publishing; I guess his family still does.
"We did that for a company in L.A. called SEPP International. Our buddy, [former Tulsan] Mitch Schauer, was an animator and a producer, and he got us a lot of work with SEPP," Belknap continues. "At one time, they were developing an animated version of Bonanza, and Ed Robinson and I did an actual Tulsa Philharmonic orchestration for a 10-minute trailer, which was a lot of fun."
In addition to Belknap and Robinson, Andy Gravity included Eskimo Joe's owner Stan Clark on lead vocals, Rick Peale on guitar and Ron Flynt on bass. Flynt had returned to Tulsa after a half-dozen years with the influential L.A. power-pop band 20/20, which he'd founded with fellow Tulsan Steve Allen. Their first two albums, 1979's 20/20 and 1981's Look Out, both on the CBS subsidiary Portrait Records, made Billboard magazine's album charts, and they recorded a third, Sex Trap, engineered and produced in L.A. by still another Oklahoman, Steve Ripley.
"They were playing shows all over and had two minor hits, 'Yellow Pills' and 'Nuclear Boy,'" notes Belknap. "Those were big hits in L.A., and they were popular in New York, but for some reason, they didn't get across the country."
A dozen or so years later, however, Flynt and Allen would try again, this time with Belknap as a collaborator. It was the early '90s, and Belknap was working with, among other acts, the Larry Cagle Band. Featuring top-drawer musical comrades Pat Savage (guitar), Mark Snyder (bass), and Rick Morton (fiddle, guitar, mandolin), "that band rocked the country bars from Fayetteville to Pawnee, and all points in between," he says.
At about the same time, he and Flynt were crafting a duet project that attracted the attention of Warner Bros. Records.
"We got some seed money from Warner Bros. to do a demo, and we did it at Long Branch," he says. "Steve Allen was moving [from L.A.] to Nashville at the time. And one of them, I don't know which one, thought of the idea of getting 20/20 back together, and got me in as the drummer. We got two albums out, 4 Way Tornado and Interstate, and toured the West Coast in '97."
Like Belknap, both Flynt and Allen now have their own recording studios – in Austin and Nashville, respectively – and both show up on Magic Pocket. So do former Andy Gravity members Peale, Robinson and saxophonist Steve Bell, a later addition to the group. Other personnel on the record include guitarists George Barton and Jerry Shields, bassist Dean Demerritt and singers Cheryl Wright, Gwen Gomes and Mary Pinkly. In addition to lead vocals and drums, Belknap plays some keyboard, harmonica and bass, and he gets sole songwriting credit on most of Magic Pocket's tracks; collaborators include Peale, Robinson and Belknap's wife, Elizabeth.
It's a collection that runs from melodic pop-rock to a bit of reggae and R&B, with a distinct Steely Dan influence on a couple of the tunes. And while it's indeed his first solo record, that statement's a bit misleading, since Magic Pocket is only available digitally.
In fact, that's one of the major reasons it's available at all.
"Since everything has moved away from real hard-copy CD stuff, and you can actually release something electronically, I decided to pull the string and go for it," he explains. "I think that's the thing that pushed me over the top. I'd heard horror stories about people who had made a thousand CDs, and now they're just stuck in their garage.
"To be honest," he adds, "I've spent quite a bit of money on it over the years. I've paid everybody to play on it, except for maybe Ed and Rick Peale. I thought the [rest of the] money might be better spent in hiring some of these little outlets online to try and promote it."
He also heeded the advice of Carl Caprioglio, whose Oglio Records released the two albums 20/20 cut in the '90s.
"Carl said, 'You know, Bill, if you're not really a band, out there on the road, with an item to show people, it's really hard to get people to buy CDs any more.' He said they still buy 'em in Europe, but in the States it's pretty much gone electronic."
While Belknap has continued to perform, most recently with the Tulsa-based Boogie Boys, and says he's "trying to get a new band started with Rick Peale and/or George Barton," he doesn't anticipate forming a group to support the new work.
"I don't foresee anything happening unless it really takes off," he says. "Then I'd try to put a band together. The hardest part for me is drumming and singing – I can drum okay, and I can sing okay, but doing both at the same time…"
He laughs again, adding, "I'm no Phil Collins, man."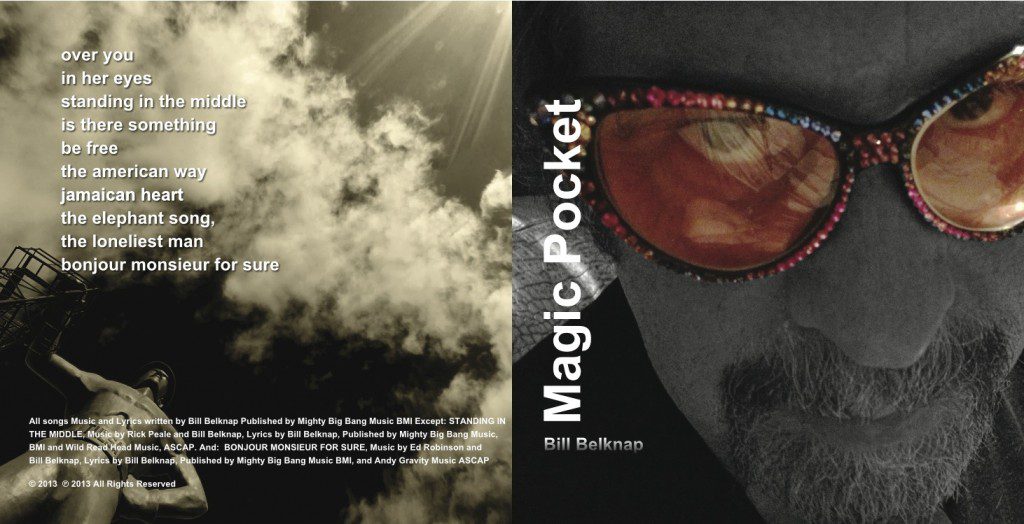 Magic Pocket can be downloaded at Amazon and iTunes, as well as Belknap's website, www.loudounroadstudio.com.