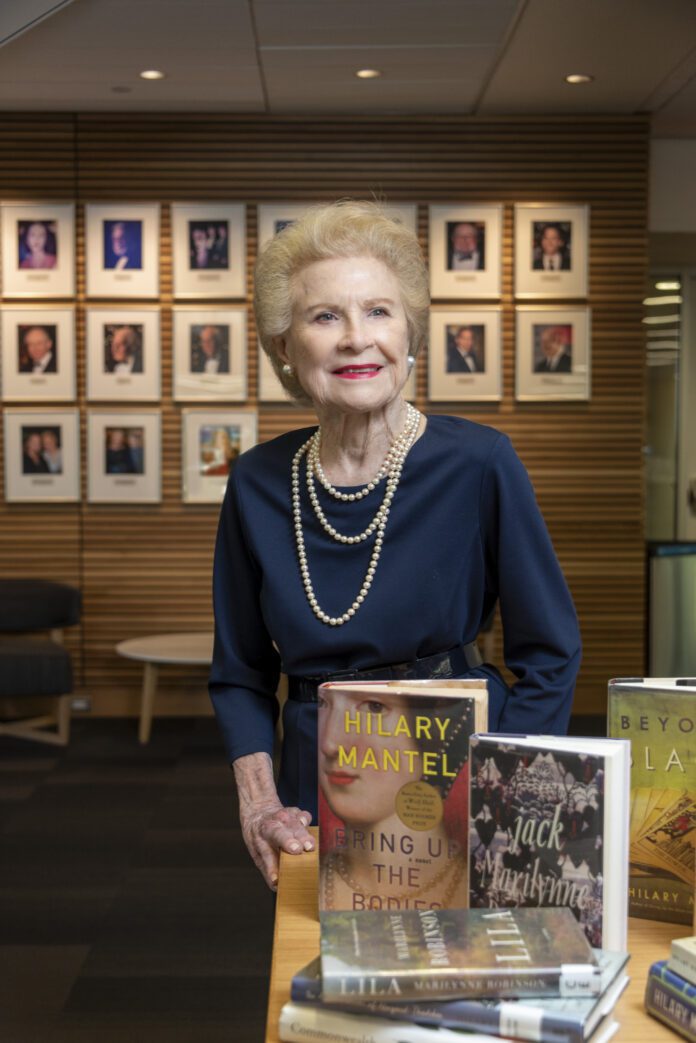 Because of one woman's love for libraries, the Tulsa community has enjoyed visits from some of the world's most prominent authors annually for nearly 40 years. The Peggy V. Helmerich Distinguished Author Award, given by the Tulsa Library Trust and the Tulsa City-County Library system, began in 1985 and has been importing top literary talent to Oklahoma ever since.
The award's namesake is the first to mention that the effort takes a host of dedicated staff and volunteers each year. But Peggy V. Helmerich has a rich story to tell herself.
A Tulsa philanthropist and wife of late oilman Walter Helmerich III, Peggy Helmerich is a force to be reckoned with at 95. She stays busy with meetings with friends, church, trips to the gym and meals with her family; she especially enjoys lunches with her three-year-old great-granddaughter. Family is very important to her – but another theme that has run steady throughout her life is her love for stories. And she's an accomplished story-teller herself.
After attending Northwestern University, Helmerich was an actress in Hollywood in the 1950s. She can fascinate and delight with stories from this era and the plots from movies she made. She is probably best known for her role in 1950's Harvey with Jimmy Stewart.
One story she relates gives insight into Stewart's character. She tells how she invited some friends from Athens, Georgia – her hometown – to go to the studio with her while they were shooting Harvey.
"In walks Jimmy Stewart," she tells me. "He said, 'How are you?' Well, those girls almost fell out of their chairs!"
He sat down with her friends and asked where they were from.
"They were so cute with him," says Helmerich. "You know, being from a little town and far, far, away, and here he was, being just precious to them."
But dazzling stories about Hollywood aren't the only ones Helmerich can share. She also recalls wonderful memories from each of the authors she and the library have recognized over the years through the Distinguished Author Award. Including the masterful Amor Towles being honored later this year, 38 authors have received the award, visited Tulsa and captivated library-loving audiences.
Helmerich remembers an author who wouldn't fly to Tulsa … but wanted to drive cross-country instead, and one who loved the local museums so much that they wouldn't leave in a timely manner. All in all, Helmerich is enchanted by each and every one of them. And she can describe the looks, mannerisms and personal quirks of all of them, too. She sums up the experience as "great fun. We've just had fabulous people."
One of the best of Helmerich's stories details the turning point of her early life, how she met her husband and left Hollywood behind.
She was in New York to make a movie, but was getting ready to return home when a friend talked her into attending the opening of the movie Gentlemen Prefer Blondes. She was on the rooftop of the St. Regis Hotel. Peggy's date, arranged by said friend, was distracted by another woman, when that woman's date turned to Peggy and said: "Hi! Would you like to dance? I'm Walt Helmerich."
They continued to date while Walt attended Harvard Business School and Peggy lived in Los Angeles. Then, during one trip to the west coast to see her, Walt proposed. A 60-year marriage (until his death in 2012), five boys, and numerous grandchildren and great-grandchildren followed – a fairytale of a love story.
Love is evident in her voice when Helmerich speaks of her husband.
"Walt and I were just so, I felt, right. He was kind of wonderful."
And that's why she left Hollywood behind to move to Tulsa and build her family.
Peggy and Walt Helmerich have created a legacy of philanthropy throughout Tulsa and the state, supporting many causes they cared about deeply. But the cause that is clearly very close to her heart continues to be the library, the Distinguished Author Award and its associated gala.
"Our library gala was to get people and mothers and their children interested in the library," she says. "But [the library] is such a treasure chest of things we might want to know."
One book that brings her joy these days is Library Lion – it recounts a charming tale of an unusual visitor to his local library, and the lessons learned about welcoming those around us. The story dovetails well with how Helmerich feels about libraries.
"It's just such a wonderful thing to watch kids listen to the Library Lion," says Helmerich. "It's just a wonder what you can visualize and imagine and just sort of feed on; it feeds your soul. That's what's so important to me. Libraries in a community make a community. If [libraries] are not so important, then intellect is not so important and thinking is not so important and using your brain is not so important. [Libraries are] a good source of all kinds of interesting things."