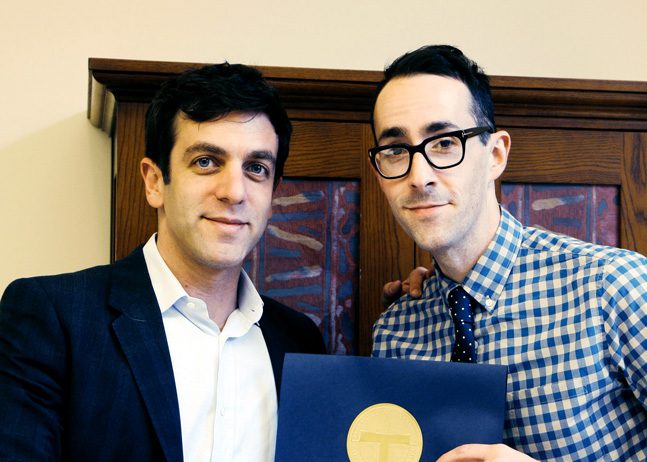 [dropcap]Booksmart[/dropcap] Tulsa was borne out of an idea for a citywide book club. In 2009, Jeff Martin and Mary Beth Babcock rented out the top floor of a downtown Tulsa bar and spread the word.
They expected about 40 people to show up, but to their surprise, about 400 enthusiastic bibliophiles flooded into the building. Those numbers, however, began to dwindle over the next few months.
"You could see that we weren't bringing a lot of new people into the mix, so we changed the model about four months in," says Martin. "It became more of what we call a visiting author series. Since then, we've had well over 200 events, 200 authors. We do different venues every time. Everything is donated. Venue space is donated. Hotels are donated. Flights are donated. Sometimes meals are donated. It's all done on an in-kind donation partnership with different places throughout the city."[pullquote]"I did Booksmart because it was something that I wished I could go to, and it just wasn't something that was around. I have as much fun as anybody at these events. It's not really work at all."[/pullquote]
Those partnerships allow for a variety of venues, from iconic places like Cain's Ballroom and the Philbrook Museum of Art to more unexpected places like the Community Food Bank of Eastern Oklahoma and a synagogue.
"Half the mission is [to] not just have people see new authors, but to get out and see different parts of the city, meet new people that they might not otherwise meet," Martin says.
With anywhere from 100 to 1,000 people, ages 16 to 80, showing up for the three to four authors each month, there are plenty of opportunities to meet fellow Tulsans.
"We kind of get away from the standard come-talk-and-sign-books model," he says. "We want it to be more experiential. We'll usually have music and a bar and maybe some kind of activity, and then they'll do a talk."
Martin says the program's mission involves the idea of double exposure.
"When we bring someone into town, we want to expose people of Tulsa to their book, their ideas, the culture that they're bringing from wherever they are coming from; but there's a flipside to that, which is we want to expose those authors, those guests, to this city," he says. "We take them on tours. We eat at local places. We show them what cool things are happening here in town. We want them to leave this place with a really positive feeling about where they are."
Booksmart Tulsa's mission is proving effective. It has hosted several prominent authors, including David Sedaris, Elizabeth Gilbert and Chuck Palahniuk. This month, Salman Rushdie will join that list when he makes his first appearance in Tulsa.
"We're partnering with the University of Oklahoma-Tulsa extension to [bring Rushdie] during Banned Books Week," Martin explains. "Salman Rushdie wrote one of the greatest, most famous banned books of the last 100 years called The Satanic Verses. He is one of these iconic authors that I would have never thought we could have gotten six years ago."
Martin hopes that Booksmart will eventually be able to host a literary festival that will bring dozens of authors into the city to celebrate literature with book-lovers like him.
"I did Booksmart because it was something that I wished I could go to, and it just wasn't something that was around," he says. "I have as much fun as anybody at these events. It's not really work at all."