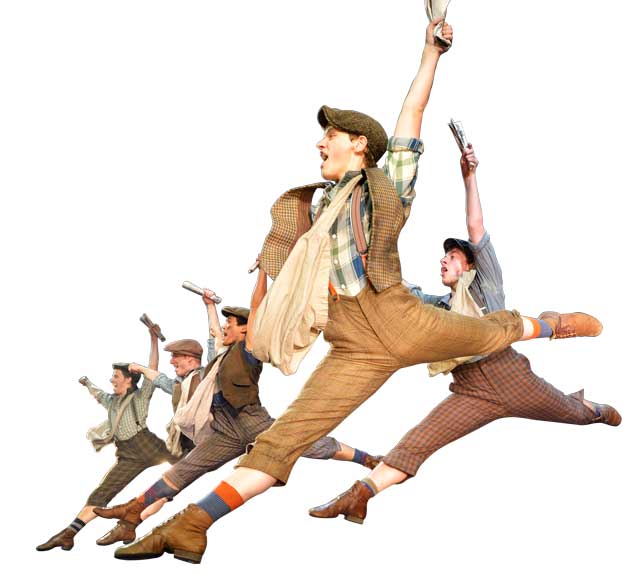 [dropcap]Celebrity[/dropcap] Attractions will present Disney's Newsies Sept. 14-18 at the Tulsa Performing Arts Center. The story revolves around several self-starter newsboys in New York City who go on strike after their boss raises the price of newspapers citywide. That's where Morgan Keene, who plays the feisty female lead, Katherine, comes into the picture.
"Katherine is a news reporter for the New York Sun. She helps the newsboys by putting them in a couple different stories she writes," Keene says. By raising the publicity for the boys and for herself, wheels start to turn for the lead characters and the story unfolds.
Keene, who is on her first national tour with Disney's Newsies, considers herself lucky to have won a role that reminds her so much of herself.
"Katherine's very opinionated, and we both speak our minds quite often," she says. "We know what we want in life and how to get it. You get to see Morgan on stage most nights too, not just Katherine."
Celebrity Attractions is only beginning with Disney's Newsies – the company has plenty of other sensational events in the season that offer an extensive range of subject matter, from Motown: The Musical running March 14-19 to Matilda The Musical running June 20-25. For the holiday season, Celebrity Attractions will bring in Elf, the beloved tale of Buddy and his journey to find his father, running from November 15-20, among other holiday-themed shows like Cirque Dreams on Nov. 29 and 30 and Mannheim Steamroller on Dec. 28. – and that's only naming a few.
Kristin Dotson, the vice president of Celebrity Attractions, credits Tulsa's residents and their love of theater as a huge contributor to Celebrity Attractions' success.
"We have one of the most successful Broadway seasons in the country compared to cities of similar size, so we appreciate Tulsa's support of live theater," she says. "The impact of the arts on the economy and the quality of life is so important, and we are proud to be a part of it." For more details, go to celebrityattractions.com.