FiveMoments that Changed Musical History
There's a fundamental question about whether Oklahoma is musically different from any other state. Maybe people in Springfield, Missouri, or Little Rock, Arkansas, or, say, Bangor, Maine, also feel that their homegrown artists deserve more respect than they've received.
Regardless, one assertion has been made hundreds or thousands of times, especially by people familiar with Tulsa's musical history: Oklahoma's musicians don't get enough credit for what they've done and what they continue to do.
This collection of big moments is a bit of home cooking – a little argument for Oklahoma as a state that's influenced popular music in a far bigger way than its size would indicate. Anyone can come up with more than five examples to support that thesis, but these are arguably the most persuasive.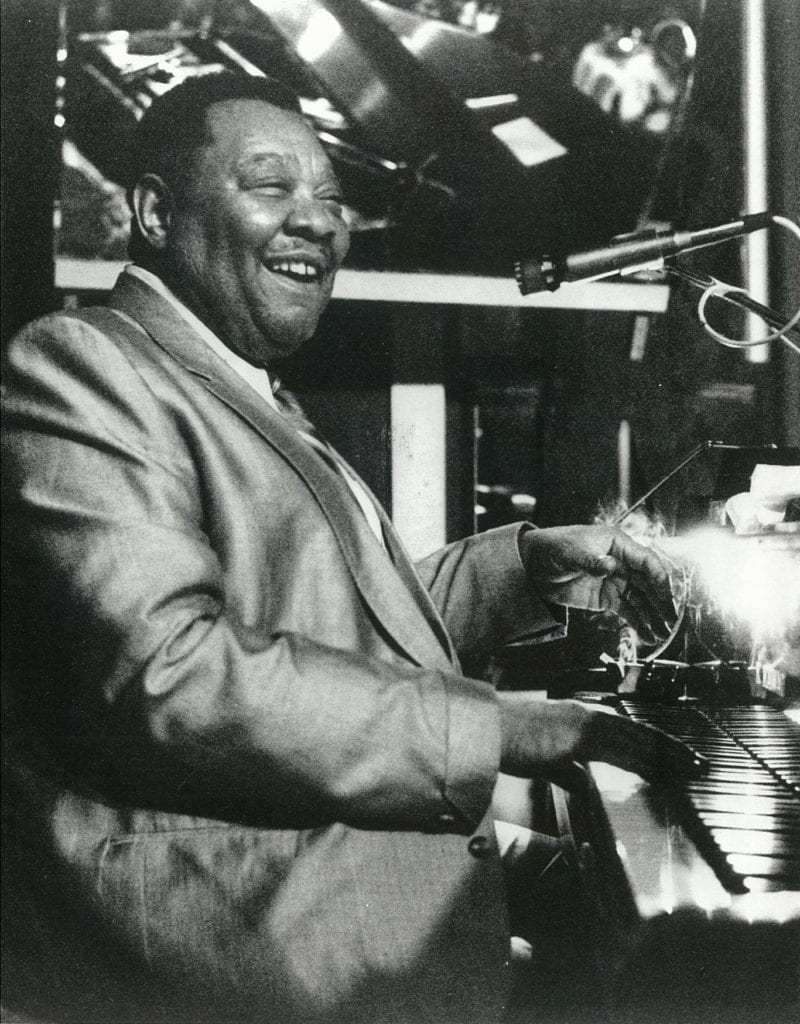 1
Count Basie hears the Oklahoma City Blue Devils for the first time.
In 1927, New Jersey native Bill Basie played piano for Gonzell White and Her Jazz Band, a touring act on the African-American vaudeville circuit known as the Theatre Owners Booking Association. At the same time, the Oklahoma City Blue Devils, jazz players under the leadership of bassist Walter Page, worked regularly in Oklahoma and surrounding states as a "territory band" that rarely traveled far from home.
Then, one morning around Tulsa's Greenwood Avenue, the two collided.
"Basie had been out the night before and had gotten introduced to Choc beer," jazz historian, writer and musician John Hamill says. "Apparently, he was desperately overserved. He woke up the next day in his room at the Red Wing Hotel on Greenwood, and he heard this music. It was something new to him. It was wonderful. He had to find out who it was. So he got dressed, ran downstairs and found out it was the Oklahoma City Blue Devils, out on a flatbed truck, playing to promote one of their gigs.
"As Basie writes in his autobiography, that's when he had his epiphany. He saw his future. He knew then what he wanted to do for the rest of his life."
A year or so after that encounter, Basie was a Blue Devil. Eventually, he joined the Bennie Moten band in Kansas City, which featured a number of ex-Blue Devils. Several years later, following Moten's death from a failed tonsillectomy, Basie combined members of that outfit and the Blue Devils – including Page – into his own group, the Count Basie Orchestra, the most famous and influential of all the acts to perform in the distinct Kansas City jazz style.
2
Bob Wills talks his way onto Tulsa radio station KVOO.
On the morning of Feb. 9, 1934, a dispirited trio headed down the highway to Tulsa from Oklahoma City. In the car were bandleader-fiddler Bob Wills, announcer-trumpeter Everett Stover and business manager O.W. Mayo, looking for a new radio station home for their band.
The group of Texas expats known as Bob Wills and His Texas Playboys had thought they'd found a place to hang their hats at Oklahoma City station WKY. However, a vengeful ex-employer named W. Lee "Pappy" O'Daniel had gotten them canned by dangling the offer of another music program and increased ad revenue to WKY management.
The three then aimed at KTUL, a small Tulsa station suggested to them by a sympathetic executive at WKY. But something happened, as Mayo said in a 1986 interview: "On our way over, I said, 'Bob, KVOO radio is over there, and they're a 25,000-watt station. This station we're going to is only a 500-watt station. Let's go see KVOO first, and we might get a chance to get on that station.'"
After stopping at a downtown Tulsa barber shop for shaves, they managed to give station manager William B. Way "a song and dance," Mayo said, and Way agreed to put the band on at midnight for a trial broadcast.
An immediate hit, Bob Wills and His Texas Playboys quickly earned a regular slot and from there – and, later, from their Cain's Ballroom headquarters – popularized the eminently danceable hybrid of country, blues, Dixieland, pop and fiddle music that became known as western swing.
3
Joe Cocker asks Leon Russell to put Together a band, leading to Mad Dogs & Englishmen.
Lawton native and former Tulsan Leon Russell had been a first-call Los Angeles studio musician for several years when he made the acquaintance of vocalist Joe Cocker and his manager, Denny Cordell, who'd both traveled from England to record on the West Coast. Russell ended up playing on, as well as co-producing, the subsequent LP, Joe Cocker!, released in late 1969.
In March of the next year, Cocker and Cordell hired Russell to put a band together for a series of already booked Cocker dates. Russell assembled Mad Dogs & Englishmen, a huge touring aggregation made up of British and American players, including Tulsa-linked musicians like bassist Carl Radle and drummers Jim Keltner and Chuck Blackwell, in addition to Russell himself on keyboards and guitar.
The tour, two-disc album and subsequent documentary made a considerable impact on audiences of the time and launched Russell into the rarified atmosphere of rock 'n' roll stardom.
"I don't think anyone knew who Leon was before that," says veteran Tulsa musician Jim Downing, who was later signed to Shelter Records, the label established by Russell and Cordell. "They didn't know he'd played on all those sessions. But then Mad Dogs & Englishmen came along, and his first solo album was released while the tour was going on."
By the time George Harrison enlisted Russell as a headliner for the Concert for Bangladesh, which took place Aug. 1, 1971, at New York's Madison Square Garden, the former session man was a genuine superstar.
"The moment Leon opened his mouth on that stage," Downing says, "the crowd began singing his songs with him."
Not long afterward, Russell returned to his old hometown to run the Church Studio and Shelter Records out of Tulsa with partner Cordell. In those magical few years, Tulsa became a crossroads of international rock 'n' roll – and Mad Dogs & Englishmen was the catalyst for it all.
4
Garth Brooks signs with Capitol Records.
The 1990s are remembered as the decade when Oklahoma acts took over the country music airwaves. Vince Gill, Reba McEntire, Ronnie Dunn, Joe Diffie, Ricochet, Wade Hayes and Toby Keith, among others, regularly landed singles in the upper reaches of the national country charts.
Some of these acts, along with such trailblazers as Becky Hobbs and Mel McDaniel, had been making major-label noise since the early '80s, but it was Garth Brooks' runaway success that brought renewed attention to country artists from our state.
"He's really the one who opened up the door and let everybody through," says longtime country music booking agent and producer Ray Bingham, who logged Brooks' very first solo job back in the late '80s. "He was just so humble and such a good guy that it reflected on all the others."
Brooks signed his deal with Capitol – after initially being turned down – on June 17, 1988, with a $10,000 advance. His first single, "Much Too Young (to Feel This Damn Old)," hit the Billboard magazine country Top 10 a few months later, and he was on his way to becoming the top-selling solo album artist of all time.
5
The Great Divide cracks the national country music charts.
Although the band hardly had the chart impact of Brooks, with only two songs ("Pour Me A Vacation" and "Never Could") landing in the lower reaches of the Billboard country chart during 1998, the Great Divide was the first of the Stillwater-based Red Dirt acts to see some mainstream success – without sacrificing the fiercely independent spirit that characterizes the genre.
"They went after the Top 40 country places," says John Cooper of the pioneering group the Red Dirt Rangers. "They decided, 'We're going to go head-on, against the grain of what's happening,' and so they went into those boot-scootin' joints and said, 'Look, we're not going to play cover songs. We're going to play our stuff.'
"Until then, it had been like, 'If you play 75% covers and 25% of your own, we can put you to work on the circuit.' That's what we were told, anyway, and we didn't do it. The true Red Dirt guys didn't go the country-cover angle."
The rise of the Red Dirt movement corresponds in some ways to the proliferation of Oklahomans on the national country charts. But the Red Dirt acts took, and still take, pride in doing music their way instead of chasing mainstream stardom.
However, as Cooper notes, at least one big-name act will always have a foot in Red Dirt.
"I've seen Garth quoted as saying he wouldn't sound like he did if he didn't come from Stillwater," he says. "And if you came from Stillwater, Oklahoma, in the '70s, '80s or '90s, you were and are Red Dirt. There's no getting around it, man. Garth is one of us, and I think he likes it."
16 Other Musicians to Remember
In addition to those mentioned in Oklahoma's greatest musical moments are 16 other influential figures from our state, listed in alphabetical order. There are many more where these came from.
Chet Baker This trumpeter and vocalist from Yale had a detached, whispery style that helped make him the epitome of West Coast-cool jazz in the 1950s.
J.J. Cale One of the original Tulsa rock 'n' roll musicians, this guitarist, vocalist and songwriter had a laid-back, deep-groove style that came to be associated with the classic Tulsa Sound.
Roy Clark Although this Virginia native didn't make Oklahoma his home until the 1970s, when he settled in Tulsa (home of his longtime manager, Jim Halsey), he was a wonderful ambassador for our state, an engaging personality and a great talent who helped bring country music to mainstream America.
David Gates One of the original Tulsa Sound figures of the 1950s, he went on to front the popular pop group Bread and write hit songs for that group, himself and others.
Woody Guthrie A hugely influential musical and political figure from Okemah, he stood up for the American underclass during the Great Depression by penning and performing hundreds of songs, including the iconic "This Land Is Your Land."
Hanson Since their first hit single, 1997's "MMMBop," Tulsa-based brothers Isaac, Taylor, and Zac Hanson have sold more than 16 million records worldwide and continue to tour successfully.
Wanda Jackson Known as the First Lady of Rockabilly, this Maud native toured with Elvis Presley in the mid-1950s, cut rock and country crossover hits ("Right or Wrong" and "In the Middle of a Heartache"), and was inducted into the Rock and Roll Hall of Fame in 2009.
Barney Kessel Honing his chops in his hometown of Muskogee, guitarist Kessel became one of the top jazz and session players on the West Coast in the '50s and '60s and often joined fellow Oklahoman Leon Russell in the group of first-call studio musicians known as the Wrecking Crew.
Reba McEntire The daughter of a Pro Rodeo Hall of Fame roper, this megastar-to-be came out of the hills around Chockie, first attracting attention as a member of the Singing McEntires (with brother Pake and sister Susie, who would both go on to significant music careers themselves) before landing her first major-label deal in the mid-1970s.
Jay McShann One of the many great jazz players to come out of Muskogee, McShann was a pianist, vocalist and bandleader who, like his slightly older contemporary Count Basie, was one of the leading lights of Kansas City jazz.
Leona Mitchell A Grammy Award-winning operatic soprano, Mitchell began her vocal career as a member of the Antioch Baptist Church choir in Enid; she went on to be featured for 18 seasons at New York's Metropolitan Opera.
Patti Page The former Clara Ann Fowler, born in Claremore, was the top female pop vocalist of the 1950s, with No. 1 hits like "Tennessee Waltz" and "(How Much Is That) Doggie in the Window."
Sandi Patty A top name in contemporary-Christian music since the early 1980s, Oklahoma City native Patty has won multiple Grammys, in addition to earning the Gospel Music Association's Dove Award for Female Vocalist of the Year for 11 consecutive years.
Steve Ripley Considered by many to be the father of Red Dirt music, Ripley went from the Stillwater-based band Moses to stints as Russell's engineer and Bob Dylan's guitarist. He founded the multi-platinum-selling country-rock band the Tractors in Tulsa in the early 1990s.
Blake Shelton From Ada, Shelton broke out at the turn of this century with his first country music hit, "Austin," which led to million-selling records, successful tours and, for the past several years, a starring role on the NBC-TV vocal-competition series The Voice.
Carrie Underwood Parlaying her 2005 win on American Idol into superstardom, Checotah native Underwood saw her debut single, "Inside Your Heaven," become the first of a long string of No. 1 hits and multiplatinum-selling albums. Billboard magazine named her the top female country music artist of the 2000s. – JW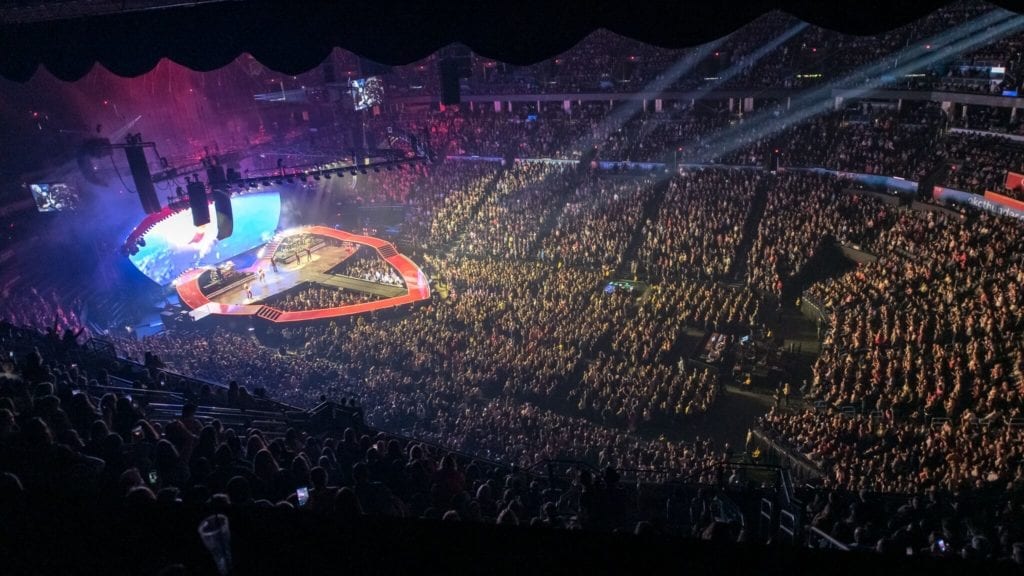 ---
Venues
From giant arenas and mid-sized halls to small, intimate settings, music lovers around Oklahoma have their pick of entertainment venues to catch famous or lesser-known musical acts.
Major Acts
BOK Center, Tulsa
This 19,199-seat, multipurpose arena opened in 2008; it was built with $196 million in public and private funds and is home ice for the Tulsa Oilers minor league hockey team.
200 S. Denver Ave.
bokcenter.com
Chesapeake Energy Arena, OKC
The Oklahoma City Thunder's home court, Chesapeake Energy Arena has hosted the likes of Paul McCartney, the Rolling Stones and George Strait. Opened in 2002, it cost $89 million, funded by Oklahoma City's initial MAPS capital improvements sales tax. It seats up to 16,501 for concerts.
100 W Reno Ave.
chesapeakearena.com
Hard Rock Live, Catoosa
Formerly known as The Joint, this 45,000-square-foot room offers amphitheater-style seating for 2,700 and top-notch sound and lighting.
77 W. Cherokee St.
hardrockcasinotulsa.com/entertainment
Choctaw Grand Theater, Durant
This 100,000-square-foot multipurpose facility at Choctaw Casino and Resort seats 3,000 for concerts, conventions, trade shows, banquets, receptions and corporate events.
4216 S. U.S. Highway 69/75
choctawcasinos.com
Global Events Center, Thackerville
This 3,500-seat concert and event venue, located in the Rome Gaming Plaza at Winstar Casino, has hosted Sting, Blake Shelton, Kiss, Jerry Seinfeld and James Taylor.
777 Casino Ave.
winstar.com/entertain/global-event-center
Mid-Sized Acts
Cain's Ballroom, Tulsa
Known as the Carnegie Hall of Western Swing, Cain's was built in 1924 and, from 1935 to 1942, was the home of western swing giant Bob Wills and His Texas Playboys.
423 N. Main St.
cainsballroom.com
Tulsa Theater
Opened in 1914, this four-story edifice was designed as a municipal auditorium and convention hall. The venue changed its name from Brady Theater in January.
105 W. Reconciliation Way
bradytheater.com
The Criterion, OKC
This newcomer to the Bricktown District is one of Oklahoma's eminent live music and entertainment venues.
500 E. Sheridan Ave.
criterionokc.com
Tower Theatre, OKC
Refurbished in 2014, it opened in 1927 and is one of Oklahoma City's last original movie houses with an intact auditorium and neon marquee.
425 N.W. 23rd St.
towertheatreokc.com
Mabee Center, Tulsa
An 11,300-seat multipurpose arena on the campus of Oral Roberts University, it hosts entertainment events and is the home of ORU's men's and women's basketball teams.
7777 S. Lewis Ave.
mabeecenter.com
Small Acts
The Vanguard, Tulsa
Located in the historic Arts District, this hall features independent artists and bands on their way up.
222 N. Main St.
thevanguardtulsa.com
Blue Door, OKC
This intimate setting near Oklahoma City University is billed as the "best listening room in Oklahoma."
2805 N. McKinley Ave.
bluedoorokc.com
89th Street, OKC
This all-ages music venue and events center is in north Oklahoma City.
8911 N. Western Ave.
89thstreetokc.com
Diamond Ballroom, OKC
Opened in 1964, the Diamond has hosted many country and swing bands, and once boasted the largest dance floor in the southwestern United States.
8001 S. Eastern Ave.
diamondballroom.com
Opolis, Norman
This bar and micro-entertainment venue offers vegan, organic and gluten-free food.
113 N. Crawford Ave.
opolis.org
By John Wooley and Henry Dolive
Editor's note: John Wooley has written about music and Oklahoma musicians for more than 50 years. He was the first journalist inducted into the Oklahoma Music Hall of Fame.
---
Oklahoma
Music Archives
Matthew Wallace, a Tulsa musician and sound-video technician, started the Oklahoma Music Archives in 2019 to be, in his words, a "collaborative community website," dedicated to preserving "the past, present, and future of Oklahoma music."
Visitors are encouraged to add information to paint as complete a picture of the state's musical scene as possible.
Wallace, 35, says he wants to include bands and musicians ranging from nationally recognized groups to obscure, unsigned artists.
"Whether the band is still rocking out shows or has been disbanded for decades, we want people to know about them," Wallace says.
When he was a stay-at-home dad, Wallace says he pulled out an old CD of Between Shadows & Sunrise, by Tulsa touring rock group Congress of a Crow. Wallace loved it and wondered whether others still listened to it or other Oklahoma artists. With free time and needing a creative outlet, Wallace formed the Oklahoma Music Archives at okmusicarchives.org. There's also a Facebook page.
Wallace sees the website as a way to create a picture of the history and current state of Oklahoma music.
"We then want to take that information to help educate the public and support the artists," he says.
---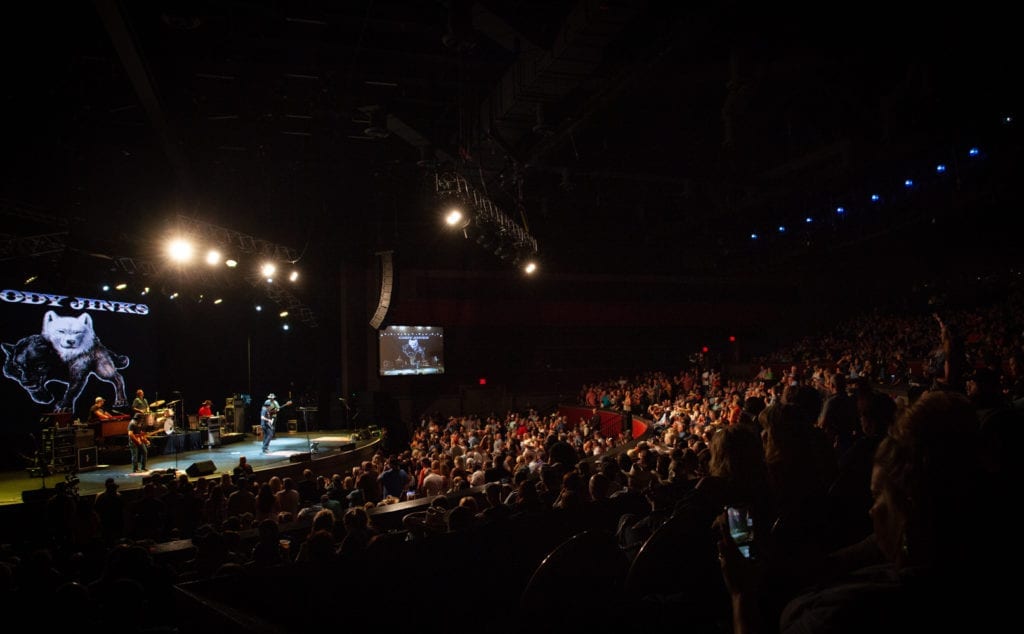 Summer Events
Whatever your musical taste – jazz, blues, rock, folk, country, classical – Oklahoma has festivals to satisfy nearly any musical appetite this summer. The following dates are those posted when this publication went to press; organizers may change or postpone dates due to the COVID-19 outbreak.
Tallgrass Music Festival, Skiatook
Aug. 14-15
3020 W. 133rd St. N.
tallgrassmusicfestival.com
BBQ 'n' Blues Festival, Cushing
June 13
305 W. Grandstaff Road
cushingchamberofcommerce.org
American Heritage Music Festival, Grove
June 11-13
Grove Civic Center and Snider's Camp
grandlakefestivals.com/ahmf.htm
OKM Music Festival, Bartlesville
(Formerly the OK Mozart International Festival)
Sept. 4-10
Ambler Hall, 415 Dewey Ave.
okmmusic.org
Jazz in June Festival,
Norman
Sept. 17-19
Brookhaven Village and Andrews Park
jazzinjune.org
Woody Guthrie Folk Festival, Okemah
July 15-19
Brick Street Café, Crystal Theatre and Pastures of Plenty
woodyfest.com
AquaPalooza Grand Lake, Afton
July 18
Grand Lake RV Resort, 31527 S. 4510 Road
360grandlake.com – HD