It's a small house on Grand Lake that makes an enormous first impression.
The project is the inaugural dwelling in a series of homes called 94 West, being developed by Phillip Uzzel, a Tulsa-based entrepreneur, and architecture firm Selser Schaefer.
"In 2015, I was looking for something that had not been done in Oklahoma," Uzzel says. "I approached Selser Schaefer Architects and we started on the … project in 2016. Designing the project took a year.
"I didn't want to do anything like anyone else. I wanted to create something with a modern feel that looks like something you might see in a German village, a Colorado resort town or the Disney resort in Florida."
He chose Monkey Island, a peninsula on the north shore of Grand Lake near the recently renovated Shangri-La, whose golf course is less than a mile from Uzzel's project.
The development, which Uzzel calls a pocket community, is on 3½ acres nestled in the woods around the lake. A 9-foot fence wraps around the property and the homes will feature private access. Abundant green belts are planned between homes, with a view of the lake as an added amenity.
Uzzel's mission with the community's design is fellowship, with each homeowner sharing space with neighbors.
"In our world, we are so connected yet we are lonelier than ever," he says. "I wanted to build something unique that is more focused on humanity than just making a dollar."
The first two-story home is 1,420 square feet with 6-inch walls. The hallways are wide and accommodating.
"There's a surprising amount of closet space," Uzzel says. "The rock fireplace is 16 feet tall; the pitched ceilings in the main living area range from 12 to 16 feet high. The inside is gorgeous and immaculate."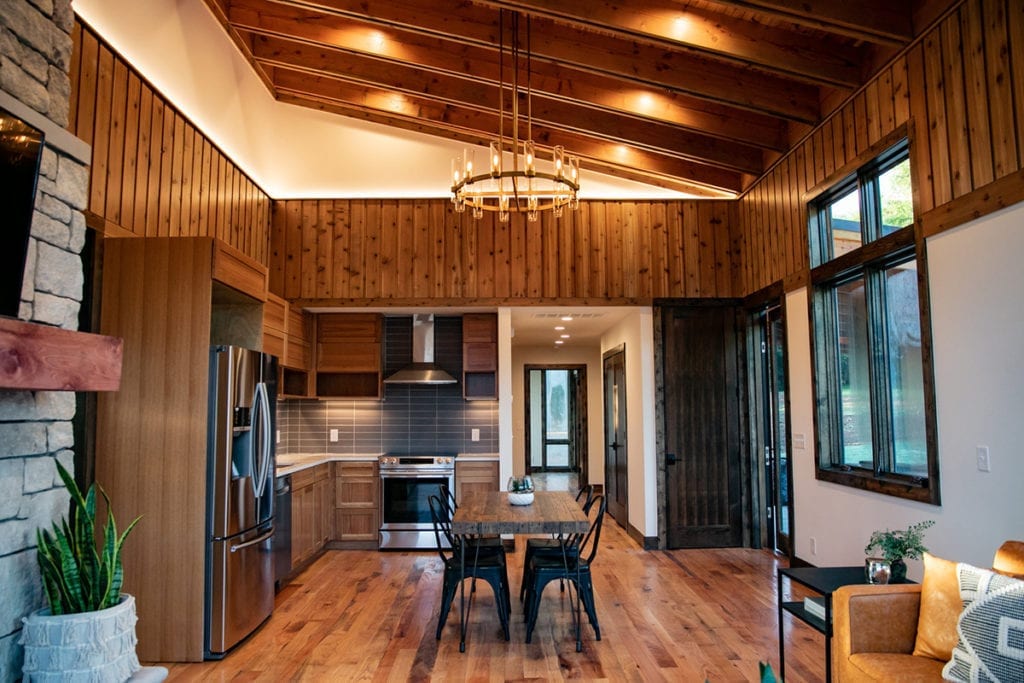 Another compelling feature is the wrap-around porch. All the porches in the community will face each other and add to Uzzel's inspiration of community.
"The view of the lake from the porch facing northeast is incredible," he says.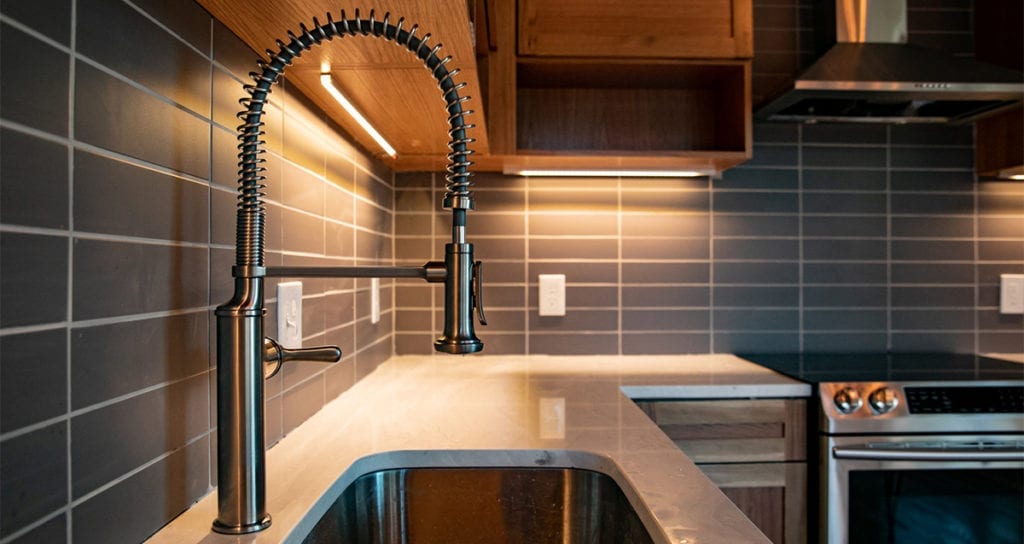 Abundant, large, floor-to-ceiling windows throughout the home bring in natural light and beautiful views of nature. Each of Uzzel's design features enhances the feeling of wide-open spaciousness in a compact area. A perfect example is the 8-foot-tall door leading into the master bedroom from the kitchen, along with the recessed lighting in the main living area. Ceiling beams add to the design drama.
"I used every inch of space in an extremely purposeful way even though the home has a minimalist look," Uzzel says.
One might call Uzzel a magician. After all, he has worked magic in a space that might become a symbol of future living.