Oklahoma
Lake Guide
Beat the heat at one of many Oklahoma lakes. We offer a quick breakdown of a few.
Grand Lake O' The Cherokees: 
Perhaps Oklahoma's most popular lake, Grand offers 46,500 surface acres of aquatic fun in northeast Oklahoma. Dock a boat year-round or rent one for the weekend. Find recreation at nearby state parks and privately operated facilities. Parasailing and wakeboarding offer high-energy adventure.
Lake Murray: 
In south-central Oklahoma near Ardmore, Murray is known for clear, spring-fed waters. Take Scenic Highway 775 to visit the parks, campgrounds, beaches and other facilities that surround the lake. Climb to the top of Tucker Tower for a beautiful view.
Broken Bow Lake:
In southeast Oklahoma near Broken Bow, the 14,000-surface acre lake is the foothills of the Kiamichi Mountains, surrounded by Ouachita National Forrest. Beavers Bend State Park offers scenic campgrounds. Activities include horseback riding, train rides, kayaking, canoeing and fly fishing.
Lake Eufaula: 
The water is sparkling and the scenery includes towering ancient forests, expanses of untouched prairie and majestic hills. More than 31,000 acres around the lake are public hunting areas. The two state parks have swim beaches, picnic areas, and restrooms with showers and campsites.
Lake Tenkiller: 
Located on the Illinois River just south of Tahlequah, Tenkiller Scuba Park is a diver's dream, with sunken vehicles, planes and boats awaiting exploration. Divers can also discover the remains of homesteads and artifacts from before the lake was formed. The water reaches 165 feet deep at its peak, and divers can try their luck at spearfishing for non-game fish. Diving pro shops offer training and equipment rentals.
Lake
Associations
Oklahoma's largest lake is a year-round playground, and visitors can count on the Eufaula Lake Association for information about where to stay and what to do.
"Our job is to market and promote," says Connie Morris, executive director.
The association operates the tourist information center and helps promote the lodging, shopping and recreation offered by its 120 members, most of whom are business owners. Social media is another important promotional tour, says Morris, and the tourist center fields lots of telephone calls.
The association covers all the communities around the Corps of Engineers lake, which has more than 800 miles of shoreline and 105,000 acres of water, touching parts of five counties.
Fishing tournaments are held from February through November, says Morris. Lake Eufaula State Park and Arrowhead State Park offer year-round camping, hiking, biking and equestrian trails. The association also provides information about private lodging and activities like mini golf.
---
Don't
Forget the Essentials
A day on the water isn't complete with the right gear to keep the fun going. The U.S. Coast Guard mandates that recreational boats be stocked with minimum safety equipment … with an emphasis on the "minimum."
"We recommend that you exceed them if you can," according to boatsafe.com.
The mandated list includes personal flotation devices, visual distress signals, fire extinguishers, ventilation for engines and fuel tanks and navigation rulebooks. Also recommended are a first aid kit, tools, a portable VHF radio, emergency fuel and water, a bilge pump, sun protection and an anchor.
And last but not least, according to boats.com, is a full fuel tank.
"Don't laugh at that one," the website states. "You'd be surprised at how many people run out of fuel. In fact, Sea Two lists running out of fuel as one of the top mistakes that lead to a tow."
Boaters should also check state laws, as some states have additional mandates.
---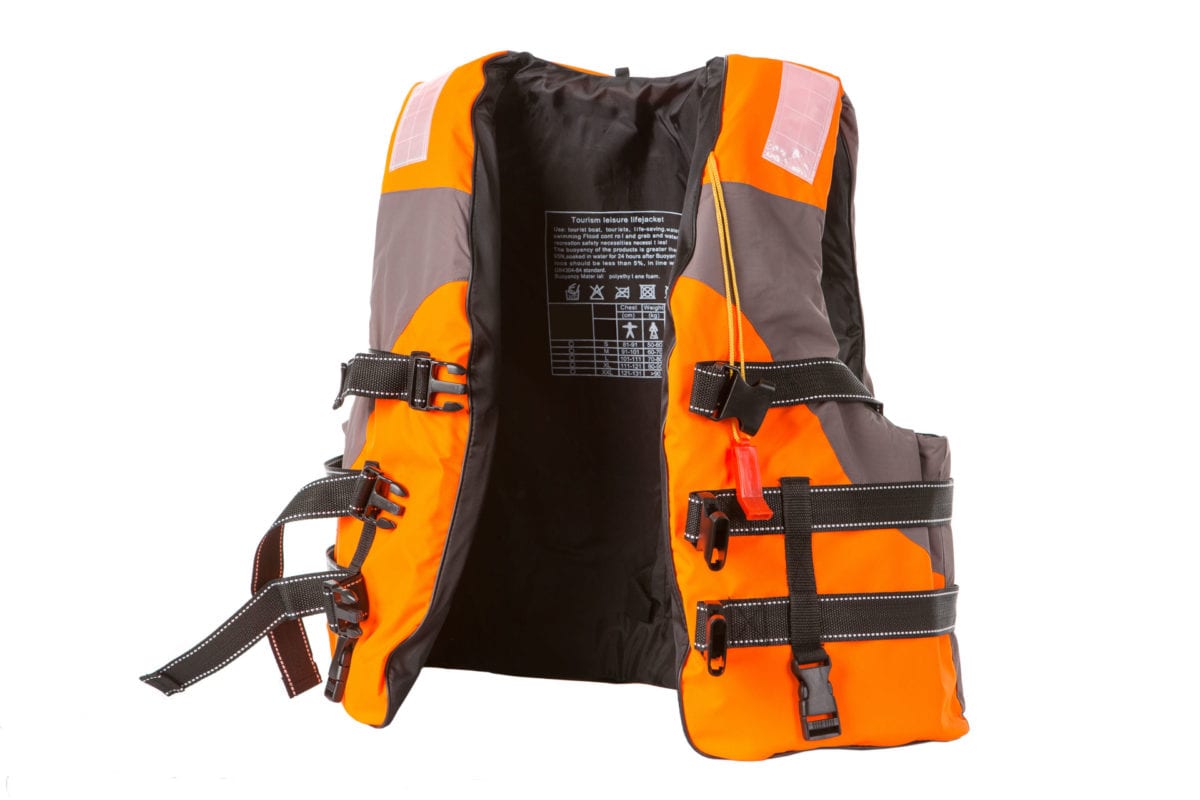 Staying Safe
The best way to stay safe on Oklahoma lakes is to follow the rules, which are often posted on signs around the lake and can be found on the Oklahoma Highway Patrol website.
TravelOK.com has lake safety tips, including information about blue-green algae, which should be avoided by swimmers.
Boating and alcohol don't mix. One-third of boating deaths are alcohol-related, and swimming while intoxicated is extremely dangerous.
"When you are using alcohol and there's a lot of wave action and sun beating down on you and you get dehydrated, it can impair your reaction time," says Justin Alberty, vice president of corporate communications at the Grand River Dam Authority. "Our main motto has been boat safe, boat smart and boat sober."
Boats must be equipped with a Coast Guard-approved lifejacket for every person on board, and children 13 and younger must wear a lifejacket on boats under 26 feet in length.
"Buy a lifejacket that fits," says Alberty, who mentions that GRDA police officers patrol Grand Lake, Lake Hudson and the Illinois River. "Buy your kids lifejackets that fit. Kids don't need lifejackets they will grow into. They need lifejackets that fit now."
Boating Safety Education training is required for youth ages 12 to 15 to operate a personal watercraft, a boat with an engine greater than 10 horsepower or a sailboat over 16 feet in length. Children younger than 12 may not operate boats or personal watercraft.
---
Highlights
Around the Region
Itching to get out of Oklahoma? Here are a few places to visit: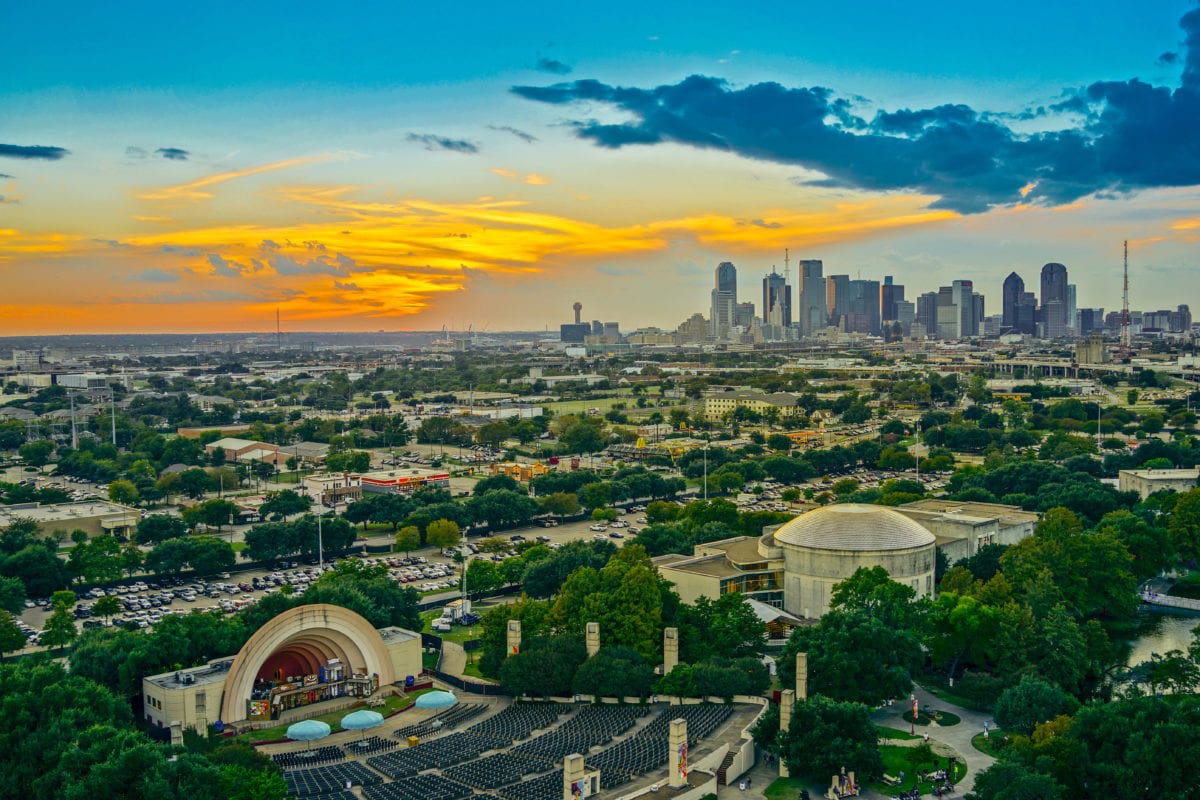 Dallas, Texas:
Celebrate the 50th anniversary of the invention of the frozen margarita machine this summer on the Margarita Mile. You can earn prizes along the way and experience the diverse neighborhoods and cultures of Dallas, one cocktail at a time.
If that doesn't float your boat, the expansive city offers shopping, dining and entertainment galore.
For kid-friendly adventures, try the Dallas World Aquarium, the Perot Museum of Nature and Science, or the Dallas Arboretum and Botanical Garden.
For those in search of some art, the Dallas Museum of Art, African American Museum of Art and the Nasher Sculpture Center are all great picks. Shop 'til you drop at Highland Park Village, the Shops at Park Lane and West Village. Really – the world is your oyster in Dallas.
Nightlife in Dallas is booming – a quick search will land you numerous dining, club and bar options.
4.5 hours from Tulsa
3.5 hours from OKC
---
Kansas City, Mo.:
On Sept. 5, 1856, the steamship Arabia hit a snag and sank. The passengers made it to safety, but the 200 tons of cargo were lost. The Missouri River eventually changed course, protecting the treasures from the elements 45 feet beneath a cornfield. Excavation began in 1988, and in 1991 the collection became the Arabia Steamboat Museum. Combine a visit there with rooftop dining and shopping at the Plaza, and you're set.
4 hours from Tulsa
5 hours from OKC
Topeka, Kan.:
Evel Knievel holds the Guinness World Record for surviving the most broken bones. He attempted more than 75 motorcycle jumps in his 11-year jumping career and was the first celebrity with action figures. Learn about the physics of jumping at the Evel Knievel Thrill Show and Museum. Other entertainment options, along with wonderful dining and night life, also await.
4 hours from Tulsa
4.15 hours from OKC
Eureka Springs, Ark.:
The water that once drew health seekers by the hordes to Eureka Springs is still there, with more than 60 of the natural springs maintained by the parks commission. Narrated tram tours are a good way to learn the history and scope out shops and eateries.
This unique city in the Ozark Mountains offers attractions galore, from the Thorncrown Chapel to the War Eagle Mill, the Ozark Natural Science Center and the Holiday Island Marina.
Known for its unique shops, you'll be able to find one-of-a-kind goodies in Eureka Springs, from Studio 34 to Fusion Squared and Packrats Paradise.
Neighboring cities with plenty of entertainment include Bentonville and Fayetteville, just an hour drive away each. Use your phone to search for outdoor activities, plus hiking and biking spots, which are plentiful within our neighbor to the east.
2.5 hours from Tulsa
4.5 hours from OKC
---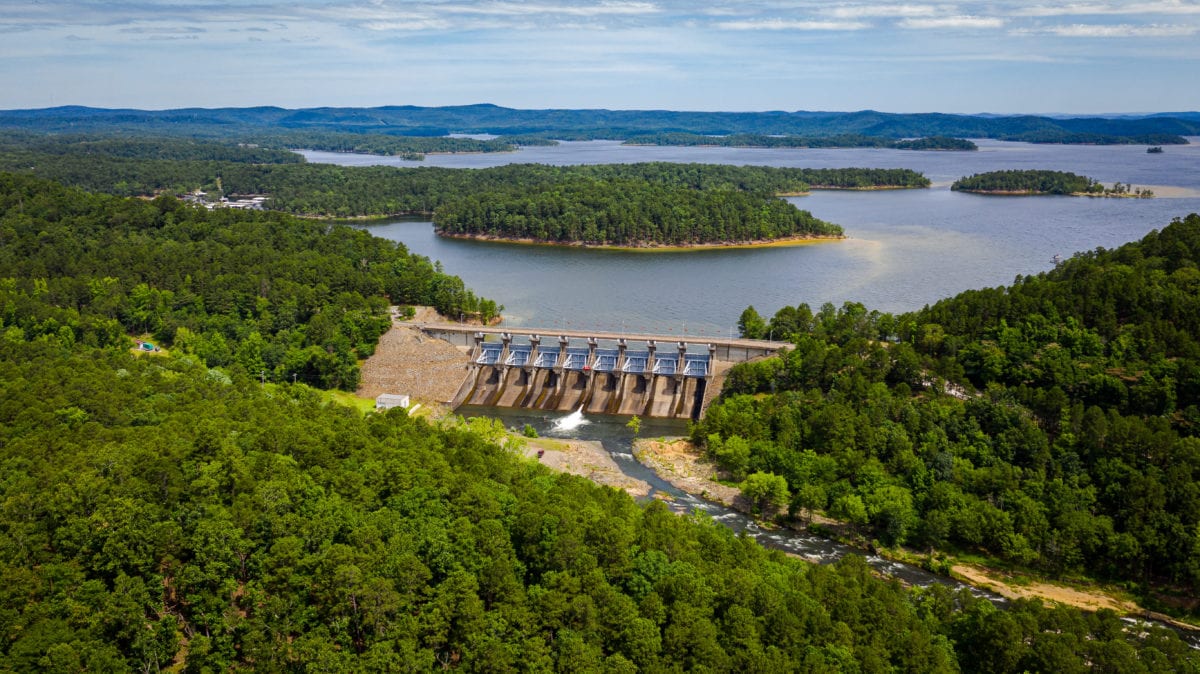 Reel 'Em In
Lakes across the state offer excellent fishing adventures.
Monster catfish, bass, pre-historic paddlefish and crappie are favorites at Grand Lake.
Lake Texoma is made up of brackish waters, thanks to the saltwater Red River that leads into it. That provides an excellent habitat for striped bass, a species native to ocean waters that was introduced to the lake in the 1960s.
At Lake Eufaula, you'll find bass, crappie, sunfish, catfish and walleye. There's a kid's pond, an enclosed fishing dock, a tackle shop and a marina.
Broken Bow Lake can support both trout and bass, which creates unique fishing opportunities.
The Mountain Fork River provides cool, clear water to the lake, perfect for fly fishing.
---

The RV Lifestyle
Andy Holman is in the business of selling fun.
Even with all the choices of recreational vehicles available at Dave's RV in Claremore, he says, it's quite possible to reach a decision and have a good time doing it.
"Our salesmen are extremely knowledgeable," says Holman, the sales manager. "We make it an enjoyable experience the whole time."
Holman says the technician shows new buyers how everything works, and if they get to the campground and have forgotten which button to push, Dave's RV is just a phone call away.
Choices range from $15,000 popup campers to $400,000 luxury motor homes "that have about everything your house has," some with two bathrooms and a washer and dryer, says Holman.
The pre-owned inventory is proof that camping makes people happy, Holman says, because most of their used RVs come from people who start out small and just keep trading up.
There is no "typical" RV owner, says Holman, as customers range from young families to retired couples. Since the pandemic started, they've sold campers to couples who are traveling the country as they do their jobs remotely and their kids study virtually.
---
Hidden Gems
Perhaps you're a born-and-bred Oklahoman, or maybe a transplant whose been here a few years. Regardless of your Okie status, there are several not-so-well-known places and experiences inside our great state.
The much-heralded exhibit at the National Cowboy and Western Heritage Museum (running now) is one for the ages, but you can still get your fix of Mississippian culture at the Spiro Mounds Archaeological Center. The mounds site, near the city of Spiro, is the only prehistoric American Indian archaeological site in the state that's open to the public. Artifacts show that the Spiro people created an extensive trade network, a highly-developed religious center and a political system that controlled the entire region, according to the Oklahoma Historical Society.
Exhibits at the Travertine Nature Center, which straddles the scenic Travertine Creek, highlight the ecosystem of southern Oklahoma, the water resources of the Chickasaw National Recreation Area and the diversity of wildlife and plants in the park. Travertine Creek, which offers an invigorating swim on a hot summer's day, winds along a 2.5-mile course from the nature center to Pavilion Springs.
The Joseph H. Williams Tallgrass Prairie Preserve is the largest protected piece of tallgrass prairie left on Earth (yes, you read that right). It offers wildlife watching opportunities and views of a variety of natural habitats, with more than 700 plants, 300 birds and 80 mammals making their home on this prairie. Drive the loop and check out the visitor center as part of your pilgrimage to nearby Pawhuska, home of the Pioneer Woman Mercantile.
Lucille's Service Station near Hydro, once a popular stop on Oklahoma's stretch of Route 66, is no longer in operation, but visitors are welcome to stop for a photo. Lucille's Roadhouse Diner in Weatherford was inspired by the service station.
Other gems to visit include Turner Falls, Alabaster Caverns, the Great Salt Plains, Medicine Park and the U.S.S. Batfish. Thank us later!
---
Exploring
Your Own City
How can you be a tourist in your own town when you've already visited the local attractions, some more than once? If you're a museum enthusiast, check their websites for news about first-class temporary exhibits.
Dino Safari at the Oklahoma City Zoo and Botanical Garden, in town through Oct. 31, features life-sized animatronic dinosaurs. Footprints, spatter patterns and the powers of observation mark the journey through Sherlock Holmes – The Exhibition, through Sept. 6 at Science Museum Oklahoma, next door to the zoo.
When it comes to dining and drinking, head to Yelp to find a place you've never visited before. Go outside your comfort zone – whether that means opting for a cuisine you've never tried, visiting a food truck or getting dressed up for a night at a fine dining joint. You can make the familiar magical with a small change of perspective.
Boat
Breakdown
Being out on the water with loved ones, in the sunshine and fresh air, is "a wonderful experience," says John Dowd, sales manager at the Grand Lake location of Ugly John's Custom Boats.
That was especially true after the pandemic reached Oklahoma, Dowd says, when people found it preferable to being cooped up inside their houses. But that also created a boat shortage.
"I tell people, if they find a used boat that they like, they had better jump on it," he says.
Ugly John's sell new and used boats and brokers boats for customers.
"The way the boating industry has been in our markets, there is such demand that we buy used boats from customers," says Dowd.
People usually walk into his store having done research and knowing what kind of boat they want to buy. Ugly John's sells everything from yachts up to 60 feet to surf boats to tritoons, and a "go-fast line with boats that will go 75 miles per hour," says Dowd. They don't sell fishing boats or sailboats.
Grand Lake can get rough on weekends because of the number of large boats.
"I try to encourage them to buy 25-foot and above on Grand Lake," says Dowd. "It's tough to navigate a little boat on this lake on a weekend."