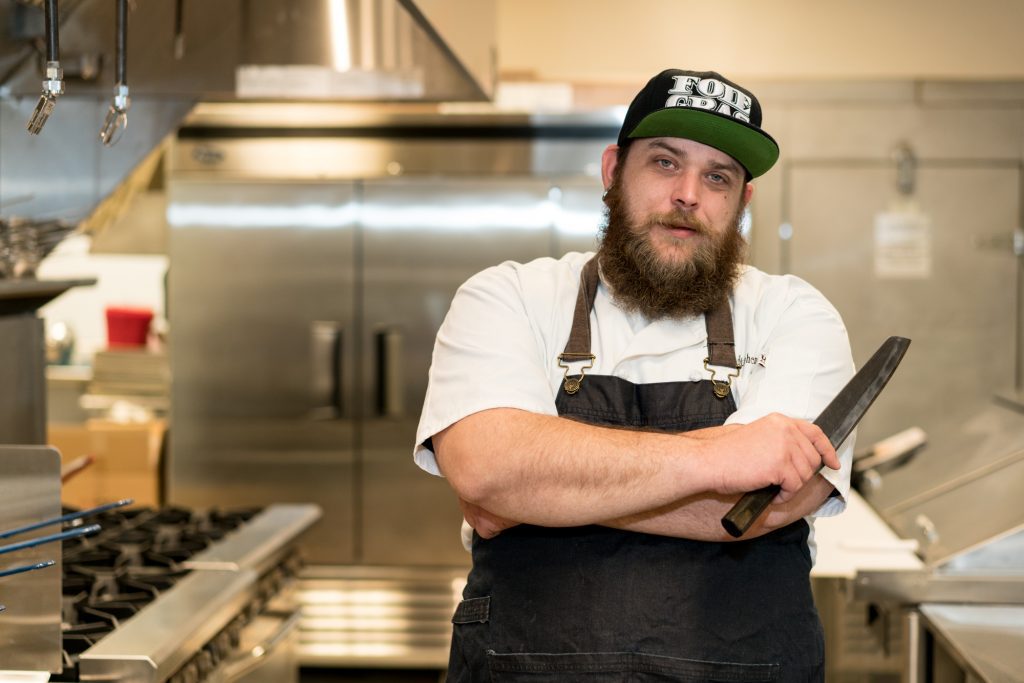 [dropcap]T[/dropcap]here are certain wild herbs and mushrooms that can only be found above the treeline of the Colorado Rockies. Most chefs don't use them. Those who do hire a forager.
Tulsan Stephen Lindstrom picks them himself. So there he was one summer morning, two miles above sea level and hours from the nearest road, and what he noticed most was joy and silence.
"When you pick food from where it has naturally been for the eternity of the earth, not touched by human hands," he says, "there's a sense of rightness and perfection. Everything is working in harmony. Of course, you always have to have one eye out for bears."
Lindstrom seems to have stepped out of more rugged era. Put him in the Game of Thrones world and he'd lead a band of warriors. He can take a whole pig and break it down.
"I used to dream of owning an old-fashioned butcher shop," he says.
Like his father, who was also a restaurateur (his whole family has accomplished cooks), Lindstrom is a skilled photographer. He uses film, not digital cards.
"I get more heart and soul from film," he says. "I love the beautiful little flaws that weren't meant to be there."
He sees similarities with food.
"I love the rustic heartiness of Italian food," he says. "I love peasant food, comfort food. I was never one for fine French dining. But I'm young and I don't yet have a defined style. When you settle down to a signature style, that's when you become stagnant and complacent."
Lindstrom stands amid a Jenks construction site, soon to be the RiverWalk Crossing branch of Bramble, Tulsa's beloved brunch destination.
"Look at the rich natural grain on these old wood panels," he says. "I love opening a new restaurant. It is stressful, exhausting, exhilarating. We'll have brunch all day, seven days a week."
Knowing Lindstrom, you won't be surprised to learn that he is opening two restaurants at once, working 70 hours a week and doing some of the hardest physical labor himself, alongside the construction workers. He did the demolition work on St. Michael's Alley, the venerable Tulsa restaurant (opened in 1960, billed as a San Francisco coffeehouse) that will morph into Bird & Bottle.
Bramble is casual ("Bring your family; bring your bridal party," Lindstrom says). Bird & Bottle is more upscale, a fine-dining destination, yet still informal and welcoming, with whimsical touches such as, in honor of the name, rotisserie chickens and its own label of wine bottled by Michael Zinke. The rest of the menu can't be pigeonholed.
"I might use five-spice or I might use masala," he says. "America is a melting pot and that's the defining characteristic of American cuisine."
Lindstrom will always use the freshest ingredients, sourced as much as possible from farms around Tulsa. And he respects tradition. Those wood panels he proudly points out at Bramble were salvaged from the old St. Michael's Alley.
Web-Exclusive: Savory Pie Crust
Use this crust for any pie. When you make a pie, the filling must be cool or cold for the best results. Unlike other pastry crusts you can make, this is a fraction thicker. Use a mixer for this recipe, or use a food processor or simply mix with a wooden spoon.
Ingredients
5.29 ounces butter, salted or unsalted
7 ounces water
2 medium eggs
15.9 ounces plain flour
1/4-1/2 teaspoon salt (important for browning and flavor here)
1 extra egg yolk
1/8 teaspoon salt for glazing, beaten together with extra yolk
Instructions
Preheat the oven to 325 degrees.
Mix the butter and water into a small pot over a medium heat until the butter dissolves and the liquid reaches a rolling boil. Take off the heat.
Mix the flour and salt in a mixer bowl. Mix the two eggs together in a cup, breaking up with a fork.
Pour the flour and egg into the mixer and add the water and butter mixture, turning onto low immediately.
Mix until the dough forms a ball.
Pour out onto a bench and push the dough into a disc. If you're using a wooden spoon stir, until the liquid is all but mixed in and then knead lightly. Over kneading will give a tougher crust, so work it gently until it is nice and smooth. If your dough is very sticky and stays in clumps on your hands, sprinkle with more flour until it just comes together. (Some eggs are bigger and some flour is just not as absorbent.)
Cool the pastry and refrigerate until cold.
Divide pastry into two pieces once cooled. One disc should be about 3/4 of the dough and 1/4 left for a lid. Use a little flour to roll out the dough and push into a greased pie plate. The pastry is pliable.
Fill the base with your filling, then brush the edges with egg and add the lid. Crimp around the top.
Paint the top with egg yolk and pierce a couple of holes on the top.
Bake at 325 degrees for approximately 35-40 minutes or until golden.