He's a Navy man, and his arms ripple with muscles and tattoos. He looks like a tough competitor. Ben Alexander, executive chef of the Tavern, is a fighter, but conflict and competition aren't what he's about.
"I don't boss my cooks; I work beside them," he says, especially on busy nights. "That's when I'm on the line, working beside them, getting burned. Sometimes, things happen, but that's when you gotta just keep working."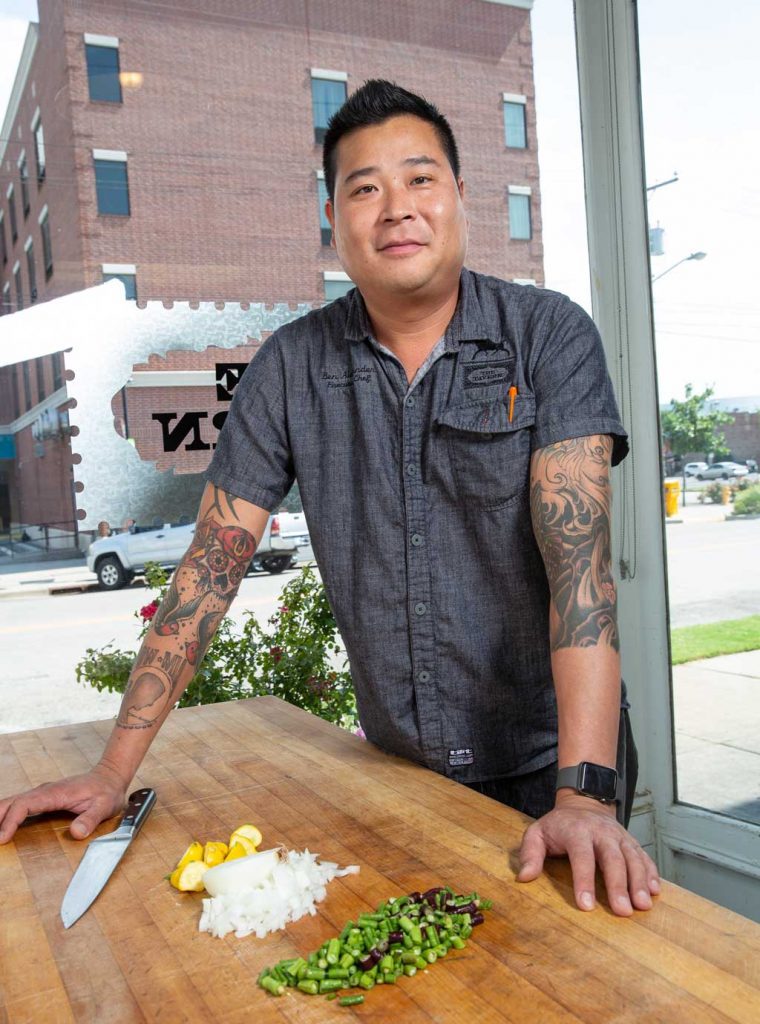 Collaboration is what Alexander is about, and there he was on a recent Friday preparing a banquet with Matt Owen, another Tulsa chef. They dazzled diners with a succession of cutting-edge dishes and, as he used tweezers to meticulously plate 100 portions of beef heart tartare, Alexander never looked happier.
Pushing limits is what he is about, too. "We make food people like," he says. "We try to push a little bit, educate customers to like free-range, humanely slaughtered animals. And I try to keep on top of coastal trends. Sometimes Tulsa can be 10 years behind; we don't want that."
Now, he's prepping for a Chef's Table dinner, a five-course meal reserved in advance.
"I do four or five of those a week," he says, "and I've never used the same dish twice. I can do classic French sauces, Asian, Italian pasta dishes, you name it. My greatest satisfaction is taking a bunch of raw ingredients and turning them into something that people really enjoy."
When not cooking, he works earnestly to help sick kids. Alexander's son, Sawyer, is a bright, lively child with a heart that doesn't work quite right. That has meant lots of sleepless nights, and then a day came when Alexander and his wife had to quit their jobs and take Sawyer to St. Louis for emergency surgery, which exceeded their financial limits. They realized that thousands of other parents in Oklahoma were in that situation, so they founded and have maintained a charity – Hearts of Steel – to pay for life-saving procedures that some families can't afford. They welcome donations.
"People thought we were crazy," he says. "We work full time and have three kids. But we started that charity and made it work."
Each month, he and his staff also donate their time to cook at other charities' events, and the Tavern provides the food for free.
"One person can't make a city work," he says. "We must do it together. We Tulsa chefs form a community. We care about each other, and each other's families, their kids, and we like to be around each other."
Were you to walk along Brady Street half an hour later, you'd have seen him through the Tavern kitchen's window as he served up exotic dishes. And at the same time, he texted a potential contributor. 
"We must talk about how the restaurant community binds together for Hearts of Steel. They've always had my back, and I've always had theirs," he says.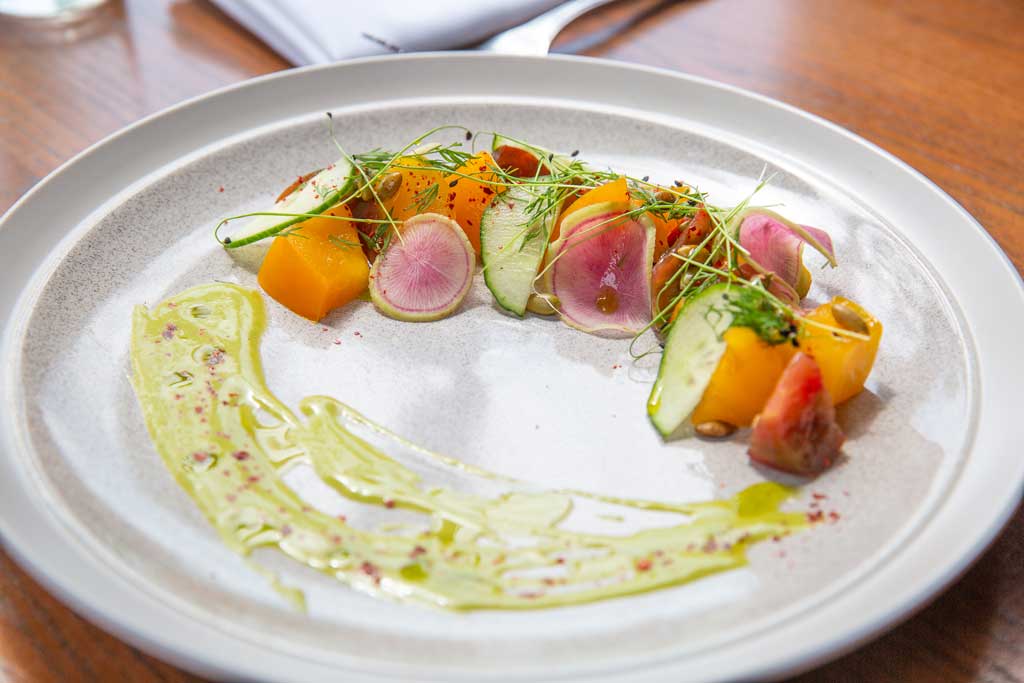 Summer Garden Salad
2 ripe heirloom tomatoes, cut into
1-inch pieces
1/2 cucumber, sliced thin
1/2 watermelon radish, sliced thin
Toasted pepitas
Fresh garden herbs (dill, cilantro, micro chives)
Maldon salt
Toasted black pepper
Toss tomatoes, cucumbers and radish in a bowl and season with salt and pepper.
Garnish the salad with pepitas and fresh herbs.
Dill vinaigrette
1/3 cup sherry vinegar
1 cup extra virgin olive oil
1/2 cup chopped dill (stems discarded)
1 tbsp. Dijon mustard
1 tbsp. shallot
2 tbsps. local honey
Salt and pepper to taste
Blend the sherry vinegar, shallot, Dijon, honey and dill in a blender on high. Slowly drizzle the olive oil and completely emulsify.
Season with salt and pepper to taste.