Step 1: Getting In
The first hurdle to getting a college education is admissions, and learning institutions can factor in test scores, community involvement, high school grades, entrance essays and, sometimes, connections to the school. Exactly how these factors are weighted in consideration varies between schools.
"Rogers State University is an open admission institution," says Lee Johnson, RSU's director of admissions. "The most important factor is an individual's personal commitment to attaining their degree. When it comes to admissions, we are committed to removing obstacles that stand in their way. Removing cost as a barrier, more than 80% of students receive financial aid, making a quality education affordable."
At the University of Science and Arts of Oklahoma, getting in involves the big picture.
"We do not make applicants pick if they would like to be reviewed with or without their test scores," says Sheppard McConnell, associate vice president for entering student services and first-year retention. "In fact, we encourage students to send us everything they have to build the best picture of them as a learner. When it comes to grades, A's, B's and maybe a C are the grades we look for in successful applicants.
"However, we have resources to help those who come to us without the best GPA or study skills. Our Student Success Center is an integral part of our campus, providing tutoring, mentoring and academic coaching for free to our students so they can … stay on track to graduate."
The University of Oklahoma follows a similar holistic approach.
"This process considers several factors that predict academic success," says Danielle Dunn, the director of communications in OU's Office of Admissions and Recruitment. "These factors include high school GPA, academic rigor, ACT/SAT scores, engagement in academic and non-academic activities, writing ability, leadership, letters of recommendation and more.
"OU is dedicated to providing access to students who are admissible, so we worked with OSRHE to allow for a test-optional admission policy. When evaluating a student for admission, test scores are just one component considered."
---
The Dreaded 'L' Word: Loans
College debt is, for many, a given if they want an education. The means to that end include a patchwork of options including finding strong loan rates, work study, part-time employment, grants, and loan consolidation and income-driven repayments after graduation.
Option variations are available. Robyn Rogers, director of financial aid at the University of Arts and Sciences of Oklahoma, says the school "recently revamped our scholarship program to focus even more on accessibility and affordability. This past year, more than 80% of our freshmen received scholarships. We also encourage students to submit their FAFSA early to maximize their eligibility for financial aid.
"Students who are eligible for work-study have many options to choose from on campus," Rogers continues. "We also have part-time campus jobs for students who don't qualify for the work-study program. Our goal is to find ways in which we can alleviate the financial burden on our students and their families so they can focus on their education."
---
The Degree Dilemma
Some think that achieving a bachelor's degree is becoming par for the course, as many employers look for master's degrees. While it's too early to tell if this will be an ongoing trend, graduate degrees are a desirable and marketable attribute in potential hires.
"Graduate enrollment has increased as more employers have indicated requirements or at least recommendations for employees to have advanced degrees," says Shannon Rigsby, Oklahoma State University's public information officer. "The types of jobs are continuing to change, and more advanced degrees are necessary for entry level positions in these technology and knowledge-based positions.
"The average person will change careers five to seven times during their working years. Getting a master's degree or graduate certificate is a way to quickly re-tool and adapt to new types of jobs that didn't exist previously."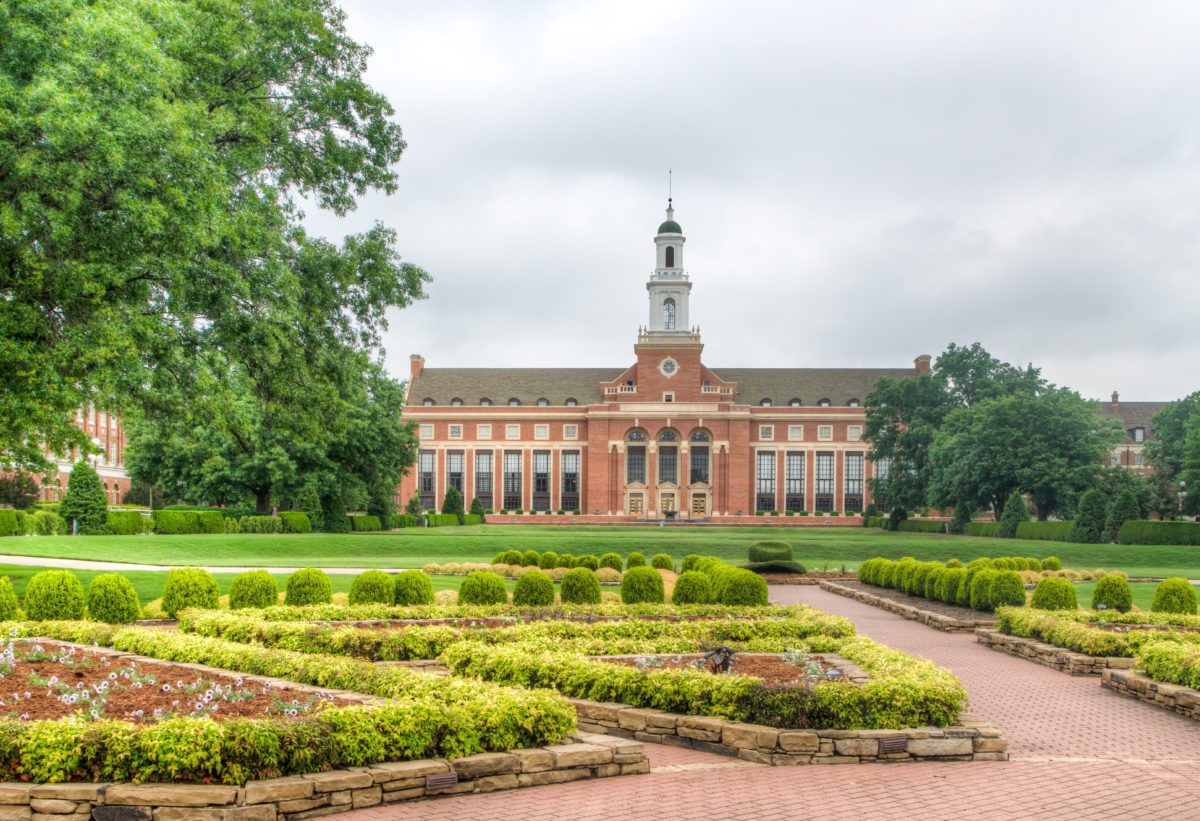 ---
The Positive Impact of Sports
College sports are big business – driving the monetary funnel for college programming as well as contributing to the campus life and camaraderie among alumni, sports enthusiasts and students as the excitement builds up to game days.
"Successful athletic programs provide an opportunity for the student body, faculty, staff, alumni and fans to come together for one purpose," says OSU's Rigsby. "They provide an opportunity for a shared experience and common ground that crosses generations and backgrounds. And statistics show that students who are engaged in campus activities perform better in the classroom, and are more likely to stay in school. In the end, successful athletic programs influence student enrollment and fundraising; athletics are an integral part of the fabric of our campus and culture."
That camaraderie in sporting events can also be found at OU.
"OU owns one of the greatest winning traditions in intercollegiate athletics, and these events are an opportunity for students to connect with other classmates and make memories that will last a lifetime," says Dunn. "Games for each sport are free to attend for students, apart from football and men's basketball. Across all sports, OU claims 39 national championships."
---
Trends in Higher Education for 2022
Higher education trends vary in emphasis from school to school. Mary Millikin, Ph.D., associate vice president for academic affairs, accountability and academics at RSU, says trends at the university include a ratio of 16 students to one teacher and a student body that is 50% first generation college students. RSU also had 29% of students choosing online studies exclusively in the fall of 2021.
At OSU, "total enrollment increased across the board for this academic year," says Rigsby. "We have some impressive increases in the number of transfer students joining the Cowboy family, as well as the second-largest class of first-time students. Our population this academic year is also more diverse; historically marginalized and underrepresented students made up over 30% of the incoming class – the most diverse OSU class on record."
At NSU, they've "noticed a slight uptick in requests for scheduling flexibility in the form of Zoom sections of courses and/or blended learning opportunities for course delivery," says Debbie Landry, Ed.D., provost and vice president of academic affairs. "Our department chairs review the schedule each year to adjust accordingly, and we have added Zoom links to some of our face-to-face courses."
NSU's Jerrid Freeman, Ed.D., president of student affairs and enrollment management, continues: "We have seen a significant increase in graduate students and many of them are looking for online courses. Our undergraduate students, though, are taking classes as they once did, and numbers seem to be returning to pre-pandemic levels."
---
Popular Electives
Aside from the necessary pre-requisites and core curriculum, students often choose electives at college to keep things interesting.
RSU's Millikin details popular courses, including the Esports Game and Sports Program – which has won one national title so far and was the first electronic sports course in Oklahoma in 2018. Other popular courses include Games and Culture and courses centered on Native American archaeology sites, as well as courses in the Cherokee language.
"Many of our psychology courses are very popular – Sex and Gender; Human Sexuality; Psychology of Death," says Amy Goddard, director of communications and marketing at the University of Science and Arts of Oklahoma. "This summer, we offered a Psychology of Stress course that students loved, because we really spent time looking at the biological benefits of stress and active ways we can harness that energy by positively impacting our mindset and perspective when experiencing stressful encounters."
At OU, a class called First-Year Foundations is a popular pick.
"Designed to help first-year students make the transition to OU, First-Year Foundations helps prepare students for success," says Dunn. "The two-credit-hour elective course is limited to 19-21 students and is a great way to start building a new community at OU with other fellow students, instructors and Peer Teaching Assistants (PTAs)."
OSU offers a "really popular and unique in-person course [called] Insects and Society, taught by Wyatt Hoback in Entomology," says Rigsby. "He really helps a general audience understand insects and the role they play in the world. Also, Brewing Microbiology is one of our extremely popular online science courses, as is our class Farm to Fork: A Panoramic View of Agriculture."
Landry says that NSU "has two newer programs that are proving to be quite popular – our cybersecurity program and our public health program. New opportunities are continuously emerging for cybersecurity majors within the private and governmental community. The cybersecurity degree combines theory and practical application to prepare students for employment in local, state and federal agencies as well as private positions.
"On the graduate level, the master's degree in public health offers students two opportunities to improve health outcomes through the specialized preparation and training of global health leaders; community outreach; and collaboration with community partners through careers in public health. While the didactic portion of our 43-credit hour Master of Public Health program is 100% online, students complete a 200-hour practicum in which they gain hands-on experience working directly with community partners."
At Oklahoma Panhandle State University, "the 100% online programs have grown drastically, offering an RN to BSN Nursing Program, Business, Agribusiness and Criminal Justice," says Natasha Eidson, the school's director of communications. "The highest enrolled programs at Panhandle State are our RN to BSN Nursing Program and our Agriculture degrees.
Panhandle State is also one of two universities in Oklahoma to offer a Meat Processing Laboratory. We are very proud to be the first Hispanic Serving Institution in the state of Oklahoma, with a 29% Hispanic student population."