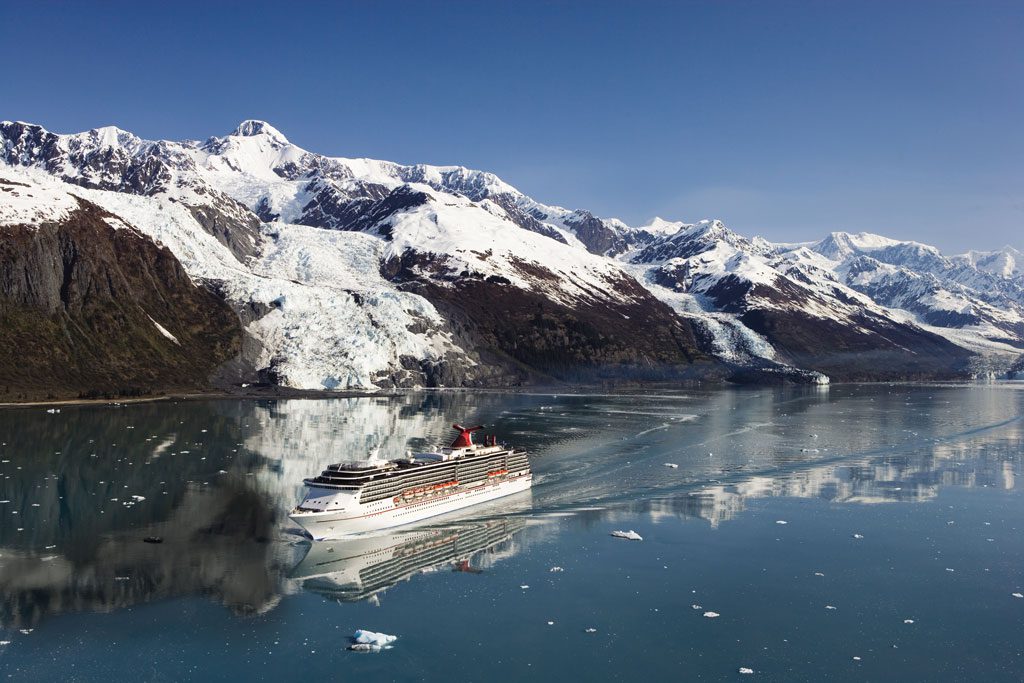 Alaska cruise, Day One – The cry of "Look! There's a bald eagle!" causes a stampede to the side of the ship where our spotter points to a vague place on shore. "Where? Where?" "There he is! Wow!" Cameras click wildly.
Alaska cruise, Day Five – My son says, "A bald eagle!" I scarcely look up from my book. "Oh, that's nice, son." No cameras click.
Yes, the wildlife in our 49th state is so plentiful that you actually become a bit blase about it … until you get back home and can't believe you were even there. "Look … a bald eagle!" "No, dear, that's an Oklahoma chicken hawk."
I have to be honest with you. When I first heard that people took cruise ships to Alaska, I almost laughed. There's no sand, no beach, no reggae, no sun. Well, OK, there is sun.
But now, having been there – forget the Caribbean. Alaska is absolutely breathtaking. The natives called it Alyeska – the Great Land – with good reason.
The landscape teems with all that runs freely. The sea is home to humpback whales, sea lions, otters and Dall's porpoises. Glaciers stand magnificently in the distance. This is life on a grand scale.
Stepping onto the ship deck, breathing the brisk mountain air, I comprehend what unspoiled beauty is. Bear, moose, wolves, sheep and caribou find solace in the isolation.
Mountain peaks humble climbers, earthquakes shake the quiet land (helping us Oklahomans feel right at home) and wildflowers peek out from temperate rainforests, contrasting nicely with the treeless tundra.
The standout of the cruise is when the captain gently nudges the ship into Hubbard Bay and time stands still. The small bay – insanely calm once the ripples of the ship's entry subside – is juxtaposed against the enormity of the ship and gives the scene a movie-set quality.
The turquoise-tinged Hubbard Glacier stands so close that you feel like you can almost touch it; the still air and the silence are broken only by the cracking sounds of giant pieces of ice calving from the glacier. This is truly a Great Land.
Recommended excursions include a morning voyage on an actual Deadliest Catch crabbing boat to check the pots, Juneau (on the threshold of magnificent wilderness), Ketchikan (tribal ceremonies and exquisitely carved totem poles in Saxman Village), Haines (a sanctuary for artists and nature lovers) and Sitka (once the capital of Russian America, now offering a wealth of Native Alaskan and Russian colonial history).
Explore nearby Mendenhall Glacier via helicopter to capture its immensity and grandeur. And if there's time, visit Seward, one of Alaska's oldest communities and the starting point for the Iditarod Trail Sled Dog Race.
In Skagway, ride the White Pass & Yukon Route Railroad, which took miners and ore back and forth over the mountains between Skagway and the gold fields. The narrow-gauge railroad wasn't completed until the Klondike Gold Rush was over. Now, it offers stunning views on a journey to a bygone era.
Travel Tip
Many cruises depart from Seattle, allowing you the opportunity to spend a night – or more – in the Pacific Northwest before embarking on a memory-making cruise. Most of the downtown shops and restaurants stay open late, giving you an opportunity to have some fun on land before cruising on the sea. Cruises may also launch from cities like Vancouver in Canada, so choosing a cruise line that launches from your preferred city gives an opportunity to experience even more on your vacation.
Scheduling your cruise
If you're not sure when to cruise Alaska, following are some guidelines.
Best cruising season:
May-September.
Best time to cruise:
June-August (for warmer weather).
Cheapest time to cruise:
May and September.