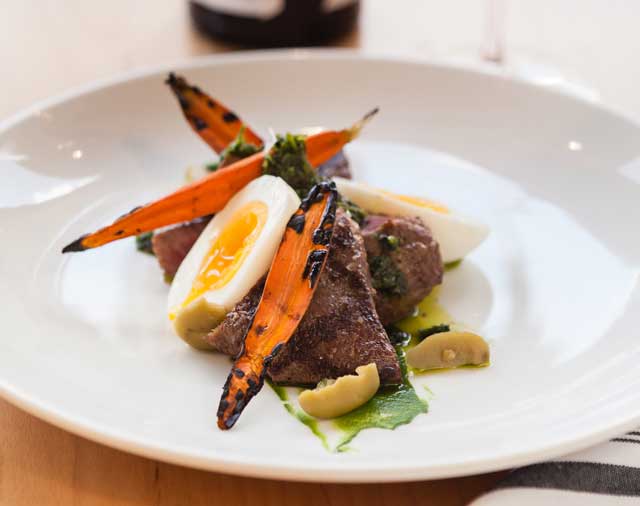 [dropcap]Toward[/dropcap] the dog end of summer, restaurants lose their charm. It's all pork chops and asparagus and creme brulee, you think, and nothing could surprise me now. That's the time to head down to that strange, fast-changing corner of downtown Tulsa by the BOK Center, where the humble old stone buildings near the Mayo Hotel yield to glass behemoths with strangely curved and chiseled steel. Through the glass doors of Torero Bar and Kitchen you go, and you're in a vast airy space with a distinctly European flair. Huge rope garlands festoon the ceiling above antique credenzas, vaguely post-modern puce and chartreuse barstools, midcentury-modern dining chairs and crowds of diners, quite a few of whom are smiling as they eat the most exciting food in Tulsa.
Gaze at the 86-foot-long bar, look for the densest part of the crowd and find Noah Bush, Tulsa's most popular bartender. Having worked at 1740, White Owl and Doc's before mastering the more cerebral elements of the trade, Bush became sommelier, manager and co-owner at Hodges Bend, one of Tulsa's finest watering holes; he's also Torero's co-owner and manager. His cocktails are legendary. The Wall Street Journal published one of his recipes alongside one from Craft, Tom Colicchio's flagship restaurant. Tall and lanky, Noah might remind you a lot of Indiana Jones. And, in a plot twist that's been around adventure flicks since The Magnificent Seven, Noah hired a team of veteran chefs, some of the city's finest, several of whom haven't been seen in a Tulsa kitchen in far too many years. Ian van Anglen dazzled this town when he rode in from the West (specifically, from Bluehour, which Gourmet Magazine called "Portland's most exciting restaurant") in 2010 to cook at a tiny, short-lived Brookside pop-up called The Kitchen. After that came one or two executive chef stints, never short of spectacular, but he has been off the radar for years. So has Matt Owen, who has worked at quite a few top restaurants in Portland and Hawaii. And then there's Gabriel Lopez, who worked alongside Chef Michelle Donaldson at Tallgrass; before that, it was the high life working at Miami's South Beach.
Like much that is South American, Torero started with love and dreaming. For years, Noah wanted to open a tapas bar featuring small plates for sharing. "Appetizers and entrees, that's over!" he proclaims. "We're all sharing. Reach your fork across the table!" (At Torero, Noah is quick to add, the plates, though designed for sharing, will also work as conventional appetizers and main courses.) And then there is the Cuban influence. During the tropical days of waning summer, Noah, Ian and Matt became fascinated by the island and spent hours planning imaginary boat trips there, including imaginary restaurants and equally imaginary but carefully designed menus. Soon the boat trips went farther south into Venezuela and Peru, like the oneiric journeys that grace most of Garcia Marquez's novels.
"I've always loved Argentine and Peruvian dishes," Matt says. "I've cooked them often at home. And if you take Latin America as a whole, you get a variety that has everyone's favorite foods. You have fresh bright raw fish dishes from Peru. Cuba and Puerto Rico give us long-braised meat dishes. Rich bright sauces come from Mexico."
Torero, of course, offers more than just photocopies of Mexican and Peruvian dishes.
"We're working with flavors we love but which are new to us," van Anglen says. "We pay homage by using them in the way we know." Chef David Chang once wrote that "flavor patterns crisscross cultures." By using South American tastes, Ian and Matt also hope to evoke deep, primal patterns of food and flavor that underlie all cuisines and cultures.
Now the diners are suddenly silent, except for little involuntary gasps. The food has arrived. Unbelievably huge prawns with a bright red complex sauce, speckled with olives and capers strewn across it. That's Camarones a la Veracruzana. A pristine white pile of cubed marinated fish underlined by a thick calligraphic scrawl of red. That's the Ceviche. A perfect chicken leg, its sauce a ribbon of green. Pollo Asado. And there's more. A duck leg, highlighted by its stark simplicity, set amidst an olive green circle, a silky Mexican puree. Pato en Pipian Verde. A traditional Spanish chopped beef dish given an untraditional sweet and sour flavor by the cooking juices and vinegar, accompanied by crunchy plantain wafers and a soft-boiled egg. Tostones.
Stay for dessert, even if your belt button has popped. It's just cookies or pudding, but what you get is sweet, multilayered, complex and indescribable. And then wander off into the night. The world is larger and brighter somehow. You've discovered a new world of food as you stand, like John Keats' speaker, "silent upon a peak in Darien."
Torero is located at 202 S. Cheyenne Ave. in Tulsa.