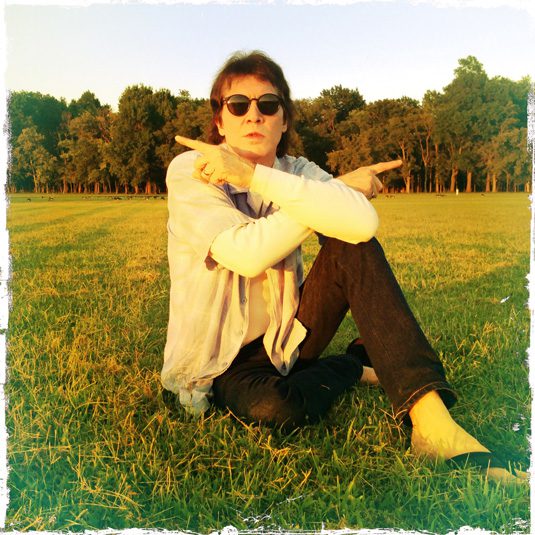 The just-released Always is Dwight Twilley's first new disc in a little over three years, and one listen tells you that he put a lot of thought into every track. This thoughtfulness extends to its title – seemingly straightforward, but the way Twilley sees it, nuanced as well.
"If you think about it, 'always' is kind of a magical word," explains the Tulsa-based pop-music star. "In the first place, it's a lie. Nothing is always. And yet, while it's completely fictional because there is no 'always,' people still put so much value and emotion into the thought of 'always.'"
By way of stirring the "always" pot a little more, Twilley's new disc includes a photo of him pointing in two different directions, which, he says with a laugh, "we call the international sign of 'always.'"
Whether you interpret that as "always" or "all ways" – or, for that matter, whether you feel like interpreting it at all – semantics shouldn't get in the way of enjoyment when it comes to this record. Rock-solid and engaging from start to finish, it features a dozen new Twilley compositions, ranging from the oldies-influenced, piano-triplet-driven "Fools Like Me" to the aggressively big-beat "Till the Jukebox Dies," all further cementing his reputation as standard-bearer for the musical genre known as power-pop.
While "power-pop" means different things to different people, what it amounts to in Twilley's case is crisp, melodic singing, songwriting and playing influenced by the British Invasion groups of the 1960s as well as American rockabilly and rock 'n' roll. Twilley has worn the power-pop mantle for decades; as recently as 2010, a writer for the magazine Sound & Vision wrote, "If we're going to have a king of power-pop, Dwight Twilley may be the man."
"Well, you know, that [classification] changes every four or five years," Twilley notes. "I was the father of New Wave once, back in the '80s. But think about the power-pop thing. What would be the ultimate power-pop band that ever existed?"
He is, of course, referring to the four moptops from Liverpool responsible for starting the pop-music revolution known as the British Invasion.
"There you go," he says with another laugh. "So if anybody's going to compare me to the Beatles, then I just absolutely have no problem with it."
Had the Beatles continued to exist, they might well have been traveling through the same kind of musical territory Twilley explores in Always, which is full of layered, upbeat harmonies; evocative lyrics; and sparse and satisfying instrumentation (including a backwards-guitar track or two), all pulled together by Twilley's confident vocal work. Beginning with the line, "How long you gonna make me feel like I'm on fire?" – which appears to be a nod to his first national hit, 1975's "I'm on Fire" – the disc ends with the words, "there's always tomorrow." Taken together, those phrases seem to point toward a theme for Always: a consciousness of the past, but an eye on the future.
Then again, maybe not.
"Well, I was trying not to have a theme," Twilley says, chuckling. "The last album, Soundtrack, was a totally autobiographical album, so when we started work on this, my big effort was just to make Dwight Twilley songs. That was my plan. Anytime you do anything, you can't help but be a little bit autobiographical; it probably slides in there whether you like it or not. But what I was trying to do was say, 'Here are some Dwight Twilley songs. Don't think about 'em too much.'"
Still, from that very first line on the title track, it's hard not to find a past-consciousness flowing throughout much of the disc. And there would be a good reason for it. Exactly 40 years ago – on Nov. 27, 1974 – Twilley and his bandmates Phil Seymour (drums and vocals) and Bill Pitcock IV (lead guitar) went into Tulsa's Church Studio to record "I'm on Fire." The Dwight Twilley Band had just signed its first recording contract with Shelter Records, headed by local-boy-made-good Leon Russell and British producer Denny Cordell.
There's another man from that long-ago session on the new disc, too: James Barth, who's responsible for the string arrangements.
"He co-engineered 'I'm on Fire' and was with the Twilley Band," says Twilley. "Besides myself, he's the only living person left who was on that session."
Those who have passed include Roger Harris, the other engineer who worked on "I'm on Fire," as well as Seymour (in 1993) and Pitcock (2011), both of whom died of cancer. And while Twilley's longtime musical comrade Pitcock left behind some licks that can be heard on "Happy Birthday," a wistful ballad from the new album, his loss led to the large roster of guest musicians featured on Always.
"While we were cutting it, we were kind of in this weird void, because we'd been working so closely with Bill [Pitcock] for so many years, and now we were starting a new album, and there was no Bill," explains Twilley. "A lot of people said, 'Well, you should get some of your pals and friends to start chipping in and maybe give it a different sound.' That seemed like a good idea to me. Most of the time we were so self-contained, there was never any reason to call up anybody and say, 'You want to play on something?' Occasionally, a friend would be in town, and of course we'd have 'em play, but we never spent any real thought on it.
"One of the guys we've got who's really interesting is Roger Linn, the guy who played all the backward guitars on [the 1976 Twilley song] 'Sincerely,'" he continues. "He invented the LinnDrum [drum machine], and he used to play for Leon Russell; that's where we met him. He was engineering for Leon. And actually, that song was Phil and me – just us and Roger Linn went into the studio. I wrote the song, and we recorded it and mixed it in one day. But people still talk about that guitar part."
Other contributing musicians include guitarist Aaron "Slimquik" Failes, bassist Dave Armstrong and drummer-percussionist Jeff Smith – all members of Twilley's touring band – as well as area players with international reputations like Steve Ripley (guitar) and Jimmy Karstein (drums). They join a group of guest stars that includes vocalist Susan Cowsill, fellow power-pop star Tommy Keene and noted studio bassist and composer Leland Sklar. Steve Allen (guitar) and Ron Flynt (bass and organ) are former Tulsans who put together another major-label power-pop band, 20/20, in the 1970s, while guitarist Mitch Easter is a well-known musician and producer. Other nationally and internationally known players on the disc include bassists Timm Buechler and Ken Stringfellow, guitarist J.B. Meijers and drummer Doug Wiley.
Always was produced, recorded and mixed by Twilley and his wife, Jan, at their Big Oak Studio in Tulsa. And while any number of tunes on the disc seems "radio-friendly," to use an old term, don't look for any singles to be released.
"For the last couple of records, we put a lot of effort into that, and a lot of money, and it just goes nowhere," Twilley says. "Radio's as screwed up as the record business. Once something's released, everybody steals it anyway, and really, the only people who are going to buy it are the people who are your fans. That's what gives us the satisfaction of working so hard, because we absolutely know there are people all over the world who will just really be happy to hear a new Dwight Twilley song."
For more, visit www.dwighttwilley.com or facebook.com/DwightTwilleyFanWorld.