Candace McCoy and her husband, David, were on their way to possible retirement in Texas's Hill Country in April 1995 when they detoured through southwestern Oklahoma's Medicine Park, the one-time spa and resort community that fell into disrepair over the years. It being her birthplace, Candace says they wanted to get a new look at the once-popular town. Despite its outward appearance, the couple saw the possibilities.
"The town was basically asleep, but it was just so beautiful," she says. "We saw what it could be."
So, the McCoys made a business decision to stay and attempt a revival. Through the help of others, that attempt was successful.
From that initial visit, the McCoys – whose portfolio includes real estate, property development, sales and management – have been major players in re-envisioning, restoring and exceeding Medicine Park's original glory.
Medicine Park is located about five miles west of Interstate 44, close to Lawton and Fort Sill and adjacent to the Wichita Mountains Wildlife Refuge. With an estimated permanent population of about 400, the community has become a tourist destination, with more improvements on the docket.
According to an historical account on Medicine Park's website, the late John William Elmer Thomas – later elected to the U.S. Senate from Oklahoma – founded the town in 1908; the town was named for the supposed medicinal properties of nearby Medicine Creek. The spa had its heyday in the Roaring '20s, but years of neglect that began with the onset of World War II left the place in various states of decay.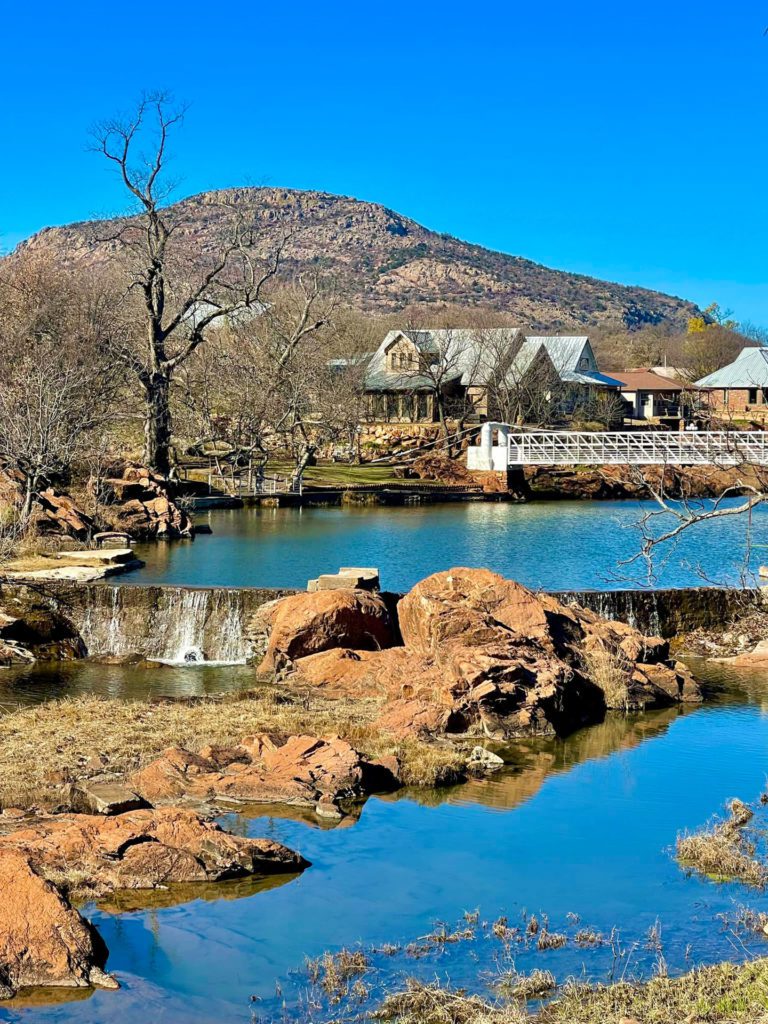 Over the past three decades, a steady renaissance has taken place. Candace says that Medicine Park now has a police and fire department, a stable tax base that includes a hotel tax, as well as a number of Airbnb stops and other overnight lodgings, restaurants and even an aquarium. With vacation rentals, festivals and attractions held throughout the year, plus a local bicycle club and the popular Bath Lake in the middle of town, the reformation of Medicine Park shows no signs of slowing down.
Candace says fishing nearby is good all year, and the area also includes camping, walking, hiking and biking trails – not to mention the scenic Wichita mountains.
"A lot of Oklahomans don't know about Medicine Park, and if they did, it was from ten years ago or so. It is drastically different," says Trisha Parker, marketing director for the Medicine Park Aquarium and Natural Sciences Center. "If you haven't been in awhile, I strongly encourage it."
The 10,000-square-foot Aquarium and Natural Sciences Center and six-acre botanical gardens opened 5½ years ago, but planning began several years earlier as a way to bolster the town's economic impact and tax revenue. The McCoys donated the original eight acres to launch the project. Development of the second phase of the center, a native wildlife zoo, is under way. It will be a natural fit with the nearby federal wildlife refuge.
Also beckoning tourists year-round is Bath Lake, which acts as a swimming hole and fishing center. Parker considers it one of Oklahoma's "hidden gems," as is replete with several waterfalls, entry stairs and shallow and deep areas.
Medicine Park has come a long way, Candace says, as she reflects on what has happened since that day in 1995.
"We've been busy, but [bringing the town back] has been a real honor," she says.
City of Medicine Park
580-529-2825
medicinepark.com
Medicine Park Aquarium & Natural Sciences Center
580-529-3601
mpmns.org
Wichita Mountains Wildlife Refuge
580-429-3222 580-429-2197
fws.gov/refuge/wichita-mountains
Bath Lake
580-529-2825