Enter south Tulsa's most elegant fine-dining destination, the Cardinal Club, and you see a suite of hushed, glamorous rooms with high ceilings, gilt cornices and overstuffed banquettes. Turn left from the entrance and you're in a gleaming, modern barroom with floor-to-ceiling windows and a grand staircase.
That's where executive chef Carla Cousins posed recently for publicity photos (before the chaos of the COVID-19 outbreak). She looked supremely confident, like someone whose dreams have been fulfilled. It took awhile to get here. Cousins grew up in Detroit, where diversity informed her childhood.
"Our neighbors were Italians, Russians, Greeks, you name it," she says. "My mother didn't know how to cook when she was first married, so she learned from all these neighbors. She was very talented, and she cooked dinner every night for the family and whatever guests showed up. Every kid on the block loved getting invited to dinner at our house."
Cousins inherited her mother's enthusiasm in the kitchen, but she thought becoming a chef was unrealistic for a young woman, so she went to cosmetology school instead. Years later and living in Tulsa, she entered Platt College's culinary arts program. She excelled but remembers asking a fellow student, "Who will give me a job?"
That classmate was Josh McClure, who became head chef at the Chalkboard. In those days, he worked as a waiter at Bodean.
"Josh came to me," says Tim Richards, then Bodean's executive chef, "and told me, 'There is only one person you should hire and that's Carla.' I did, and the rest is history."
After working at Bodean for three years, Cousins moved to The Tavern and the Bull in the Alley. Having now attained the role of executive chef, she is in charge of her own staff at the Cardinal Club.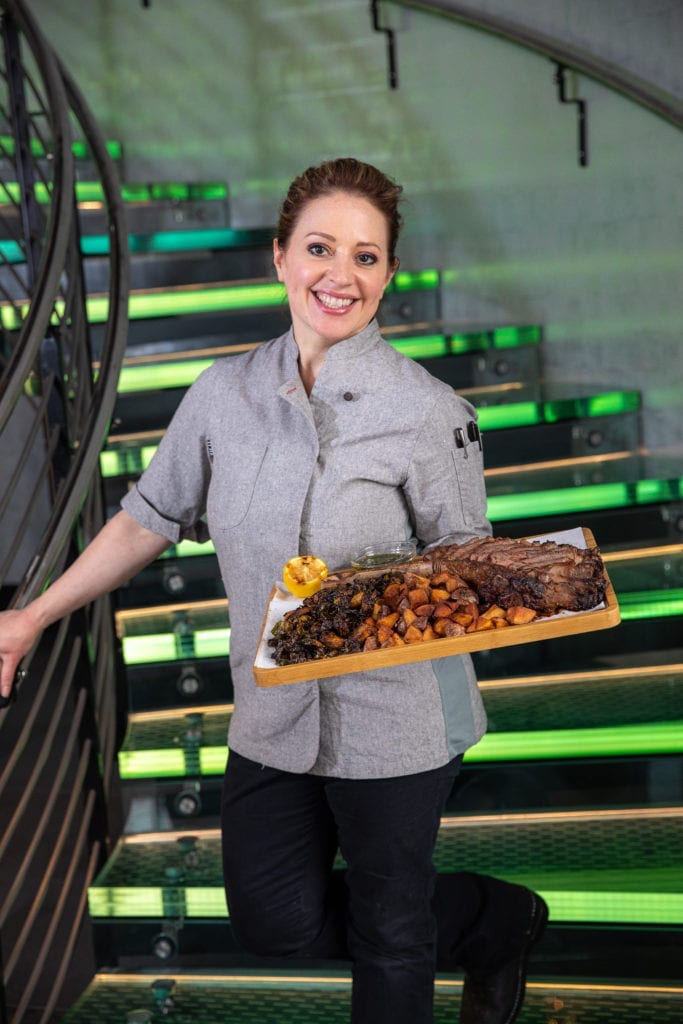 "It's hard to find experienced staff in south Tulsa," she says, "and that can be a good thing. My staff is young and eager to learn. I want to help them grow. Later, I'll have them design recipes. For now, we have a very simple menu until they can master it."
They all work hard – none more than Cousins.
"I come in at 8:30 a.m. and I leave when we're done," she says. "It could be 10 p.m. or it could be midnight. One night, my staff told me to leave early, get some rest … and when I left, I felt like a mother leaving her children for the first time."
The menu is full of delights: shrimp scampi with bright flavors; perfect roast chicken; a huge, meaty pork chop with a tangy mustard sauce.
"I've had people who hate pork eat that chop and tell me they've become a believer," Cousins says. "I love big, homey, rustic meals like that – comfort food."
The pork chop is heritage Berkshire from Tulsa's Prairie Creek Farms. Local food excites Cousins.
"It's such a cool time to be in Tulsa," she says, "and the local farm scene is exploding."
Cousins says her culinary philosophy is to think more about others than herself when it comes to the menu.
"I'm always thinking about what the diners want," she says. "If you're cooking your own personal pieces of artwork, you're not cooking for the people anymore. My favorite kind of food is whatever kind people want to come back for."
Chef Cousin's chimichurri sauce recipe 
(served alongside the smoked American wagyu tomahawk steak)
1 bunch parsley 
1/2 bunch cilantro 
1.5 teaspoons honey
2 tablespoons red wine vinegar 
1/2-1 teaspoon red chili flakes
4 cloves peeled garlic
1/2 teaspoon salt
2/3 cup neutral oil
Remove any large stems from parsley and cilantro.
Add all ingredients except the oil to a food processor.
Pulse until the herbs and garlic are minced.
Add 1/3 cup of oil; pulse until everything is mixed but not smooth.
Fold in the last 1/3 cup of oil.
Chef's note: This is a rustic sauce; it should be loose and chunky. It will taste better after it rests for an hour.