As much as we like to think weddings are all about the bride and groom, that's really not the case. They're also about friends … and grandparents and sisters-in-law and cousins and parties and clothes and a thousand other things.
That's what makes honeymoons so sweet: At long last, it's finally just the two of you. But where to go? Here are five ideas.
Costa Rica
Check out Papagayo Peninsula along Costa Rica's north Pacific coast. Rainforests, ocean sports, hiking, high-end resorts and an animal-lover's paradise, especially if those animals include sea turtles, macaws and sweet, slow-moving sloth.
It was on this peninsula in the '70s that a group studying the rainforests invented zip-lining as a non-intrusive way to view wildlife among the regal Guanacaste trees. Today, the activity flourishes. Some even have tandem lines, allowing riders to glide side-by-side.
Below the water, the snorkeling and diving is fantastic. Undisturbed coral reefs are easily reached.
Stay at the Four Seasons. The resort is on a hill that looks out over the Pacific and features "sea-to-table" dining, four pools, Sculpt Barre classes, four kinds of yoga and a full-service spa.
Ireland
Baltimore in far southwestern Ireland is a lively port just like its American counterpart, but this one is a good bit smaller and sits at the base of a 13th century castle, the Dún na Séad, once a sanctuary for druids and now open for touring.
Ferries run between the mainland and Cape Clear, Heir Island and Sherkin Island, popular destinations for scenery, historic buildings, artist colonies, sailing and fishing.
Back in Baltimore, you'll find expansive gardens, eclectic shopping and charters that'll take you out to see whales and dolphins. Watch the sun go down from Baltimore Beacon, built to mark the entrance to Baltimore Harbor and referred to as Lot's Wife because of its striking resemblance to a pillar of salt.
Stay at the Waterfront Hotel, a small family-run lodging in the heart of Baltimore with wonderful views of the harbor.
Marrakech
Exploring this captivating city in the foothills of the Atlas Mountains in Morocco is a hoot. Little hotels with interior courtyards in the older part of town take you from crowded, narrow streets into havens of tranquility and natural beauty.
Take in the mosques and palaces, but also spend some time in Marrakech's charming souks (marketplaces), where treasures from handbags and spices to rugs and jewelry can be found down twisty-turny alleyways. Haggling is expected.
Visiting tombs may seem like a yawner, but the Saadian final resting places right outside of town mesmerize with outstanding artwork, finely detailed carvings, bright tiles and Arabic calligraphy.
Stay at the sumptuous Royal Mansour Marrakech: Private courtyards and plunge pools, spacious three-story accommodations and two fine-dining restaurants, Moroccan and French.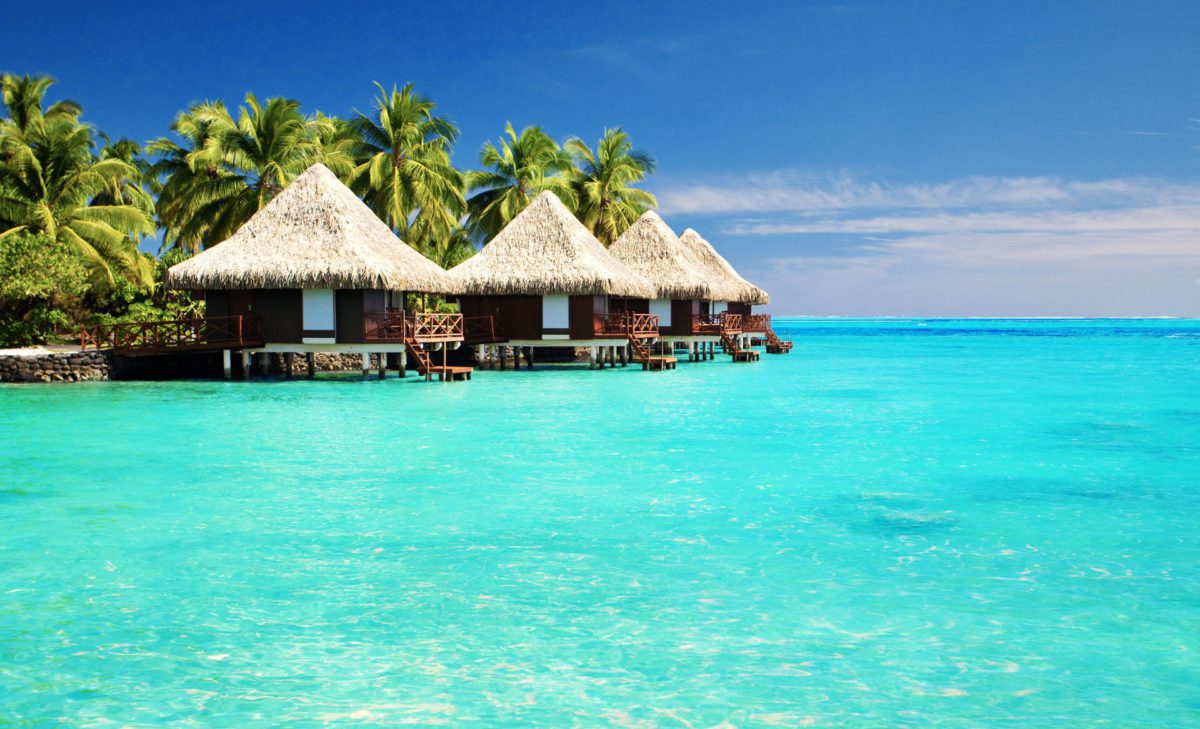 Maldives
In the Indian Ocean southwest of India lies a string of pearls called the Maldives – islands so tiny many maps don't even show them. But they're there, all 1,192 of them. Crystal-clear turquoise waters, sugar white sand, coral reefs and some of the most colorful fish in the world: angelfish, parrotfish, butterflyfish and the always-popular clownfish.
Snorkeling and diving often take place in the presence of dolphins, the surfing is fantastic and the deep sea fishing for tuna, barracuda and giant trevally is tops. Landlubbers take heart, there are golf courses on the islands, too.
Stay at the Waldorf Astoria Maldives, just a 40-minute boat ride from the airport. The luxury resort sits on three islands and offers the epitome of personalized service throughout its eleven dining venues, the "lifestyle spa" and more than 100 villas, some built over the water.
Another good choice would be the Baglioni Hotel, part of the Baglioni family of lavish Italian properties. Offerings include well-appointed guest suites, a variety of restaurants and a spa menu with hot stone and Balinese massages.

Italy
Grab a dollop of la dolce vita on the Italian Riviera at Portofino, an area of northern Italy filled with lush hills covered with cypress trees and olive groves. Stroll the city's picturesque boulevards, bordered by colorful old narrow buildings overlooking the harbor.
And while you're out and about, shop the high-end stores and craftsmen's shops. The locally-produced laces and embroideries are high quality.
Visit Brown Castle, an ancient edifice that still retains its original furniture, old majolica tiles and bird's-eye views of the harbor. Beneath the waves at the inlet, 56 feet down, the statue Christ of the Abyss protects fishermen and divers.
Back on shore, twelfth-century churches are full of spectacular art.
Stay at the Belmond Hotel Splendido, classic stylishness with balconies, terraces, a heated saltwater pool and spa, all within an easy walk of premium shops. Several eateries are on site, including Splendido's superb Chuflay restaurant, which spills out onto Portofino harbor.