[dropcap]Gertrude[/dropcap] Vanderbilt Whitney, an American sculptor born in 1875, understood the struggle American artists of her time had exhibiting and selling their works in the U.S.
In 1907, she began purchasing and showing American works of art that were not accepted by the mainstream. Seven years later, the Whitney Studio in Greenwich Village became the canvas and platform of emerging and unrecognized artists. In 1929, in an attempt to share her collection – one Whitney knew was of high value to American art – she offered an endowment to The Metropolitan Museum of Art, comprised of more than 500 pieces she'd amassed up to that point. With the Metropolitan's refusal, The Whitney Museum of American Art took form in 1930.
In the past seven decades, the museum's collection has grown alongside its prominence, a confirmation of its purpose, and has thus continued to outgrow the spaces its art fills, having to move locations four times. The newest of which, its most ambitious building, resides at 99 Gansevoort St. in New York City's Meatpacking District. In May its doors opened, welcoming guests into its sprawling space donned with pieces by Jeff Koons, Jasper Johns, Edward Ruscha, Chuck Close, Georgia O'Keeffe, Jackson Pollock, Andy Warhol and more.
Today, The Whitney Museum of Art's permanent collection includes more than 21,000 works by more than 3,000 artists in the U.S. during the 20th and 21st centuries, and the museum continues to showcase exceptional exhibitions within its galleries, an opportunity that its new location has made infinitely more possible.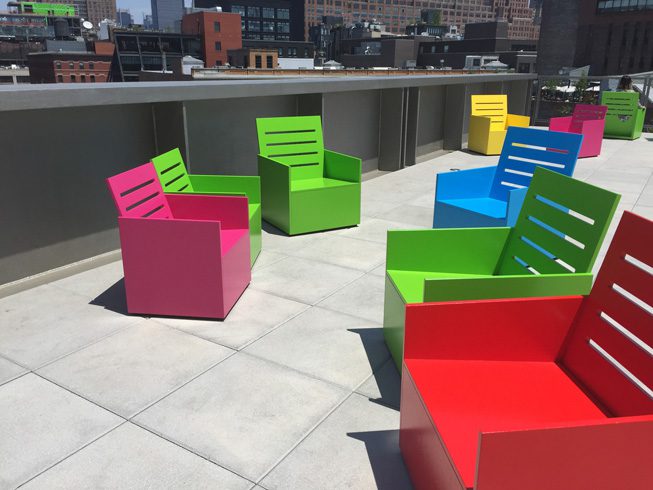 The Building
Nine stories, more than 50,000 square feet of indoor galleries and 13,000 square feet of outdoor exhibition space make up Whitney Museum of American Art's statuesque new building that sits on the edge of the Hudson River in the Meatpacking District of New York City. Stretching upward with sharp lines, angles and protruding cubes, the building was designed by architect Renzo Piano, who says his creation took both Whitney's needs and its remarkable new site into account. The build's most brilliant features include a dramatically cantilevered entrance along Gansevoort Street, walls of windows, state-of-the-art classrooms and a 170-seat theater.
Upcoming
The museum's signature exhibition, the Whitney Biennial is an invitational show of pieces produced within the previous two years. Allowing the museum to continually focus on recent progress in American art, including new artists and works, the exhibition, the only of its kind in the country, has impacted the museum since its creation in 1932 by Whitney herself. The next Biennial exhibit will be in spring 2017.
Upcoming exhibitions will welcome artists Archibald Motley, Jared Madere, Rachel Rose, Frank Stella, Laura Poitras, Sophia Al-Maria, Stuart Davis, Carmen Herrera, David Wojnarowicz and more to Whitney throughout the next year.
The Neighborhood
Discover the neighborhood that has welcomed Whitney and its significance with open arms. Home to myriad restaurants with flavorful cuisine, shopping, nightlife and attractions, the Meatpacking District, a patch of New York City from Gansevoort to West 15th Street and Hudson to 11th Avenue, has a lot to offer.
The High Line: This unique public park offers an elevated experience. Running from Gansevoort Street to West 34th Street, The High Line offers visitors gardens, art, walkways and more on the transformed historic freight rail line above the streets of Manhattan's West Side. www.thehighline.org
Chelsea Market: The world-famous indoor food market, with more than 35 vendors, offers soups, nuts, wine, coffee, cheese and more. www.chelseamarket.com
Ground Zero Museum Workshop: This museum allows visitors to experience Ground Zero through the images and artifacts that capture the courageousness, heartache, hope and sorrow of the recovery period following Sept. 11, 2001. www.groundzeromuseumworkshop.org