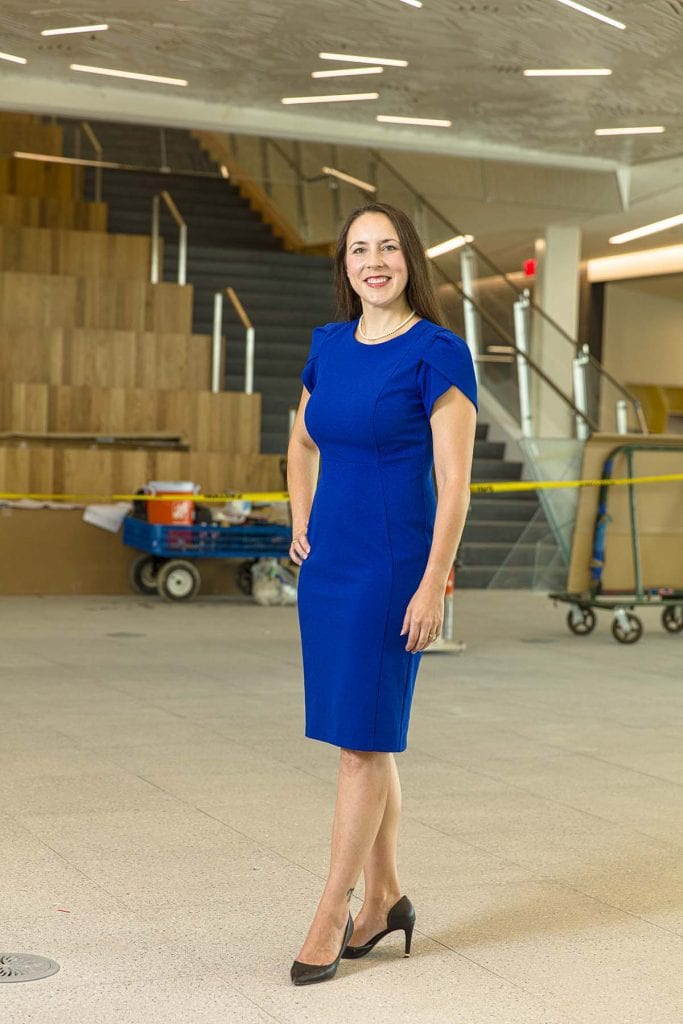 Breea Clark was elected mayor of Norman, Oklahoma's third-largest city, in February. She is the youngest woman and the first millennial in the post. She is also director of the J.C. Penney Leadership Program at the University of Oklahoma. She earned her juris doctor at OU and served on Norman's city council. We caught up with Clark and got her thoughts on …
… leading a city
with 123,000 people.
The challenges we face are similar to those of all growing cities: affordable housing; managing traffic; resources for homeless residents; being welcoming and inclusive to new residents; supporting business in a way that creates job opportunities within the city; and making sure our budget is in a healthy enough place to support the increased strain on core services, like police and fire, public works and utilities. Oklahoma cities, regardless of size, [also] encounter similar challenges due to the legislature's … preemption of local government control, the fact we are now the only state in the nation that ties city's general funds to sales tax, and slow movement to fund core services provided by the state, like education and health care.
For Norman specifically, we have to balance several relationships, given that we are home to the University of Oklahoma as well as the [Cleveland] County seat. We also have to find a balance between our urban and rural areas. We are the [state's] second-largest city in land mass. It definitely creates challenges [but] I love this part of Norman's character. Where else can you find a state park within your city limits with boating, swimming, fishing and camping, as well as housing options that include a loft in the Walker Arts District on Main Street on one hand and a 20-acre farm on the other? We're a flagship city that supports innovation, values education and embraces diversity.
… notable accomplishments.
We have successfully transitioned our public transit system from the University of Oklahoma to city control through a contract with Embark. Great cities offer great public transportation options, and I look forward to improving our routes over the next year so they better meet the needs of our residents. We want Norman to be best positioned to fully utilize the Regional Transit Authority commuter rail when it comes online in the future.
On Aug. 27, we passed the most comprehensive civil-rights ordinance in the state of Oklahoma that extends protection against discrimination to the LGBTQ community in employment, housing and public accommodations. It was a historic moment for Norman and represents our goal to live our city's motto: Building an Inclusive Community. For our efforts, Freedom Oklahoma has named Norman its 2019 Ally of the Year, and we will be featured in the Human Rights Campaign's 2019 Municipal Equality Index report.
… her goals for 2020.
Move on with construction of our Norman Forward projects, specifically the aquatic center, multi-sports facility, Ruby Grant Park and the senior wellness center;
Implement sustainability initiatives that align with our Ready for 100 commitment;
Once a permanent city planner is in place, finish our comprehensive strategic plan;
Overhaul our city boards and commissions to encourage diversity and increase opportunities for more residents to engage in local government;
Begin the renovation of the municipal complex;
Continue to tackle diversity and inclusion issues and initiate our Community Ally training program.
… listening, learning and empathizing.
Norman is often seen as "the blue island" of Oklahoma, and we have undertaken many policies and initiatives that some would label as progressive. But what some people outside of our community may not realize is that Norman can also be quite conservative. I've taken my fair amount of angry phone calls and read quite a few angry emails and messages from people on the other side of an issue. Instead of taking it personally, I really try to put myself in their shoes, figure out where they're coming from on that particular issue, and then find the common ground between us. I always start this process with reminding myself that one of Norman's greatest strengths is its passionate citizens. All across the political spectrum, Norman residents routinely engage in local government, and I have no doubt in my mind that our city is better for it.
… Norman in 2030.
My wishlist for the next 10 years is:
• RTA commuter rail is in place, our public transit ridership has tripled, people bike more and drive less, and residents in the metro area are more connected.
• Residents finally pass a stormwater utility.
• Our recycling services expand to businesses, churches and apartment complexes and includes composting.
• We elect people of color in Norman.
• Norman passes a Norman Forward II to continue to invest in itself and fund quality of life projects in our city.
• The city is growing strategically under the guidance of Plan Norman.
• We support entrepreneurs and small businesses, and we have made a name for ourselves globally specifically in the areas of weather and radar research, aerospace, and entrepreneurship.
• We win another football championship … two.
… balancing her jobs.
The key is time management! I also have an amazing partner who supports my endeavors and shares in the responsibilities of home and parenthood. Additionally, while we don't have any family in Norman, we have an amazing network of friends that we like to call our "fr-amily" that help in emergencies. I constantly seek to be present. If I'm at work, I'm at work. If I'm at City Hall, I'm at City Hall. If I'm with my family, I'm with my family. I definitely have room for improvement here, but this is certainly something I am working on every day. I don't mess with my sleep because I know I need a lot of sleep to function properly.
… other highlights since her election.
My first event was Tourist for a Day on July 27. Thanks to the incredible work of Visit Norman, city staff, the Norman Chamber of Commerce and all participating businesses, we created a fun day of events and discounts designed to remind Norman residents what a fun town they live in. We are also hoping that we transformed our residents into "citizen ambassadors," so when they have family and friends who live outside of our city that are looking for something to do, these residents can tell them all about the amazing events and attractions that the city of Norman has to offer visitors.
On Aug. 25, I hosted a reception for Passports, the nonprofit that supports Norman's relationships with its four Sister Cities: Colima, Mexico; Clermont-Ferrand, France; Arezzo, Italy; and Seika, Japan. Global interactions are a regular part of today's world, and I appreciate the opportunities that having Sister Cities offers in terms of building international relationships and sharing cultures with our residents. Diversity is one Norman's greatest strengths, both locally and globally. This December, I will visit Clermont-Ferrand to celebrate the 25th anniversary of our Sister City relationship, or as they say in French, our jumelage.
The city continues to work to be truly inclusive and has taken such large steps as finally renaming DeBarr Avenue in January 2018, but I strongly believe we can do more. I have created a subcommittee of the Human Rights Commission that will meet monthly through the end of the year to create a road map of actions we can take as a city to continue down that path. I plan to announce their recommendations at the mayor's interfaith breakfast on Martin Luther King Day (Jan. 20) next year.
Working at the university and having children, I know that the experiences of students in Norman are different than younger residents or full-time residents. I have created a mayor's student-resident roundtable to create direct dialogue between several OU students, high school students and even a couple middle school students so I can hear from them what their experiences have been like in our city and where we can improve to be welcoming to their generation. We will meet through May at City Hall. I am excited to see what the roundtable comes up with this year, and I think it's a perfect of example of an innovative way of connecting to residents. As Norman's first millennial mayor, I appreciate young leadership, and I want our youngest residents to know that the city is listening and that we want them to engage.
In August, I partnered with the Pioneer Library System to fight summer "brain drain" by hosting two book discussion groups. For the teen group, we read Dear Martin. For the adult group, we read The Other Einstein. Both events were held at City Hall. I have had several requests to do this again, so we will, likely after Thanksgiving.
I am in talks with the Oklahoma Municipal League to form an urban mayors caucus within the mayors council. Many largely rural states with few urban centers like Oklahoma have done so, and I am excited to work with my counterparts in Oklahoma City, Tulsa, Edmond, Lawton and Broken Arrow to advocate for issues that impact larger cities in our state. Regardless of size, all mayors in Oklahoma have been very welcoming to me, which has meant a lot, given that only 20% of mayors in Oklahoma are women and, at 36, I am also one of the younger mayors in our state.
We have created a collaborative and respectful environment at City Hall between council members, but also between the city and its community partners. I often say, "We are stronger together," and it's been exciting to see us move in that direction. For example, our council retreat in July was very productive, and for the first time in history a University of Oklahoma president (interim Joe Harroz Jr.) opened up Boyd House to community leaders. We are also in the process of creating a joint promotional video highlighting both the city of Norman and the University of Oklahoma.
… family time and self-care.
I obviously won't cut out family time, and I can't cut out my work or city responsibilities. This means the first things to go usually deal with self-care. It's been a struggle to protect time for me to exercise, engage in any of my hobbies, or spend time with my friends. So often women in leadership positions preach self-care, but don't practice it. I've tried to avoid that by publicly declaring that Wednesdays are my family day, moving my workouts to the morning before work (rough because I'm more of a night owl than a morning person), and putting "me time" and "friend time" on the calendar. If it's not on the calendar, it doesn't exist.
A typical day or week constantly changes. My husband works early in the morning, so I can always count on being on "mom duty" every day, which includes making breakfast and lunches, getting kids up and dressed, and making sure they get on the bus. Since mornings are pretty much the only time I can exercise, I get up pretty early. Since I really can't start working on city responsibilities, like emails and constituent and staff communication until after my kids are in bed, I stay up pretty late. I also tend to get caught up on work and/or have city events on the weekends, so I really don't have a weekend to relax like most people. It all sounds a bit insane, but I honestly can't imagine living any other way.
… her legal background.
Although I am not what people think of as a traditional attorney, my legal training has been invaluable in both of my positions. In terms of government, I critically evaluate all sides of an issue and effectively express my arguments in debate. At OU, I have been somewhat surprised about how many of our business students are interested in going to law school. I mentor them by sharing my experiences, prepare them for the admissions process and what to expect in law school, and even create shadowing opportunities by connecting them with my colleagues in the legal world. One of my proudest "I've made it" moments in terms of law was when my worlds collided and I got invited to be a guest speaker for an Oklahoma constitutional law class at my alma mater, OU Law. I shared how some of the unique aspects of the Oklahoma constitution affect cities more so than any other cities in the nation and other aspects of our local government that makes Norman unique.