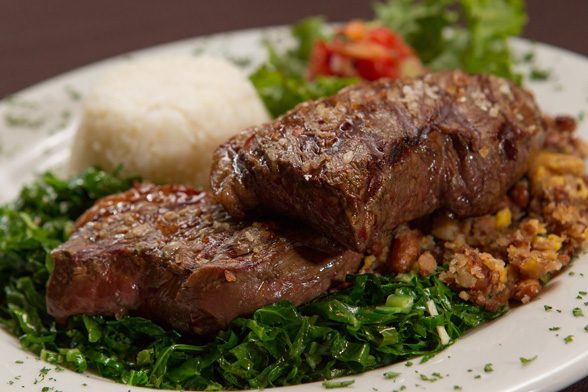 Experience the bright, upbeat and flavorful country of Brazil with owner and head chef Ana Davis' authentic cuisine. Situated in the heart of midtown Oklahoma City, Café Do Brasil offers breakfast, lunch and dinner. Sharing the zest unique to South America's largest country, this eatery will satisfy any craving.
For breakfast or brunch, try Orfeu Negro, a gluten-free dish of black bean soup topped with a poached egg and covered with diced pork, potatoes and spicy green sauce. Sip on a Café Com Leite, Brazilian coffee and steamed milk, while your meal is being prepared. Also try the Carnaval Hangover, three eggs scrambled soft with spicy homemade chorizo. On the side, enjoy a gracious helping of red potatoes with green sauce and cheddar cheese, homemade refried beans and tortillas.
For lunch, start with one of Café Do Brasil's eight salads, a bowl of soup or a delicious appetizer. The Filenzinho A Palito, cubes of sun-dried beef sautéed with onion and green peppers, has amazing flavor. Or choose from delectable quiches, Brazilian pies, sandwiches, rice dishes and delicious specialty dishes.
Each meal at the restaurant is a master class in Brazilian tastes, and dinner is no different. All Café Do Brasil's appetizers, soups and salads will excite taste buds for the main course. For a top taste of Brazil, try the Feijoada, the country's national dish.
Wash it all down with drinks unique to the country. Guarana is a refreshing soft drink made with berries found only in the Amazon; the Caipirinha, a favorite Brazilian cocktail, combines Cachaca, lime juice and sugar. Beer enthusiasts may opt for Xingu Black or Palma Louca Lager. 440 NW 11th St., Oklahoma City. www.cafedobrazilokc.com