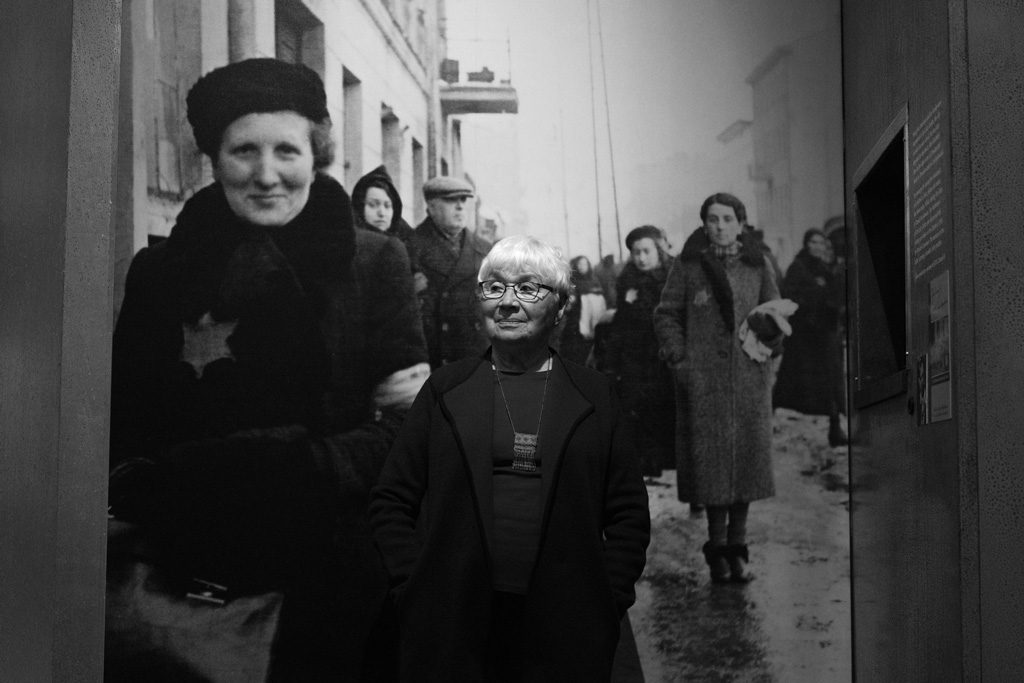 Even for those who have endured atrocities, time leads to mortality. First-person accounts of horrors and survival ebb year after year … until voices go silent.
Also known as Holocaust Remembrance Day, Yom HaShoah is making the transition to that reality. The observance – April 11 this year – recognizes the lives and heroism of 6 million Jews exterminated by Nazis between 1933 and 1945.
Ceremonies for Yom HaShoah, on the 27th day of the Hebrew month of Nisan, often feature some of the approximately 3 million Jews who survived the genocide. But that number dwindles. In 2016, the Conference on Jewish Material Claims Against Germany reported 100,000 living survivors worldwide; two years before, the number was 500,000.
Eva Unterman, founder of Holocaust education at the Jewish Federation of Tulsa, is one of three known Holocaust survivors living in Oklahoma. She speaks candidly about life – and death – but is confident that educators will maintain the mantra of "Never Forget – Never Again" long after she is gone.
"Teachers are my closest friends," says the 85-year-old, who came to Tulsa in 1961 with her husband, U.S. Army veteran Herb Unterman. "Teachers are my heroes. Teachers take the information to the next generation. That's a victory for us."
Unterman was 7 when her family was forced into the Lodz, Poland, ghetto. She hid in a dry well during one sweep for children. She and her parents wound up in a series of concentration camps before the war ended.
For decades, Unterman did not speak about the Holocaust. She credits her mother for not dwelling on it.
"It's an American obsession to think about who you are," she says. "Somewhere along the line – I think it was in the water well – I became numb. I didn't think about my feelings. Years later, I didn't want to burden my son and daughter with these stories."
No More Silence
In 1978, history teacher John Travers had a section in his course about the Holocaust and wanted a survivor to visit his classes. Phone calls led to Unterman.
"It took every ounce of my substantial debate skills to persuade Eva to come talk with my students," says Travers, who has taught at Okmulgee, Jenks and Sapulpa high schools, Tulsa Community College and Spartan College of Aeronautics. "After that first time, she spoke at every presentation that I ever made. It became the John and Eva Show."
Unterman found her voice and has not stopped telling students about the Holocaust.
"I feel more empowered than ever at my age," she says. "It's my obligation to tell all this. Most survivors are dead or dying. There are not many of us left."
Within two generations, the last Holocaust survivor will die, but eyewitness accounts will resonate through teaching and documentation.
Travers, still teaching three courses at TCC, wants more young people to major in and devote their lives to history.
"To teach about the Holocaust," he says, "educators have to have functional historical knowledge and prepare with accurate, substantial information."
The U.S. Holocaust Memorial Museum in Washington has extensive online resources, from lesson plans to short films, for teachers.
"We rely on our teacher-partners across the country in our mission," says Gretchen Skidmore, the museum's director of education initiatives. "Teachers raise questions about issues facing students today, especially about human dignity."
The museum has 270,000 records, photos, textiles and artifacts, many of which match survivors' first-person video and audio recordings at the facility.
"We want to build a support network of teaching," Skidmore says. "We have a cadre of 380 teachers across the country who discuss Holocaust education."
Jesse Ulrich, director of Holocaust education at Tulsa's Jewish federation, encounters teachers and students daily.
"Our work is in anticipation of the day when there are no longer living Holocaust survivors," Ulrich says. "All the work with school districts throughout Oklahoma and with all different kinds of minority groups is based on the single mission of 'Never Forget.'"
Always Positive
A common denominator springs from Skidmore, Travers, Ulrich and Unterman: optimism.
"She's my hero," Travers says of Unterman. "She's one of the greatest human beings I've ever known."
Working with teachers leaves Skidmore in a perpetual state of learning and assessing the museum's educational curriculum. She feeds off teachers' enthusiasm "because they're professional and know their craft. They're also learners."
Ulrich says he has "always been a positive person because I believe [in a quote from] Martin Luther King Jr.: 'Let us realize the arc of the moral universe is long, but it bends toward justice.' Instead of always thinking about those that perished in the Holocaust, I think about those righteous people who helped save those who they didn't know, putting their own families at risk."
And Unterman disregards vengeance.
"I have always just wanted the world to be one," she says. "I wanted Esperanto [invented in 1887 to foster global peace and communication] to be the world language. It's all about our common humanity. I inform kids of what we humans do and have done to each other. They won't go through what I went through, but they can see what they do with each other in their interpersonal relationships.
"We go on. We live. This is my life."
Yom HaShoah in Tulsa
In conjunction with Yom HaShoah, the Tulsa Council for Holocaust Education and the Tulsa City-County Library feature Patrick Desbois. The Catholic priest and Vatican consultant is the author of The Holocaust by Bullets: A Priest's Journey to Uncover the Truth Behind the Murder of 1.5 Million Jews, which won the 2008 National Jewish Book Award for its exclusive documentation of execution sites in Ukraine.
Debois's talk, "A Voice of Conscience," is at 7 p.m. April 9 at Tulsa Community College's VanTrease Performing Arts Center for Education. He is part of the 21st annual Yom HaShoah Interfaith Holocaust Commemoration, which includes an original elegy by Joseph Rivers, a professor of music and film at the University of Tulsa. For more information about this free event, go to jewishtulsa.org or call 918.495.1100.
Diminishing Numbers
It's a matter of age. Eventually, the last Holocaust survivor will die. The same will happen with World War II veterans. According to the U.S. Department of Veteran Affairs, fewer than 558,000 remain of the 16 million Americans who served in that war.
In 1956, the last Civil War veteran – Union soldier Albert Woolson – died at age 106. In February, the last World War I service member  – Florence Green of the British Women's Royal Air Force – died two weeks before turning 111; the last combat veteran of that war – British sailor Claude Choules – died last year at 110.
Web-Exclusive Extended Interview
John Travers, a long-time Tulsa County history instructor, has never shied from teaching controversial topics. As difficult as it may seem today, the Holocaust was one of those taboo subjects in education.
Travers gained a passion for Holocaust education after he heard a guest speaker at the University of Tulsa declare in 1978 that few "had the guts to teach about" the Nazi horrors inflicted upon Jews. He took that as a challenge and began to educate his students about the atrocities that killed 6 million Jews.
Travers's mission ultimately led him to Eva Unterman, a Holocaust survivor who came to Tulsa with her husband, Herb, in 1961.
Travers called Harry Sebran, then cantor at Temple Israel, about how to make a personal impact on students. He asked Sebran, who died in 2008, for the name of a Holocaust survivor. With many phone calls and much persuasion, he got Unterman to speak to his high school history classes.
That began what Travers calls the John and Eva Show, which has traveled to hundreds of schools and conferences arranged by Travers.
"And whenever she had a seminar to attend, she'd ask me to be on the panel," he says.
Travers knew how much effort it took for Unterman to speak "because she had to re-live a lot of this. And I always thanked Herb [who died in 2008] for letting me steal his wife to take her to these sessions. He gave up a lot, too."
Unterman's association with Travers unpinned a subject that she had long repressed. After being liberated in 1945 and moving to Germany, "I just wanted to fit in," she says. "None of us was talking about the Holocaust."
When Unterman was 7, her family was rounded up by German soldiers in their hometown of Lodz, Poland, in the winter of 1940 and forced to live in a ghetto. At various times, children were taken and never seen again; during one sweep, Unterman hid in a dry well to avoid capture.
She and her mother were taken to Auschwitz-Birkenau four years later, then to the Stutthof concentration camp near Gdansk before being transferred to a munitions factory outside Dresden, Germany. After that came an 11-day forced march to the Terezin concentration camp near Prague (in what is now the Czech Republic).
Russian troops liberated Terezin on May 8, 1945, the last day of World War II in Europe. Unterman, then 12, and her mother reunited with her father in Ludwigsburg, Germany, where the family ran a gift shop.
There, she met American soldier Herb Unterman. They fell in love and married in Canada because her immigration status was held up since, as a stateless refugee from the Holocaust, she had no host country.
In raising her family, Eva Unterman did not bring up the Holocaust because "I did not want to burden my son and daughter with the stories." They were grown by the time she and Travers began their 40-year friendship.
Holocaust education has fully evolved since then. In addition to Unterman herself, at age 85, continuing to speak to students around Tulsa, her granddaughter Phoebe Eloise Unterman has written and illustrated a children's book called Through Eva's Eyes, which tells the story of her grandmother's childhood experiences during the Holocaust.
"It's the second and third generations that are keeping this story going," Eva Unterman says. "That's a victory for us. That's what it's about. I'm lucky. I never take that for granted."
Travers's innovative Holocaust units came years before Schindler's List won the Academy Award for best picture in 1993.
"I was in Europe when that film won the Oscar and, when I got home, there was a message on my answering machine from Eva," Travers says. "She said, `I'm proud of the movie and I'm proud of Steven Spielberg, but I know that you were doing this long before he did.'"
Travers and Unterman have no patience with Holocaust deniers.
"You don't mention Holocaust denial to the soldiers who liberated those death camps; they get livid," says Travers, who worries that as Holocaust survivors and liberators eventually die so will the firsthand accounts of what they witnessed. "Where's the next generation of educators who can teach about the Holocaust? Once we lose the survivors and liberators, you won't have actual people up there in front of the class."
Unterman says she deals with Holocaust deniers with facts and calm reason.
"I've never sought revenge," she says. "My children and grandchildren are here. That's revenge enough. I don't deal with forgiveness; that's not my thing. I remember and I educate. I refer [Holocaust deniers] to the U.S. Holocaust National Museum. I like taking the high road. You always make a better connection by being friendly. You accomplish more."
Gretchen Skidmore, director of education initiatives at the Holocaust museum, says that as the institution begins its second 25 years one of its missions is to include all repressed groups in discussions about genocide and persecution.
"We want people from all backgrounds to explore these important questions about evil," she says. "We need people to learn this history in context. The museum is the question, not the answer."
Unterman and Travers cite modern genocides – in Myanmar, South Sudan, Sudan, Central African Republic, elsewhere – as proof that what they teach remains relevant.
"It's still going on," Unterman says.
"Human behavior must be corrected," Travers says.