The Paseo Arts District in Oklahoma City has long been home to free thinkers – a place where revolutionaries find refuge and solace, where the creativity of local and regional artists thrive.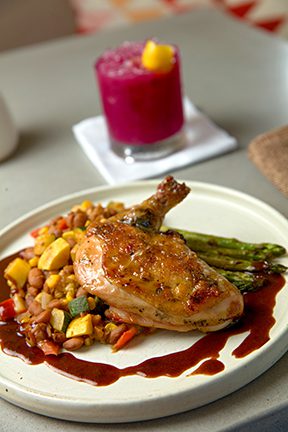 Artist and free thinker Magdalena Carmen y Calderón, commonly known as Frida Kahlo, defied identity and class through her paintings. It's no wonder that Frida Southwest, a new restaurant in the Paseo district, challenges customers to think outside the box when it comes to southwestern inspired cuisine.
In 2014, Shaun Fiaccone of Humankind Hospitality bought the lot at 500 Paseo and north Walker Avenue. He had ideas for the space, but the building needed artistic renovation. Enter Brian Fitzsimmons of Fitzsimmons Architects.
"Brian designed 95% of Frida Southwest," Fiaccone says. "One of the things I asked Brian to deliver was a restaurant that is going to look as beautiful and relevant now [as it will] 20 years from now. I wanted him to treat this as an art project, not just architecture."
The flow and grace from the restaurant's front curvature, with its perfectly tinted floor-to-ceiling windows, allow natural light to cascade through accents of terra cotta, sand and cobalt. A quiet study known as The Daley is incorporated into the design – a quaint, hidden nook, purposely not mentioned (well … until now) for those in the know.
More architectural elements channel Kahlo.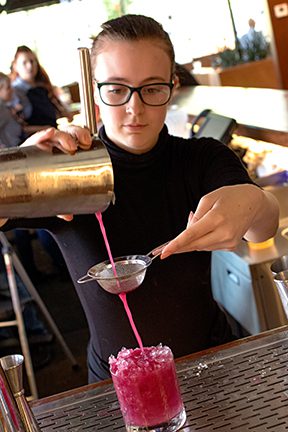 "The jutting Corten steel beam [above the front door] represents the metal handrail that pierced through Frida during a bus accident when she was young," says Ryan Parrott, chef and member of Humankind's culinary team. "Other than that and a painting we have of her in the restaurant, that's all the reference of Frida Kahlo there is. It isn't our intent to represent or misuse her. We're in an arts district; we have another restaurant named after an artist – Picasso Cafe – so Frida Southwest was a perfect match."
For the menu and cuisine, Parrot and head chef, Quinn Carroll, draw from flavors of both land and sea.
"If you set a dinner plate on a map, and the top of the plate was at northern New Mexico, and it came over to Oklahoma City, went down into Texas and northern Mexico, that's our food," Parrott says. "Quinn is a big part of this menu."
Customer favorites include the house-rolled seafood tamales loaded with crab, scallops, jumbo shrimp and mouthwatering lobster slipper tail or claw meat on light and fluffy green chile tamales. Another prized catch is Frida's sea bass, with decadent lobster beurre blanc and spinach on creamy corn and truffle oil risotto.
From the land, Carroll and team offer wood-grilled steaks galore; a bone-in jidori chicken breast with heirloom beans, corn and squash; pork belly and scallops; and a vegan-licious pepita crusted chile relleño. The appetizers, salads, soups and desserts take you on a fine ride through the most delicious parts of the southwest.
To wet your whistle, Frida offers select wines with labels and receipts to dazzle all levels of connoisseurs. For cocktails, let the colors of a Santa Fe sunset be your guide – from the blueberry-lavender syrup of Purple Rain (bourbon) and the Banana Star Galactica to the Sriracha ice-cubed Avocado Toast and the tall Dante's Inferno with Thai chili-infused Aperol.