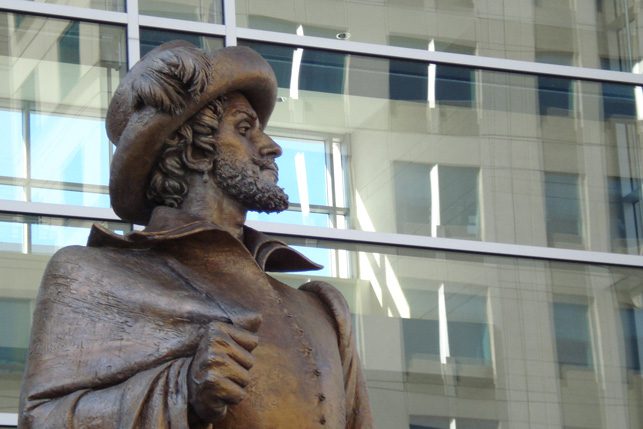 Many times, when we wonder where in the world we want to go next, our minds travel outside the United States, but there are many gems within our coasts that have been overlooked and underexplored. For those hoping their next destination lands on U.S. soil, the mild weather, rich history, burgeoning breweries, fresh tastes, explosion of art and creativity, small town with big ambitions feel and friendly, southern charm of its loyals welcome you to the City of Oaks. A whirlwind of culture, entertainment and exploration beckon travelers to Raleigh, N.C.
This year, Raleigh was ranked No. 4 on Forbes' list of America's Fastest-Growing Cities, and Huffington Post called Raleigh "a true Southern treasure" and named it
No. 3 on its list of 5 American Cities You Should Visit in 2015. These accolades come as no surprise to local Raleighites who've seen the enormous growth and exciting changes their beloved city has gone through in the last 10 years. For travelers whose Raleigh radars haven't yet gone off during their "next destination" searches, these rankings may be enough to sound the alarm.
With spring and summer symptoms rising, there's no better time than now to visit North Carolina's temperate climate, and there's many ways to enjoy North Carolina weather in the state's capital.
When sunshine offers play, jump on a Raleigh trolley or Segway tour and explore the rich history of a city named for Sir Walter Raleigh, whose failed attempt to establish the first English colony in The New World on Roanoke Island, now North Carolina, in the 1580s paved the way for the future. Glide past historic landmarks: the buildings that have been revamped and repurposed along downtown's Fayetteville Street; the Joel Lane House, a restoration of an 18th-century manor house; City Market's cobblestone drives lined with shops and dining; The State Capitol and Legislative Buildings; and the Governor's Mansion. If your trip gets interrupted by rain or cold, go indoors at the North Carolina Museum of History to get your fix.
This May 2 and 3, enjoy the Oakwood Tour and Victorian Tea, a tour through the garden of Oakwood, Raleigh's oldest neighborhood, an experience Southern Living named No. 6 on their list of the South's Best Garden Tours.
After soaking up all the history one can handle, and thirsty for something a little more quenching, explore the hops at one of Raleigh's long list of breweries or watering holes. Craft beer in North Carolina is pouring ahead with the best of them, and Raleigh continues its trek to the tap. With more than 10 breweries, and the number growing, there is a unique beer culture in Raleigh that continues to take notice.
Local breweries have repurposed old warehouses and constructed new structures to house their operations. Their beers are winning experiments with witty names that nod to the city or the brewery's brand. Brew tours have become a frequent Saturday or Sunday happening. Many breweries position their tanks in view of the dining room or bar, giving patrons a more unique experience. Some don't sell food, but there's always a food truck outside to keep their patrons happy.
For the best view of Raleigh's skyline, join locals, and their pets, on the patio of Boylan Bridge Brewpub, hang out at a new kind of "biker bar" at Crank Arm, taste the pies at Trophy, named Best Pizzeria in N.C. in 2014 by Thrillist; or explore the likes of Big Boss, Raleigh Brewing Company or Lonerider, to name a few others. You can also cool off with a cold one at The Raleigh Times, a 100-year-old building turned restaurant and bar that made Draft's list of America's 100 Best Beer Bars in 2015, along with Busy Bee Café – another popular downtown hangout.
As the beer flows, appetites get anxious for more substantial snacks, and thankfully, Raleigh's restaurants offer fresh flavors and worldly selections. Along the streets of downtown, enjoy the taste of Bida Manda, Asian; Sitti, Lebanese; The Pit, southern barbecue; Caffe Luna, Italian; Fiction Kitchen, vegan/vegetarian cuisine that tickles the taste buds of even the most certified carnivores, Poole's Diner, American – named in Southern Livings list of 100 Best Bars in the South – and countless other dining destinations. Raleigh has some great grub; the tastes are well worth the trip.
If the sun's still shining, burn those calories with a bike ride through Raleigh's warehouse district – named on USA Today's 2014 list of 10 Best City Art Districts Around the USA. A grid of historic brick buildings with the ever so often mural or artistic flair to grab your eye, this trendy territory boasts art, fashion and food. Chain your bike to a bicycle rack made from old bicycles frames – one of five racks placed around downtown as a result of a country-wide design contest – and explore the art within the Contemporary Art Museum (CAM), Designbox or Visual Art Exchange. To further the Raleigh art experience, ride along a string of capital area greenways and find your way to the North Carolina Museum of Art.
After the sun has set, the Lincoln Theatre and The Pour House Music Hall – two popular, downtown music venues featuring local and international talents – lure crowds to the front of their stages. If this trip was planned just right, there may be a big act or two playing in the downtown, outdoor Red Hat amphitheater. You can also make your way to Midtown's North Hills and see what evening entertainment they've got lined up; right now, they're probably gearing up for their spring/summer Midtown Beach Music Series.
After a long day's adventure, whether you're returning to a quaint bed and breakfast near the popular Cameron Village shopping center, the five-star Umstead Hotel, or a friend or relative's, you won't be disappointed by the energy and possibility that abound the streets of Raleigh, N.C., and "what should we do tomorrow" is all you'll think about next.
Photos Courtesy of the Greater Raleigh Convention and Visitors Bureau/visitRaleigh.com.