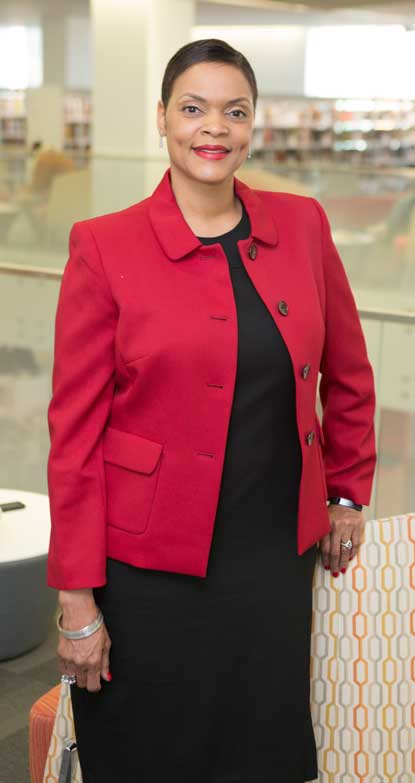 [dropcap]The[/dropcap] Tulsa City-County Library appointed longtime employee Kimberly Johnson as its new chief executive officer, effective Jan. 1. Johnson, a native of the Bronx, New York, has worked for the library system since 1998 after she earned her bachelor of arts degree from the University of Tulsa and master's degree in Library and Information Studies from the University of Oklahoma.
Johnson, the library's first African-American CEO, started as coordinator of the African-American Resource Center at Rudisill Regional. In 2005, she became manager of the South Broken Arrow branch; in 2010, she was promoted to manager of Hardesty Regional, one of the largest libraries in the system. She continued her climb in 2012 (as regional director), 2013 (as deputy director and chief innovation officer) and 2014 (as chief operating officer).
We caught up with Johnson and got her thoughts on …
… her immediate goals.
It's a privilege to lead this well-respected organization within a diverse community of readers and learners of all ages. As CEO, I will bring to the position what has guided me these last 18 years and that is service. Throughout my career, I've always been guided by two questions: 1) How can I be of service? 2) How can the library add value to the city and the citizens in the county? With this in mind, one of the library's goals is to promote lifelong learning and literacy in all forms. Through the generosity of longtime library supporter Ruth Nelson, the library has a new bookmobile to reach early childhood facilities and customers in underserved communities.
… changes and events.
Like most organizations, we are looking for ways to capture the attention of the 21st-century customer to be better able to meet their needs. The library has remained relevant in this high-tech connected environment. The renovated Central Library is evident of that. It is an example of what a 21st-century library can do for a city and its citizens. In addition to providing books in print and in digital formats, the library is a place for customers to convene, collaborate and create. This is evident in the new learning spaces at Central Library, such as the Pocahontas Greadington Learning and Creativity Center, the Renee F. Newald Maker Space, the American Electric Power Foundation Digital Literacy Lab, the AAON Computer Lab, the George Kaiser Family Foundation Oklahoma Room, the Herman & Kate Kaiser Children's Area and the A.R. and Mary Louise Tandy Children's Garden.
… how the library promotes literacy.
The Tulsa City-County Library is proud of the work it continues to do for preschool children, adult learners and our partnerships with area school districts. We know reading is the foundation to all learning. Early exposure to reading provides children a head start for educational success. For preschoolers, the library offers Build a Reader infant and preschool story time and preschool at all 24 locations. Both programs promote early literacy skills to parents and caregivers through offering literacy-rich, hands-on experiences in an interactive environment. Hundreds of children and their caregivers descend on our 24 locations each week. We're also very proud of the vital service we offer to adult learners. One in six adults in Tulsa County cannot read the prescription label on a medicine bottle, understand a newspaper article, or enter complete information on an application.
… some first steps as CEO.
I intend to focus additional efforts in support of the library's outreach programs, like the bookmobile and the Ruth G. Hardman Literacy program. First, the literacy program's mission is to provide one-on-one tutoring to adult learners reading at the sixth-grade level or lower. Second, we are halfway through implementing a customer-centered service model in all 24 locations. The goal is to position staff to be better able to anticipate the customer's needs and assist customers wherever they are in the building. Third, there are several library locations in need of additional space to meet the needs of the communities they serve. An expansion for these locations is in the library's future. Fourth, the library has many vital services available (with a library card) that people are still discovering. I will continue to promote these services:
Homework Help: Receive free online homework assistance from certified tutors.
Lynda.com: Get professional online training; take no-credit courses on almost any imaginable topic; learn a new language; take music, voice and art lessons; and access practice exams and study guides to achieve your educational and career goals.
Zinio: Download e-magazines and choose from more than 175 magazines, including popular, children's and Spanish selections.
Newspaper Direct: Get instant access to more than 2,500 newspapers from 100 countries in 60 languages, with over 1,200 in English (you need to be in a library to download).
Ebooks, movies and music: Choose from hundreds of thousands of titles, including Hollywood blockbusters, best-selling artists and authors, as well as niche and hard-to-find. Always available. No holds, no waiting!
Audio books: Download exclusive bestsellers and other popular titles previously unavailable in eAudio from major publishers