Oklahoma has always ranked in the lower half when it comes to population figures in the United States, but it has consistently produced more than its share of athletes who have succeeded nationally and internationally.
We profile football placekicker Dan Bailey, who has gone from his native Mustang and tiny Southwest Covenant School in Yukon to a mainstay for the Dallas Cowboys. We also look at six high schoolers expected to excel this autumn in their respective sports.
Still Kicking; Now Flying
Heading into his eighth season with the NFL's Dallas Cowboys, Dan Bailey continues living the dream as the kicker of America's Team. The Mustang and Oklahoma State University product is grateful for where football has taken him, especially after spending time away from the game.
Bailey, 30, played in high school at Southwest Covenant in Yukon and graduated in 2006 with a class of fewer than 30 students. He tried to walk on at the University of Arkansas, then coached by Houston Nutt, a former OSU quarterback. However, he didn't make the Razorbacks, which led him to do some soul searching about whether being a college kicker would become a reality.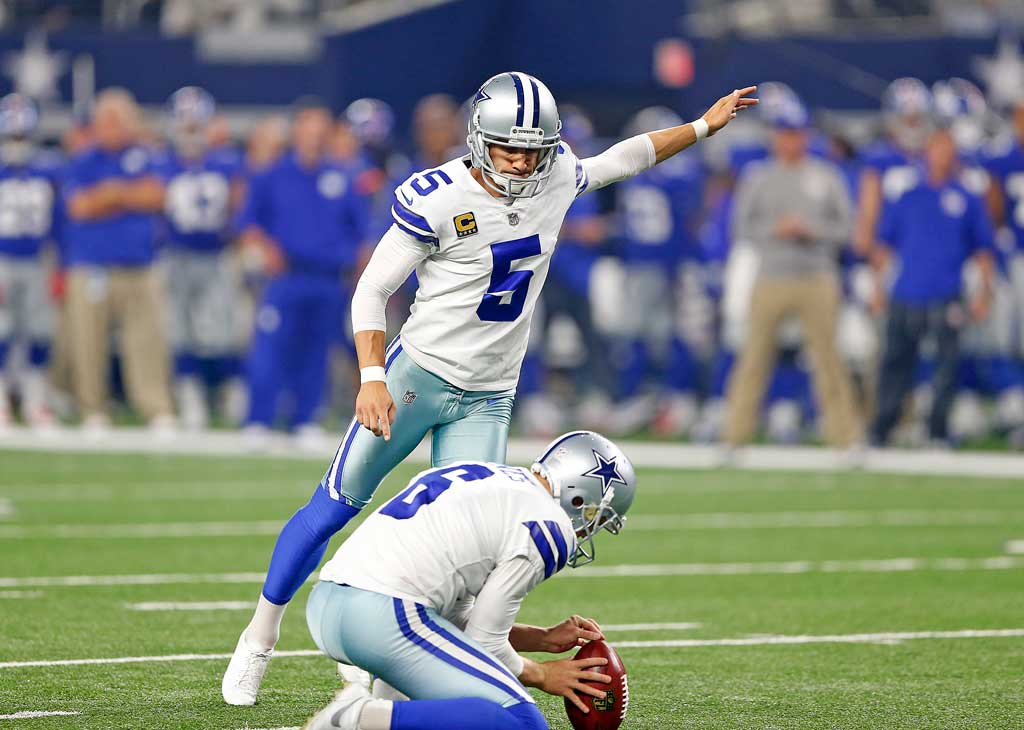 "Yeah, that was kind of a crazy story, really," he says. "I ended up having to drop out for six months after what would have been my first semester. I had to file a petition with the NCAA to see if I could keep my eligibility so I wouldn't have to sit out a year [as a transfer]. I was just young and naive. I didn't know if I'd have another opportunity. I thought maybe that was my one shot and it just didn't work out."
But thanks to a highly supportive group of friends and family, he persevered and ended up at OSU in 2007, where he kicked four years for OSU and won the Lou Groza Award as the nation's top collegiate kicker when he was a senior in 2010.
"It was just a matter of finding somewhere that I felt like I could go in and compete," he says. "Oklahoma State was close [to home], so that helped, and then I felt like I had a good opportunity to go in and maybe earn a spot. I just stuck with it, gave it a shot and it ended up working out."
After graduating from OSU, like many college kickers, he didn't hear his name called in the NFL draft. But that summer, Dallas signed him as a free agent, and, after beating out three others, he was the last man kicking.
In 2015, Bailey earned a trip to the Pro Bowl and remains a Dallas fixture today. Before last season, he hadn't missed a game, but a groin injury forced him to miss four contests. His late-season return resulted in his first-ever missed extra point and several missed field goals.
Bailey is itching to return to top form and show everyone that last season, when he made a career-low 75 percent of field goals, was a glitch in an otherwise rock-solid career that has placed him as one of the most accurate NFL kickers in history.
"It just seems like yesterday that I was coming in my first year and trying to make the team," he says. "What's really crazy is we're such a young team now; I think we got three guys over 30. When I came in, I think we had 20 guys over 30. I'm kind of the old guy now, so it's been interesting. I still feel like I'm 22 or 23, but obviously the years are creeping up on me."
Bailey and his wife have called North Texas home for seven years, but they return to Oklahoma whenever possible to visit friends and family.
"I'm definitely proud to be from Oklahoma," he says. "It's very much a blue-collar area, and that's what my family was as well. You learn the value of hard work. I learned [that] at an early age. You put work into something, and you get out of it what you put in. It's a good change of pace to go back home. The people up there are obviously great. It's a laid-back vibe. Who knows? I might end up back there when I'm done playing."
During the offseason, when he's not going through workouts or preparation, Bailey's passion is flying. This year, he bought his own plane, a small two-seat sportster, and got his pilot's license. Aviation is a family tradition: His grandfather served in the Navy and his father has held a private pilot's license. Several years ago, Bailey got to fly with the Navy's famous Blue Angels in Pensacola, Florida.
"It's obviously challenging, and you've got to be focused and locked in, but there is something therapeutic about it for me," he says. "I really enjoy the attention to detail you have to maintain. I like the challenge of it. It's something different every time, especially taking off and landing … but it's also rewarding.
"There's nothing better than going up at sunset or even getting up before the sun comes up and being up in the air and watching the sunrise or sunset. It's definitely good for the mind."
Fall Athletes to Watch
High school sports are always big in Oklahoma, and hundreds of athletes in all sports put up impressive statistics and accomplishments.
We offer a small sample of who to watch this autumn. They are cross country runners, football stars and a nearly lifelong catcher in fast-pitch softball.
All are passionate about their respective sports, but they also have interests outside their performance venues – from outdoor recreation and spirituality to nutrition and academics.
These student-athletes are solid representations of what Oklahoma high schools produce in and out of the classroom.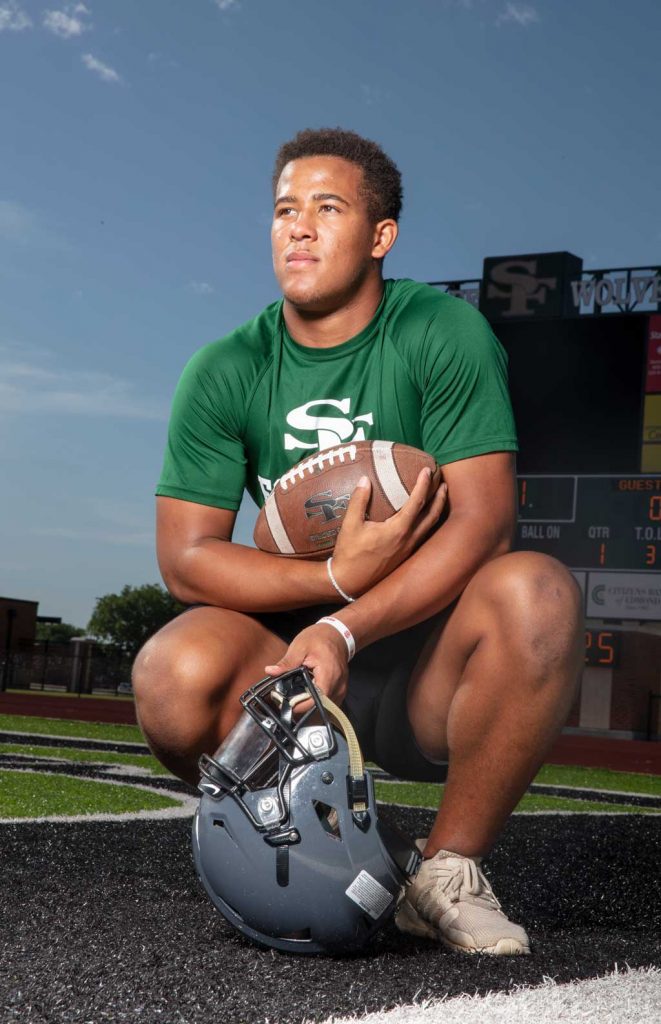 Trace Ford
Senior – Santa Fe High School, Edmond
Defensive end/linebacker/receiver, football
Ford – 6-foot-3, 225 pounds, fast, strong and agile – is described by his coach as "just a freaky athlete" because of his versatility in multiple sports.
"But Trace's No. 1 quality is that he's an excellent young man," coach Kyle White says. "He's a 4.0 student and is loaded up with Advanced Placement classes. He's never given us any problems. He's done everything that we've asked him to do."
Ford, who led the Wolves with seven home runs and 28 steals in baseball last season, also intends to resume his basketball career this winter.
"I just love sports; I always have," he says. "I never want an offseason. I'm always playing, always practicing. I'm one of nine brothers and sisters, so we've always competed against each other, even in academics. If one of us makes a B, we get made fun of. I got a 92 in a math class and thought that was good until my sister said she made a 95."
Ford didn't begin playing football until seventh grade and only broke into the starting lineup after several games last season.
"He was mad that he couldn't play Monday nights on the junior varsity anymore," White says. "He just wants to be on the field. We'd be crazy to just keep him on the defensive side."
Ford, who will rotate in as a tight end and slot receiver, has narrowed his choice of schools to Oklahoma State, Baylor and Arkansas, with the Cowboys having the edge.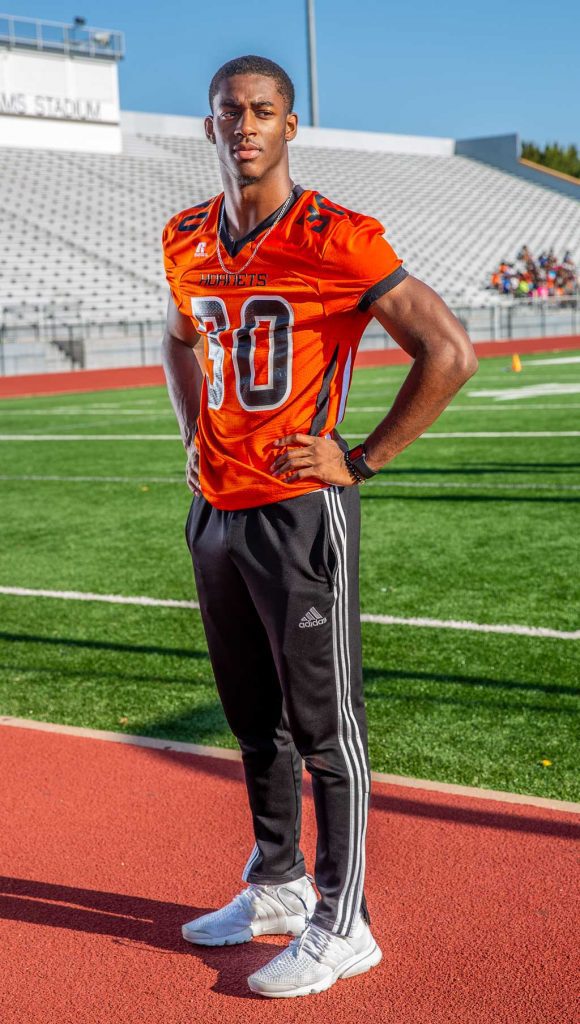 Dax Hill
Senior – Booker T. Washington High School, Tulsa
Safety, football
Nationally recruited by the top collegiate programs in the nation, Hill quickly emphasizes how much he enjoys academics.
"I took physics last year – that was new and interesting," he says. "I really love English – anything that has to do with writing. I love to write, especially short stories.
"I just try to work hard on the field and off the field."
Hill draws parallels between athletics and academics when it comes to excellence.
"I got better at writing because my teachers have us do in-class essays all the time," he says. "Working at something consistently makes you better. That's the way life is."
A five-star defensive back, Hill helped the Washington Hornets win the Class 6A-II state championship last year. During the season, he took one fumble recovery all the way for a touchdown; he also returned three of his five interceptions for TDs. He had 67 tackles, including six on blitzes that led to losses by opposing teams.
In his downtime, Hill likes to hang out with family and friends, watch movies, and play video games and miniature golf.
Hill also credits both paternal grandparents, pastors at Northside Christian Center, for their influence in his life: "I've grown up in a spiritual environment," he says.
Hill will choose this month between Oklahoma, Oklahoma State, Alabama, Clemson, Michigan and Ohio State. His brother, Justice, is a star running back at OSU.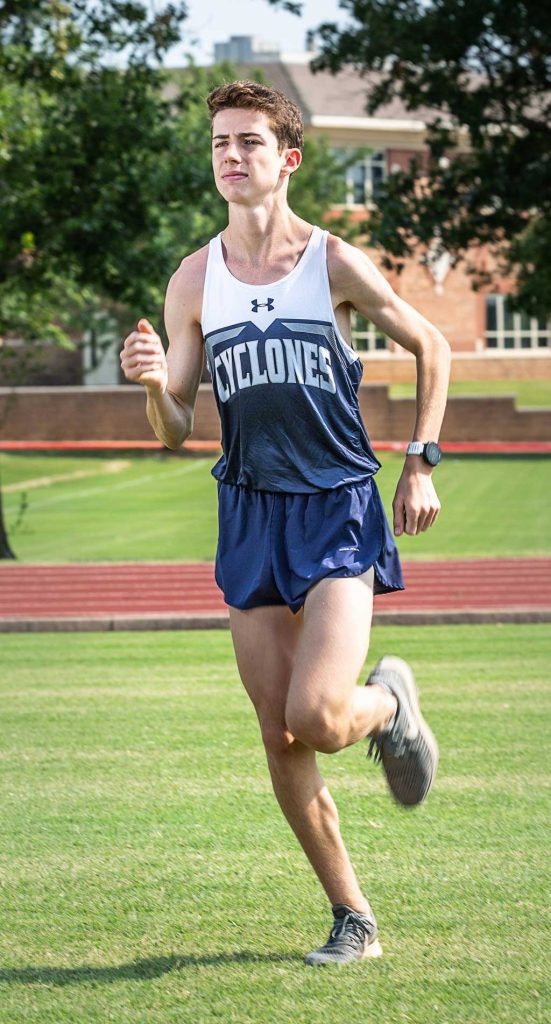 Sam Bass
Junior – Casady School, Oklahoma City
Cross country
Roxanne Sterling, who's coached at the school since 1996, says she hasn't "seen anyone [except Bass] with such talent and determination in my time at Casady."
Bass didn't take his sport seriously until his freshman year, when he set personal best after personal best and saw his potential.
"I didn't like it at all in middle school," he says. "My parents kind of forced me to do it. It's kind of ironic now."
Bass says he overcomes the pain of training by thinking, "If I don't push myself, I won't get better."
Even when he's not running, Bass remains active.
"I'm big on being in the outdoors: fishing, kayaking, rock climbing, hiking, mountain biking," he says. "I like to relax in nature."
Sterling says Bass is a quiet, stable presence on the team and subtly checks in with teammates who are struggling.
"I'm not outspoken," Bass says. "I try to lead by just doing my best."
Bass would like to run for a Division I program and he anticipates being contacted for the first time (by NCAA rules) this month by several schools.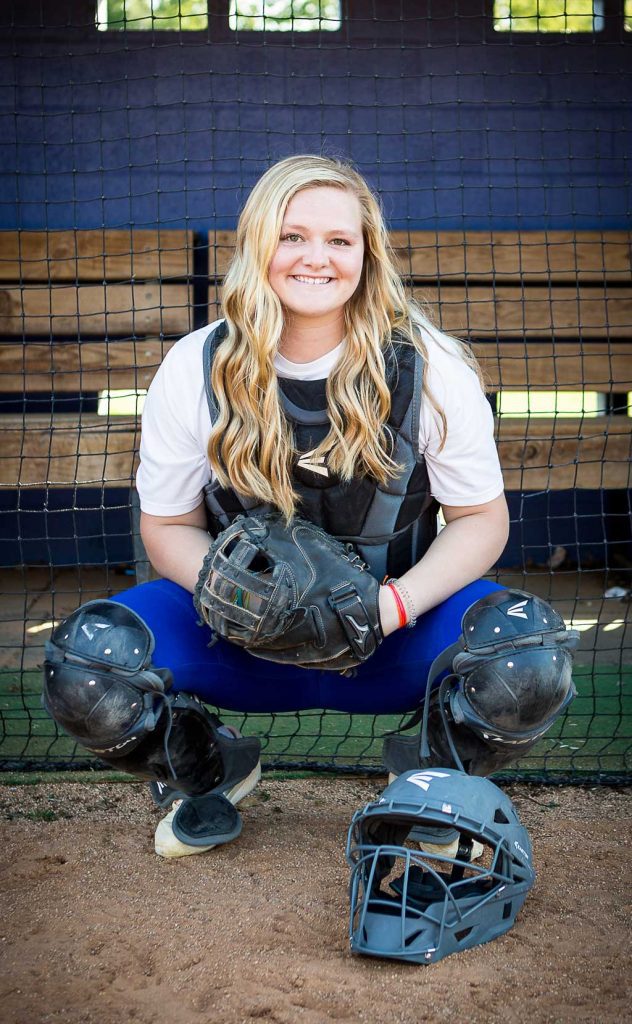 Julia Cottrill
Senior – Stillwater High School
Catcher, fast-pitch softball
Cottrill, committed to the University of Florida, began playing T-ball at age 4 and, a few years later, knew the position she was destined to play.
"I wanted to be a catcher like my mom," the U.S. junior national team member says of Casey Jones Cottrill, who played at Cowley County Community College in Arkansas City, Kansas.
Cottrill's dad, Jeff, is also heavily involved in the sport as pitching coach for Oklahoma State University.
"Julia's a take-charge girl," says Karie Linsenmeyer, in her ninth season (in two stints) as Stillwater coach. "She controls the atmosphere and has a big personality. She has all the skills to play at the highest levels.
"She's one of the best hitters I've ever coached; she has the ability to be on-time at the point of contact no matter what the pitch. She also has a big arm, which changes the game because no one steals on her and she can pick off runners."
Cottrill, whose club team (the Georgia Impact) won this summer's national title, says she strives to be a leader "because that's the key to a great team. Leaders show younger kids how things come together."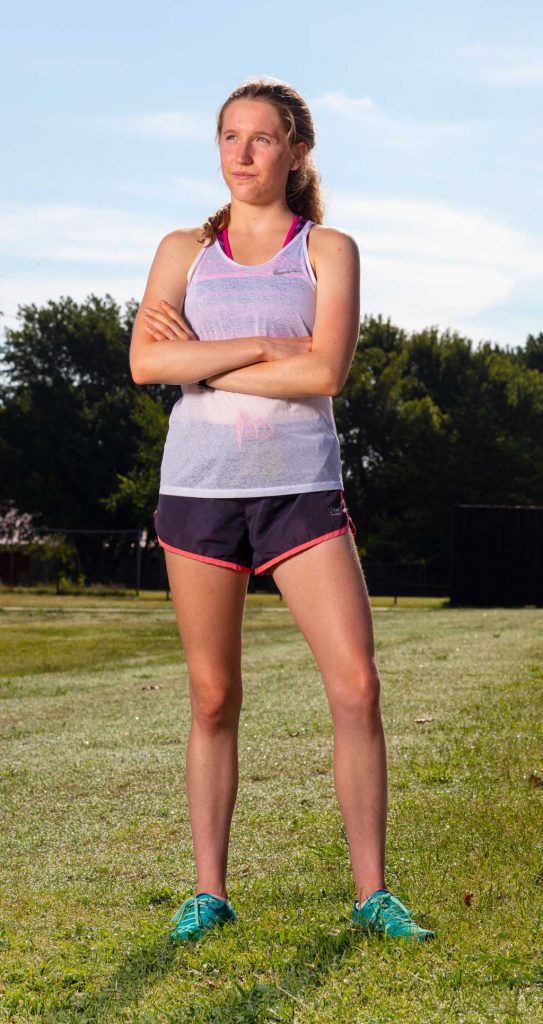 Sophia Maag
Senior – Norman High School
Cross country
Five years ago, Maag became so obsessed with what she puts into her body that she committed to herself to quality nutrition and an active lifestyle.
She even has a blog (foodfirst.wordpress.com) where she shares tips on eating. She admires Shalene Flanagan, the first American woman to win the New York City marathon in 40 years and an author who's written cookbooks with runners in mind.
"In seventh grade, I felt, 'I'm building my body for the future, especially on the inside, and it's going to affect me for my entire life,'" she says. "Since then, I've been interested in health for myself and for my peers. I post recipes on my blog. It's fun.
"I feel better without a lot of sugar; I don't feel sluggish. I like eating whole foods and I cook every night. Plus, nutrition is a huge part of running."
Maag anticipates another successful cross country season; she finished fourth individually as Norman High won the Class 6A state title.
She would like to run collegiately, but "I want to focus on academics and find a college that fits me first," says Maag, who sees environmental design, psychology and (no surprise) nutrition as possible majors.
Maag's fitness helps with her non-running passion, backpacking. She says one of her best experiences was a three-week excursion at Philmont Ranch in New Mexico last summer.
Norman coach Scott Monnard says Maag is always open to instruction.
"She's low maintenance," he says. "You don't have to worry about her when it comes to academics and athletics. She maximizes her ability and the girls look up to her.
"She is as an intense a trainer as I've seen in 21 years. I have to challenge her on recovery days not to run and just cross-train with swimming and cycling."
With a 4.0 GPA and a hefty Advanced Placement load of classes, Maag is considering Santa Clara University and California Polytechnic State University.
Aubrey Byers
Sophomore – Deer Creek High School, Edmond
Cross country
Byers finished eighth in the Class 6A meet as a freshman, so she and her coach see nothing but limitless potential this season.
"Every runner can keep pushing themselves," Byers says. "I just keep working harder and harder every day to improve."
Coach David Riden says Byers has a perfect combination of determination ("She doesn't like to be beat; she doesn't make excuses") and temperament ("She's good-natured, loves her teammates and doesn't take herself too seriously").
A challenge for all cross country runners is mental endurance. Byers handles that by not thinking about herself.
"When you start, you want to think about how you feel when you finish and how you've helped your teammates," she says. "I think about running for my team, not just for myself."
When she's not running, Byers volunteers with her church regularly. She also has "sea shells all over my room. I have about 800," which she's collected since she was little.