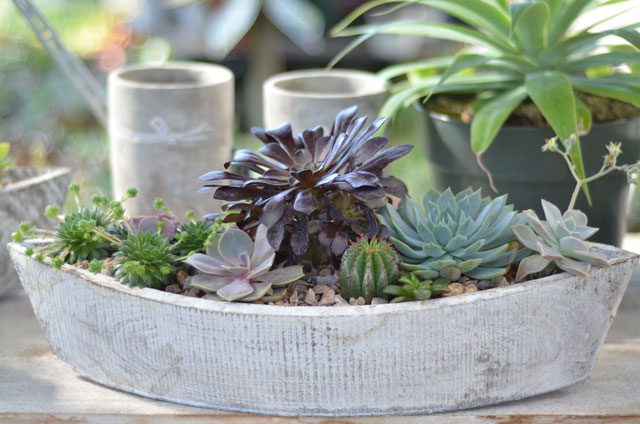 [dropcap]Think[/dropcap] of your summer garden as a theater with a cast of colorful performers. Some of those "actors" on stage can be dramatic containers starring fruits, veggies and flowers.
Container gardening is growing popular as more people downsize, living in apartments with balconies or condos with postage-stamp lawns. It also takes some of the toil out of traditional gardening.
It's as easy to grow fruits and vegetables in a pot as it is to plant a row of asparagus, which needs ample ground for growth.
Paul James, of Tulsa's Southwoods Nursery, says container gardening for fruits and vegetables blossomed as breeders created selections designed for container gardening.
"The vines of a cucumber can grow 20 to 22 feet long in a traditional garden," James says. "In a container, vines grow only 2 to 2 ½ feet.  Older folks, my 'Ben Gay gardeners,' love container gardening. Millennials also like this trend, inspired by the emphasis on fresh, locally-grown produce. You can't get more local than your own backyard."
Among fruits James knows thrive in containers are strawberries, blueberries, raspberries and dwarf fruit trees. Perennial vegetables, especially peppers and tomatoes, also grow well in containers.
"Any type of container – even old wheelbarrows – works well with adequate drainage and well-drained soil," James suggests. "Never use garden soil. It compacts like concrete."
Brad Porter, of South Tulsa's Hardscape Materials, says container choice is essential to success. Terra cotta pots are popular. Porter favors the Vietnamese pots Hardscape imports.
"The Vietnamese have the best clay in the world for pottery," Porter notes. "It's extremely dense, baked at high temperatures for a long time and frost-proof. Mexican and Chinese pottery is porous, soaks up moisture, cracks or breaks in cold temperatures."
Garden centers offer pots in a colorful variety of shapes, sizes and materials. While pottery pots are favorites, concrete and fiberglass have merit. Choose the location of your pot before planting. If you like portability, save your back. Choose fiberglass.
Porter says, "Container gardens dress up areas where you can't plant. You can add color, a broader range of plants near your home, then bring them inside in winter, especially tropicals. It's also a good way to get your feet wet about gardening if you're a novice gardener."
Brandi Mosley, of Oklahoma City's TLC Garden Center, suggests Smart Pots, an Oklahoma product in varied sizes. With Oklahoma's patchwork soil conditions, Mosley says, "The Smart Pot is constructed of fabric that provides good aeration and drains well." She also recommends a TLC potting soil, mixed with a back-to-earth compost.
The cost for container gardening is minimal compared to traditional garden planting. Mosley says one pot, soil and plants is about $50 to begin container gardening.
Consider compatibility when planting a container flower garden. Some plants are territorial and temperamental. They may not like their roommates. Like children, they also have brief illnesses and contract diseases.
These garden experts agree a garden of any size, from a small container to a lush acreage, is well worth the effort in any season.