David Littlefield, chief operating officer at Littlefield Agency, wanted to create a fresh, upscale image at the Tulsa advertising firm's headquarters that would inspire his staff and diverse roster of clients.
What he envisioned was a long way from the company's original, traditional office layout. The change has been a paradigm shift.
"The results have been exciting and, frankly, made our agency a better place to work," Littlefield says. "Our staff was initially leery of giving up their former offices, but, in the spirit of willingness to participate in a more creative, collaborative environment, they were all in on this progressive move."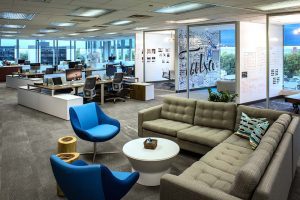 Littlefield asked MATRIX Architects Engineers Planners, Inc., including Julie Lackey and Shannon Mitchener, to create this inviting work environment. 
The kitchen, with upscale amenities, is designed to be a multipurpose gathering space. A wall-size chalk board is a creative message center for the staff. There are pingpong and pool tables – perfect ways to release energy if employees need a break or to mull over a client's project.
Visitors see no traditional receptionist area in this ultra-contemporary office. Instead, a digital sign-in screen and a floor-to-ceiling message board welcome guests.
"It's a favorite place for clients to take selfies," Lackey says.
Clients, whom Littlefield used to visit at their own offices, sit in several living room-style settings, with sofas and chairs arranged to invite conversation. In lieu of closed doors or cubicles, open spaces invite clients and employees to utilize informal conference areas. Some staff work areas resemble private dining booths.
Lackey notes that the design and architectural style has enhanced the staff's creation of compelling, engaging branding projects, the hallmark of this agency. 
Littlefield also knows that not everybody learns and works the same way.
"Providing a variety of work areas was crucial in the new design plan," Lackey says. "Mr. Littlefield wanted a surprise every time you turn a corner. Now, each space has its own personality, but all the spaces flow together as a cohesive design. That's a big change from the typical office environment."
An important zone is the Do Not Disturb room – quiet and perfect for concentration – branded with a large "Shhhhhhh" in front.
"The surfaces in that room are soft, as is the color palette. There are no conversations here," Lackey says. "But there are a variety of settings to better serve how employees work, including a cozy bench and stand-up work surfaces.
"The total work environment is now the perfect setting for serious contemplation on clients' projects."
The office's color palette is thoughtful. Soft grays and muted lighting have occasional pops of turquoise and red-orange, adding just the right touch of brightness. The floor-to-ceiling windows in this fifth-floor office bring in natural light and overlook downtown.
"We have 36 different work stations and more than 20 different locations to hold a private conversation or team meeting," Littlefield says. "I've got to tell you, MATRIX knocked it out of the park for us. The space flows well, is very creative and exudes an energy that was previously blocked from flowing by all the hard walls of the offices and conference rooms."