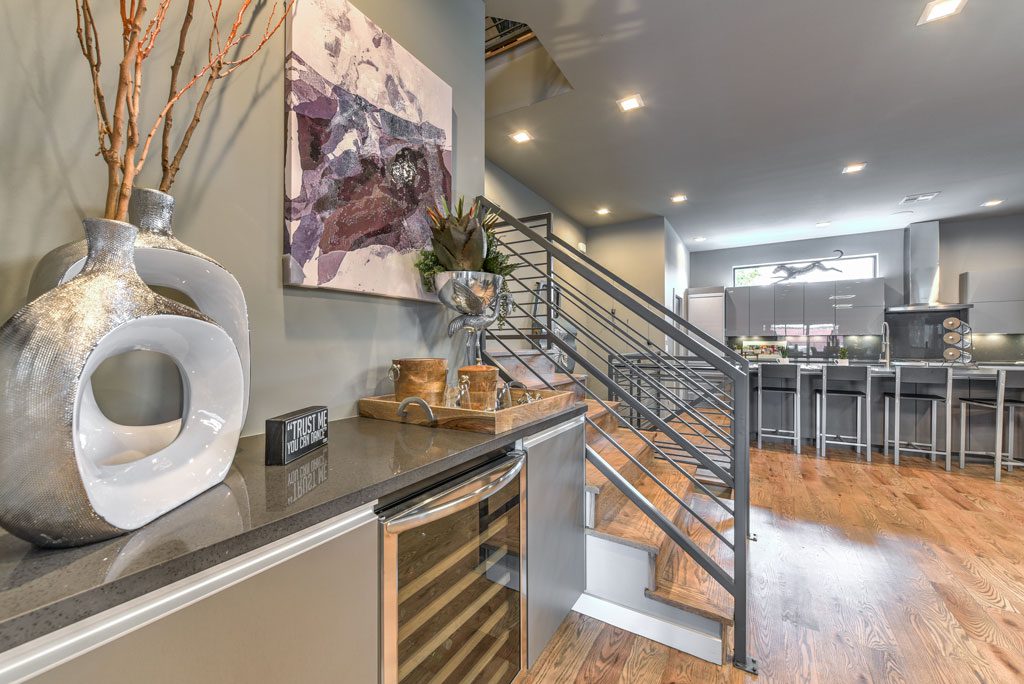 Photos by Reed Ewing
You could say Ronette Wallace is an interior designer who colors outside the lines.
That is exactly what she did when John Morgia asked her to style the interiors for his new three-level, 2,200-square-foot, 21-foot-wide townhouse in Oklahoma City.
John's parents are of east Indian heritage, so he grew up appreciating brilliant, sensual colors. For his new home, he wanted a modern feeling and a crisp, minimalist style with colorful accents.
"John was generous with trust in me to add fun, interesting pieces, many of them custom designed," Ronette says.
The townhouse was built by Adam Hawes's design team at Innoluxe. The Toronto native has concentrated on the SoSA (South of St. Anthony) area just north of Downtown OKC.
"I love the modern feeling of this area," Adam says. "It's like a big city with tall ultramodern homes. Since I'm dealing with small lots, I have to be very thoughtful in my use of square footage in these new homes."
John invited Ronette to join the project in April as the townhouse neared completion.
"John allowed me to mix textures with color while maintaining the integrity of a modern style," Ronette says. "We created custom pieces and mixed those with urban and rustic accents to create a very fun, well-designed space that is perfect for a bachelor. Each room has a unique personality and the home flows very well."
Web-Exclusive Photo Gallery
Working with a neutral palette of white, gray and navy, Ronette completed the project to time with John's June move-in.
"Working with that color theme, I added a deliberate kaleidoscope of colors," she says. "By using the colors purposefully and with discretion, I was able to create warmth within the coolness of the neutral colors."
Ronette has a creative design philosophy.
"I don't like to be restricted to a certain style," she says. "I like integrating rustic pieces with modern touches to add warmth and interest to a room. I wanted modern mixed with some funky pieces."
The most unusual is a vintage painted truck door that reflects an industrial feeling. It's a whimsical accent piece positioned between two stair levels.
"Hanging it posed the greatest challenge of the project," Ronette says.
John's townhouse has no garden, but each level includes an outside deck. Nature's views come inside with a deck off the main living area on the second level and off the master bedroom and bath level. The rooftop deck provides an expansive view of OKC's downtown skyline, which sparkles at night.
As a designer, Ronette brings a diverse background to any project she tackles. She attended Bauder Fashion College in Arlington, Texas, for fashion merchandising, and later the University of Science and Arts of Oklahoma in Chickasha. A pivotal move was taking courses from the Sheffield School of Design in New York in 2002. Then she established OTW Interiors, her "off the wall" design firm.
An inveterate shopper, Ronette scours antique stores and flea markets to find treasures for her clients. She also caters to several artisans who have served her well during her career. For John's townhouse, she used custom art by Lesley Lynch of Edmond because "whatever I imagine, [Lesley] can create."
"I like to integrate styles that don't adhere to strict design guidelines," Ronette says. "I love to repurpose items my clients have. I find it more interesting to layer pieces that are vintage and new, modern and eclectic to give each project its own personality."
What she created for John is a home with a cohesive design throughout each level of the townhouse.
"I like to feel that a home is well developed and interesting – that it has a story and it's not just a group of pretty rooms," Ronette says. "So when I was creating John's design game plan for the townhouse, I followed my norm and colored outside the boundaries of modern design. I loved creating a space that was uniquely designed with John in mind."
John says, " I loved the way Ronette incorporated my personality into every room."