[dropcap]As[/dropcap] frontman for The Flaming Lips, Wayne Coyne has been part of some of the most unusual projects in music in the past 35 years, including releasing a 24-hour song held on a USB stick sealed inside a human skull. But today he's dealing with a much more mundane problem: a broken phone.
"My screen was really broke, and I took it to – not Apple dealers, you know, they're just dudes who are fixing it, and part of it was fixed and then secretly parts of it are messed up," he says. "So I'll take it back to them, and they'll fix it up."
It's an odd start to a conversation that eventually includes everything from encasing the blood of musicians who worked with the group in a vinyl record to reading books written in languages Coyne doesn't speak, but there has always been a combination of the absurd and the normal with Coyne and The Flaming Lips, who recently released their latest album, Oczy Mlody.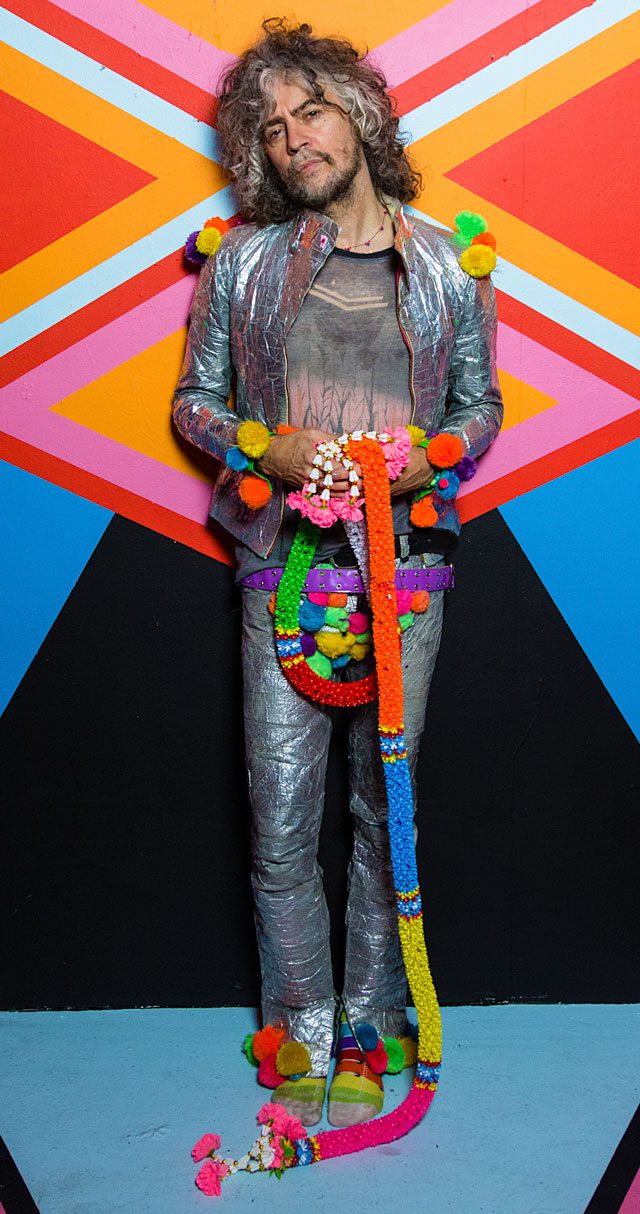 Formed in 1983, the psychedelic band recorded on an independent label until signing with Warner Bros. seven years later. Despite reaching mainstream success with The Soft Bulletin and Yoshimi Battles the Pink Robots (which went gold in the United States and platinum in the United Kingdom), Coyne still lives and works in Oklahoma City.
"It never occurred to us that we should be part of the music business or entertainment industry," Coyne says. "Still even now, that just isn't part of the way we think. Even back then in the very earliest '80s, we were glad we could record here and do it all ourselves. We made our very first record here. I did the album cover at my kitchen and sent it off to a place that manufactured it all."
Since signing with Warner Bros., Coyne has become known for projects atypical of the music industry. For Heady Fwends, where the band collobarated with musicians including Bon Iver, Erykah Badu, Chris Martin of Coldplay and Yoko Ono, the Lips released a limited edition record that had small amounts of blood sandwiched into the vinyl. An EP titled Gummy Skull Song was placed on a USB drive and enclosed in a brain-shaped gummy that was, in turn, placed in a gummy skull. And 7 Skies H3 was a single song on a USB drive placed in a human skull provided by Skulls Unlimited, an Oklahoma City company.
While each of those projects received a good deal of attention, Coyne says that was never the original intention – they were just projects that interested him, and his contract with Warner Bros. allows him to work on less mainstream projects on his own.
"I like all those sorts of things, so I pursue it, but I wouldn't think it was anything other than that, and anyone doing anything radically different should be doing it just for those reasons," he says. "I think because of the way The Flaming Lips are, I think people allow that we'll do these freaky things, and we have a reasonable chunk of our audience that likes that. So we can put things out, and it appears to work and support itself, but I think a lot of audiences would be freaked out if they had to listen to a record full of blood.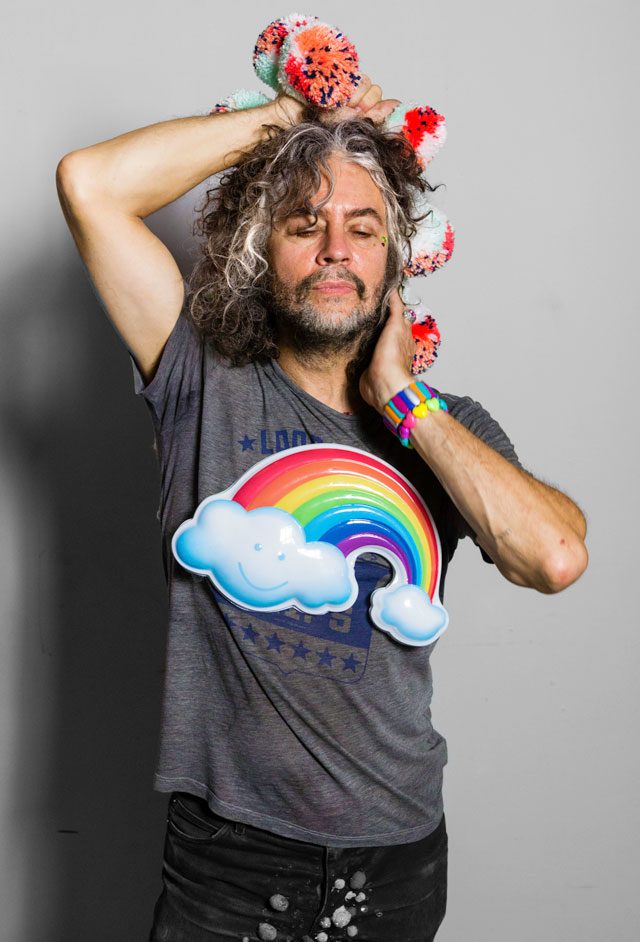 "I mean, I want to do it, and most of the things The Flaming Lips are about, I say I want to do it and nobody stops me. So we get to make movies and videos and gummy skulls and real human skulls, and no one has said, 'No, you can't do that.'"
The band released Oczy Mlody on Jan. 13. Coyne chose the title, Polish for "eyes of the young," from Blisko Domu, a Polish translation of Erskine Caldwell's novel Close to Home.
Coyne says he liked the phrase and picked the book up because he liked the cover, but he found himself looking at it more in following weeks.
"It was only after I put it in my bag and had it for a couple of weeks that I looked at it and was like 'Ah, I kind of like this,'" he says. "It's funny when you read things that are in languages that you understand – you're immediately transported into someone else's thoughts and you don't really have to work at it. But when you don't know what it's saying, it's kind of like trying to read in your dreams. I don't know if you've ever been aware of what's happening in your dreams and you try to read a newspaper or something. You can't read it because the mechanism of reading is someone else's thoughts, and you just get to pick them up a piece of a time. The same thing kind of happens when you pick up a book when you don't know what it's saying."
The band is on tour, but Coyne says the Lips already have potential future projects. Like most of Coyne's ideas, however, nothing is certain at the moment, and it's likely the next project will follow whatever ideas grab him and lead him down new paths.
"You know, we never had something that was so mega-successful we were compelled to keep copying it," he says. "It always sort of seemed like, 'Well, I think people like it enough,' and you might as well go on whatever path you desire at that moment and not worry about it too much. I'm glad we've been able to always say, 'Here's the kind of music we want to make now, and here's the kind of stuff we want to do with our production' and all that sort of stuff. It's insanely rewarding and satisfying, and it's wonderful on an artistic level."