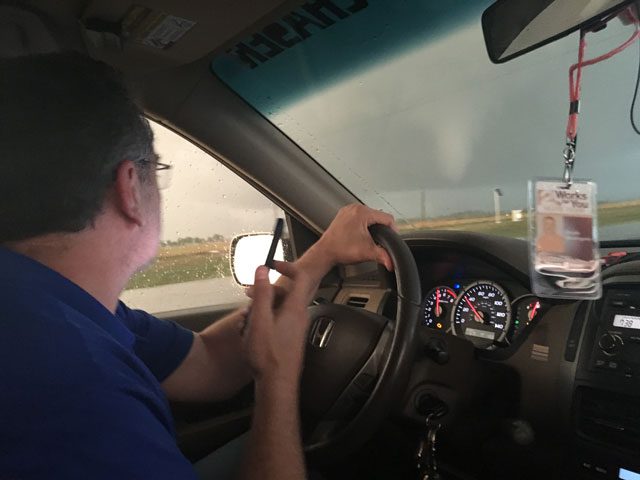 [dropcap]KJRH-TV[/dropcap] storm chaser Derek Masengale got his start from his hot air balloon business – when a meteorologist he took for a ride saw how important meteorology is to flying balloons, he invited Masengale to his first storm chase. Masengale says he was hooked from the start. He's been chasing storms for 34 years and working the last 20 of those professionally for The Weather Channel and local television stations. In addition to storm chasing, he also works a full-time job as a surgical assistant and board eligible orthopedic physician assistant. We recently talked to Masengale and got his thoughts on …
… his most unnerving experience.
In 34 years of chasing, I've had several unnerving experiences, but one of the most recent was the tornado last year that hit Tulsa. I literally drove through the tornado as it crossed Bird Creek in Owasso on Highway 169. Luckily it was at one of its weak points in the life cycle, so I was able to get back to the chase and, in fact, chased for another two hours after that.
… balancing storm chasing and his full-time job.
Sometimes it is difficult to balance storm chasing and surgery, but fortunately a lot of the storms occur later in the afternoon or early evening in the spring, especially following the daytime heating, which allows me to work my normal job and be finished in time to catch the storms as they form.
… modifications to storm-chasing vehicles.
My storm chase vehicle is no different than any other truck of its kind other than the fact that it has all the equipment that I use, such as cameras, laptops and communications equipment. There are a couple of chasers in the country that have tornado intercept vehicles that are constructed much like a tank, but those are not typical storm chaser vehicles.
… tips for staying safe in severe weather.
Listen to the meteorologist and the storm chasers reports. When they say there's a tornado in your area, heed those warnings and take shelter immediately. But I think the most important safety tip is to have a plan in place before storms arrive and practice that plan to know where you are going to take shelter before the storms arrive. Also, have a bag ready with flashlights, weather radio, extra shoes, your medicines you might take and a change of clothes for each person.
… why he enjoys storm chasing.
I think the biggest misconception that people have about storm chasers is that we're always all about the thrill. While that is true to some extent – I do love the thrill of the chase – my first and foremost reason to go out and storm chase, at times spend my own money, spend my time, put the wear and tear on my own vehicle, is to simply inform and keep the public safe. I love what I do. And I love meeting the people that I've met, including some that came up and told me that hearing my report of a tornado on the ground near their area actually prompted them to take shelter, which possibly saved their lives. That is the reward that I get for doing what I do and doing what I love.