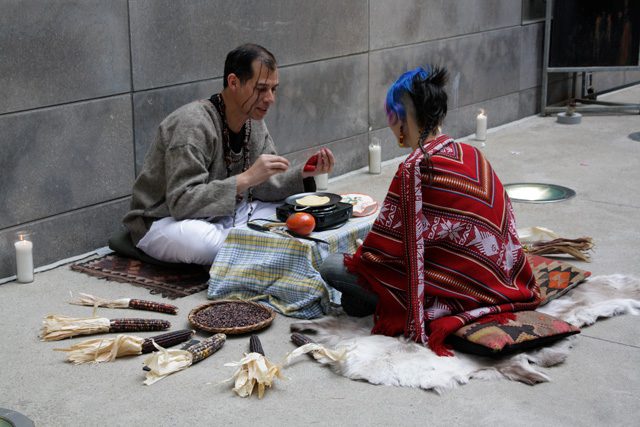 Dia de los Muertos, a holiday that honors and celebrates lost loved ones, falls on Nov. 1. Although it is most widely celebrated in Mexico, the tradition comes to Tulsa thanks to Living Arts and its Day of the Dead Festival.
"The event started out by asking artists to build ofrendas [offerings] to their relatives – it was simply an exhibit similar to the one I saw in Oaxaca, Mexico, the year before," says Steve Liggett, artist director at Living Arts. "Over the years, it has evolved into a festival with performances, food, drink and a children's area. We now allow anyone who would like to honor a loved one to build an altar to them."
The belief is the spirit of those who have died will see this altar and spend the day with their families, which brings a spark of joy into loss. This festival also creates a cultural connection for those who have not heard of or celebrated the holiday before.
"We are building a bridge of understanding between the Latino and non-Latino communities through the solemnness of death and the celebration of life," Liggett says.
Other spectacles include the performance art group Sur Oeste Arte Estancio, a Dance of the Skeletons, and the Tortilla Oracle Jorge Rojas, who reads tortillas as a form of divination.
Beneath these spectacles, at its core, the festival utilizes art forms to celebrate the endless cycle of life and death.
"Since nothing ever completely dies, we should not fear Death, but dance with Death and … make friends with Death since we will all meet him/her eventually!" Liggett says.
The festival will run Nov. 1 from 5 p.m. to 11 p.m. in the Brady Arts District. For details, visit livingarts.org.