In scores of towns and cities across Oklahoma, Main Street revitalization depends upon everything from public grants and private investment to getting residents to shop local. City leaders agree that drawing people to activities and attractions is crucial in helping downtowns spring back to life.
"A big part of the success is all the amazing festivals and events held every year," says Dan Schemm, executive director of Visit Norman and a board member of the Norman Downtowners Association. "There's Fall Fest, a Christmas parade and the Norman Music Festival."
In Guymon, the Pangaea event gives residents a chance to learn about the rest of the world and open their hearts to immigrants, says Melyn Johnson, director of Main Street Guymon. The festival, named for the supercontinent that linked most land masses 335 million years ago, has a family represent each of today's seven continents. Pioneer families and newer residents recruited by Seaboard Foods, which has a nearby facility, tell their origin stories and how they made their ways to Oklahoma.
"There is a real art to building a community," says Johnson, a Colorado native who attended Panhandle State University on a volleyball scholarship, fell in love with Guymon and never left. "It's working together and having common ground and common goals, and that's one of the things that we work at here."
Tishomingo leaders capitalize on everything they've got to keep their Main Street vibrant: from history and culture to natural wonders and a certain country music singer. Main Street is U.S. Highway 377, and Blake Shelton's Ole Red restaurant anchors its junction with Oklahoma 22.
Jordyn Frazier, executive director of the Johnston County Chamber of Commerce, says Shelton was born in Ada, "but we claim him."
Ole Red opened first, followed by The Doghouse, a partnership between Shelton and Ryman Hospitality that is an event venue with a stage for live performances, Frazier says.
Frazier says other tourist draws are the historic Chickasaw National Capitol, the Tishomingo National Wildlife Refuge and the Blue River, which features trout fishing and kayaking.
Broken Arrow's recent holiday lighting ceremony was the first for Jennifer Conway, who became president and CEO of the Chamber of Commerce and Economic Development on July 1.
"I truly felt like I was in a Hallmark Christmas," Conway says. "We all counted down together. All the trees down Main Street went on at the same time."
The city's Rose District stretches for more than a mile along Main Street. City leaders kicked off its revitalization in 2005 with more than $65 million in historic building renovation, a performing arts center, a farmers market pavilion, an interactive water feature, decorative street lamps and landscape planters.
"Main Street was four lanes," Conway says. "In order to create a safe pedestrian area, we brought Main Street down to two lanes. They just put in a beautiful new bike lane. My next dream is a small dog park right off Main Street."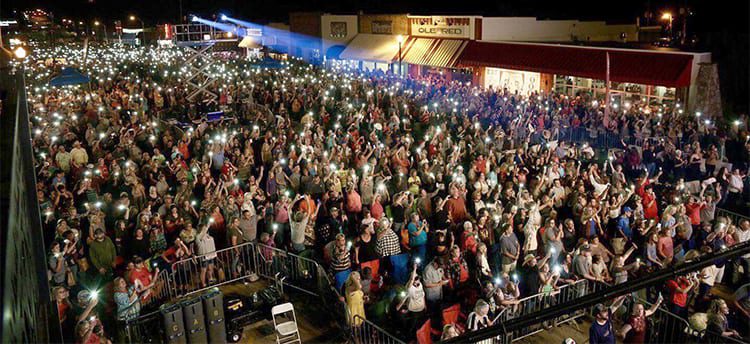 Schemm says Norman's downtown "is not really recognizable anymore" compared to how it looked when he went to college there a couple of decades ago.
"We have a variety of locally owned restaurants, shops, art galleries, food truck parking and bike racks designed by local artists," he says. "It's an amazing atmosphere in Norman."
In Guymon, Main Street, also U.S. 64, goes past the Texas County Courthouse and through downtown.
"Downtown is the heart of the town," says Johnson, referring to restaurants, clothing stores, a coffee shop, an art gallery, a frame shop and two furniture stores.
Members of the immigrant community have started businesses and tend to shop locally, she says.
In Tishomingo, Murray State College runs the boutique Murray on Main.
"It's a two-year college always looking to diversify and bring in revenue," Frazier says. "The boutique carries clothing and home décor and has wedding and shower registries."
Tishomingo hosts its annual Chickasaw festival, which draws 10,000 visitors. The chamber of commerce coordinates Small Business Saturdays, a July 4 event and the Alfalfa Bill Bicycle Ride. But there's no denying what Shelton has done to invigorate the city of about 3,100.
"He stops in pretty frequently," Frazier says. "He owns six buildings on Main Street. One is a bed and breakfast for when his family comes to stay. He likes to hunt and fish in the area."
Broken Arrow's Rose District is a nod to the 1920s, when residents planted roses to beautify the town, held an annual rose festival and called itself the City of Roses and Sparkling Spring Water. The city's investment has paid off with skyrocketing sales tax revenues, Conway says.
"We have also seen a revitalization of the homes near downtown, and a significant increase in property values," says Conway, adding that nearly all the downtown businesses are locally owned, including 17 restaurants and 45 retailers.
Guymon's Johnson says Main Street revitalizations have ripple effects.
"When you have a healthy downtown, you are apt to have a healthy outskirts, too," she says. "It's a very good indication of how healthy your schools are. Local businesses are the ones who sponsor the sports program and the school events. And one of the things that makes it easier for us is that we have a daily newspaper, which helps you keep your identity."