This story is part three in our downtown series. Read part two and part three.
[dropcap]It[/dropcap] is impossible to deny the growth in downtown Tulsa and Oklahoma City. Neighborhoods that once closed down when the sun set are now busy long into the night, more businesses have moved in these areas and new residential complexes open on a regular basis. The phrase "live, work, play" is often repeated when discussing downtown for good reason – as more people work downtown, they choose to live downtown. As more people dwell downtown, more entertainment options appear for the residents. Each element causes growth in the other two and fuels the fire of development.
Tulsa and Oklahoma City are no longer beginning their downtown renaissance. The renaissance is well underway.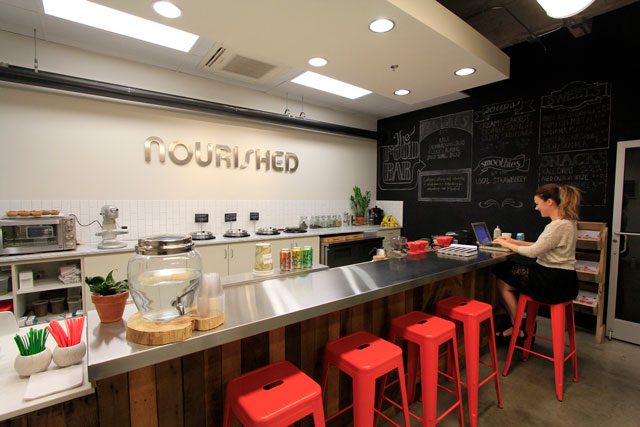 The Rise of Mixed Use
Nothing represents the "live, work, play" lifestyle in downtown better than the rise in mixed-use facilities – buildings that combine retail, entertainment, office and residential space to provide a little bit of everything for their residents.
Carnegie Centre in OKC not only has residential apartments, but businesses and restaurants on the ground floor. Developer Judy Hatfield says the mix has been popular with the building's tenants.
"I think it makes it very efficient for my tenants because they love to have the opportunity to have a restaurant right downstairs where they can go have something wonderful to eat," she says. "They also have the advantage of a fabulous spa for both men and women in the building."
More mixed-use projects in Oklahoma City are expected to open in the coming years – developers Gary Brooks and Charlie Nicholas have purchased the First National Center, ending doubt about the building's future, and plan to convert it to a mixed-use building. Brooks is also involved in The Steelyard in Bricktown, which will combine apartments, retail space and two hotels.
In Tulsa, most of the attention on mixed-use facilities is on Santa Fe Square, a project that will combine apartments, retail, restaurants and Hotel Indigo.
"I definitely believe that the businesses that we will have at Santa Fe will be attractive not just to the residents of Santa Fe but all the residents downtown," Casey Stowe of Nelson+Stowe, developers of Santa Fe Square, says. "This will be a $150 million project that will be attractive to everyone in Tulsa."
Downtown's Hotel Boom
The growing number of attractions in downtown districts is increasing both the demand for hotel rooms and different types of hotels. SJS Hospitality operating partner Jeff Hartman, Ceja Corporation Chairman and Interak President Greg Oliphant, and Interak CEO David Sharp have worked to create hotels that not only provide the best accommodation available for visitors to the city, but also blend seamlessly with the neighborhood. The partners have multiple projects downtown already and will be putting Hotel Indigo, a new boutique hotel, in the Santa Fe Square development.
"Hotels located within vibrant urban cores want to integrate into the neighborhood districts and attract a loyal customer base as well as provide an amazing guest experience to travelers," Hartman says. "Part of the design concept we are doing with the Hotel Indigo follows a pattern we have done with our other two projects downtown – Fairfield Inn & Suites in the Brady Arts District and Courtyard by Marriott in the Deco District – and that is to provide street-level restaurants and retail, which promotes walkability and connectivity within the districts."
Hotels are no longer providing restaurants aimed only at guests – like their other projects, Hotel Indigo's dining is intended for downtown residents as well as visitors.
In Oklahoma City, historic hotels such as the Skirvin Hilton, which completed a $55 million renovation and restoration in 2007 and started a $4.3 renovation project last August, have been joined by other hotels such as 21c Museum Hotel – a hotel in Film Row that also has art exhibitions for both visitors and residents.
The Draw of Downtown Living
What can someone looking to move downtown expect to find for a downtown apartment? A luxury penthouse? A small studio designed for affordability?
The answer is both.
Robert Leikam, president of American Residential Group, says one of the goals of ARG's properties is to provide not only proximity to downtown attractions but an amenity-rich experience tailored to the neighborhood that includes swimming pools and courtyards – amenities that may be unexpected in the midst of a downtown area.
ARG recently completed the 161-unit project The Edge at East Village and is beginning work on The View, which will have a rooftop swimming pool and clubhouse overlooking ONEOK Field. The rich variety of amenities available has led to a diverse group of tenants ranging from young professionals right out of college to empty nesters who chose to move downtown after living most of their lives in the suburbs.
Leikam says the entertainment options have created an influx of residents. Many people might repeatedly come downtown for dinner and other events and decide it makes sense to live downtown as well.
"It's been the entertainment options that I think have gotten some over the hump to make that leap into this new lifestyle, this exciting lifestyle," Leikam says. "I think there's an option for everyone. Word has gotten out this is the place to be."
The close proximity to entertainment options is a driving force to a diverse downtown migration in OKC as well.
"Living downtown is a lifestyle," says Judy Hatfield, developer of the Carnegie Centre in Oklahoma City. Hatfield herself chose to live downtown after many years of maintaining a home.
"I have lots of events at the Skirvin [Hilton Hotel], and I walk over there," she says. "If I want to go to a Thunder game, I walk to that. If want to go to a movie, I walk to that. It's just so convenient."
Downtown areas in Tulsa and OKC now define the "live, work, play" mentality – and each new development brings more people to the area.
"People are excited about what's happening [in downtown Tulsa], and that excitement feeds off of itself," says Casey Stowe of Nelson+Stowe. "As more people come downtown to work or live or play, that breeds more activity downtown, which makes it more exciting, which makes more businesses open, which brings more people out."
The options in both cities continue to grow more diverse. Brickhugger, the company behind the renovation of The Mayo Hotel and The Mayo Residences, recently opened the Y Lofts, and Nelson+Stowe will have apartments available in the mixed-use Santa Fe Square project. In OKC, The Wheeler District is breaking ground this year and will be open to residents in 2018, and new residential projects are being built in Bricktown as well. Developers are working to provide a variety of apartment options, and the result is a resurgence of downtown living that affects people of all ages.