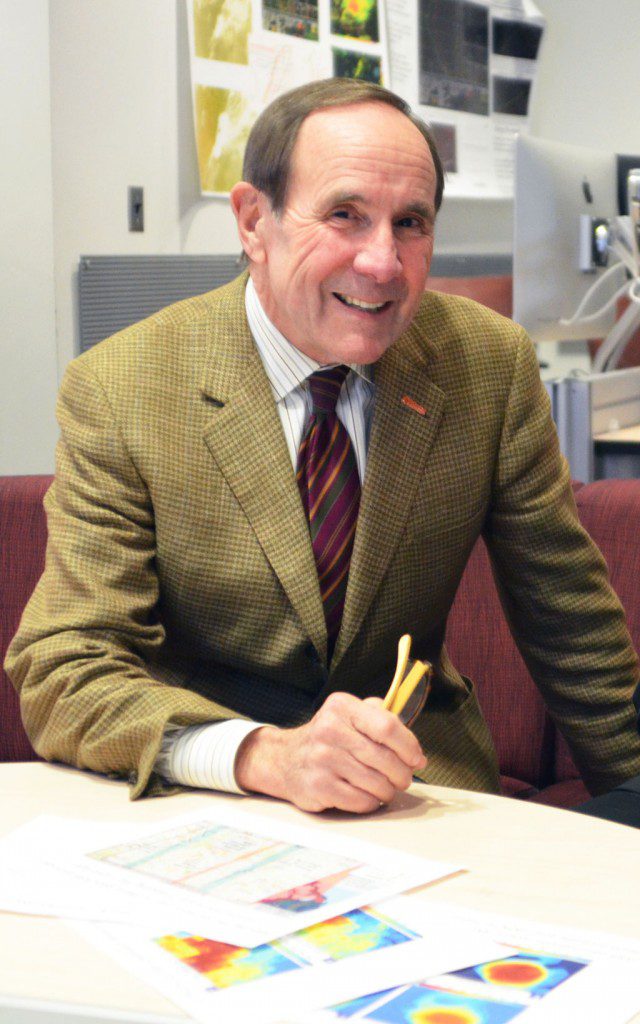 In addition to being the director of the National Weather Center in Norman, Berrien Moore, Ph.D, holds several other titles that keep him busy. He is the dean of the University of Oklahoma's College of Atmospheric and Geographic Sciences, vice president for weather climate programs, and a professor, holding the Chesapeake Energy Corp. Chair in Climate Studies. Previous to accepting these positions, he was the director of the Institute for the Study of Earth, Oceans and Space at the University of New Hampshire and the founding director of Climate Central. He was part of the Intergovernmental Panel on Climate Change in 2007, when it shared the Nobel Peace Prize with Al Gore, and he has also received the 2007 Dryden Lectureship in Research from the American Institute in Aeronautics and Astronautics and the NASA Distinguished Public Service Medal. We recently caught up with Moore and got his thoughts on …
… the structure of the National Weather Center.
I would say it is unique in this country, as far as I know. I know of no place like it. It brings together the federal government, through primarily five NOAA [National Oceanic and Atmospheric Administration] laboratories or sections; state agencies and then the university. So you've got federal offices, state offices, the University of Oklahoma and then you have the center that really serves to help facilitate some of the interaction. And it really is remarkable.
… the NWC's pursuit to always be better.
I remember after the Moore tornadic events of three years ago, when they gave a very critical 17-minute warning, I talked to people from FEMA [Federal Emergency Management Agency]. They all said when they saw the path of the tornado, they thought the deaths would be in the hundreds. And I think it was 24. We had a team gathering three or four days after that, and the sense was it wasn't the best it could have been. Until we get it to zero, nobody's happy.
… changes in how severe weather warnings will be issued in the future.
One thing that we're really looking at hard is that society really is adopting the cell phone. The cell phone knows who uses it. It could know if the person is hard of hearing or if the person doesn't have perfect eyesight. It would know where the person is and if the person is in a car. If you're delivering information, it would be very important to exploit that. You would think we might move to a time when you're getting custom forecasts that tell you what to do to find safety. The whole data delivery … that is a big, big deal.
… recent projects at the NWC.
We've just been awarded a $170 million grant from NASA that was highly competitive, with only one selected in the country. We were fortunate enough to be that one. We will be putting an instrument that measures the tree-made carbon gases in the atmosphere, and mapping that at about a 5-kilometer resolution every day for the Americas. So every day we will map out carbon gases on the atmosphere every couple of miles, wall to wall through the United States, Mexico, Brazil … every single day. And that really is a brand new capability. It's never been done before. We will also be able to make measurements of photosynthesis and changes in photosynthesis, wall to wall, every day all through the Americas. This can be very, very valuable.
… what he is most proud of in his career.
Being here at OU. I think it's just the character of the university and its commitment to excellence, all of which stems from President [David] Boren. I think it's just a great opportunity to work here. This is a remarkable place. There are a lot of good universities – I've been at several – but OU is unique in terms of the underlying character and fabric of the institution and its commitment to stability and excellence.