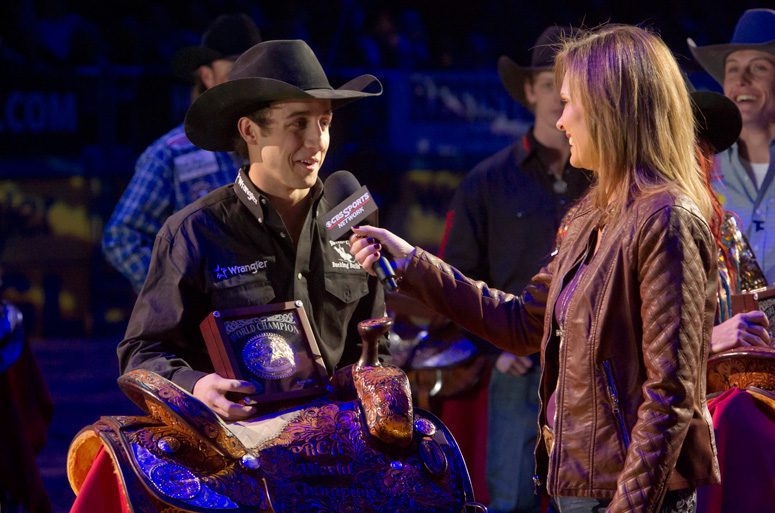 Sage Kimzey might be only the second rookie in history to win the National Finals Rodeo championship, but he's hardly a newcomer to the sport. The 20-year-old, a native of Strong City, Okla., has bull riding in his blood.
"I come from a bull riding family," says Kimzey, whose father rode bulls and then spent 30 years as a barrelman, the person charged with entertaining crowds in between rides.[pullquote]Planes, trains and automobiles, whatever will get us there."[/pullquote]
Kimzey's been riding so long, in fact, that he has no memories of the first time he hopped up on a bull.
"It's just always something that I've done," he says, a statement that highlights both his easygoing nature and his natural humility. When asked how he learned and progressed as a rider through the years, Kimzey's reply is a typically self-effacing one: "If you do it enough, you're going to become fairly decent at it."
One thing he has had to learn through bumpy experience is the rough-and-tumble world of rodeo traveling. Though his father did rodeo for so long, Kimzey admits his own transition into a life constantly on the move took some getting used to. While the winter months are slower, with around two shows a week, during the summer he typically rides in a show every day of the week. This means lots of travel by various means – "Planes, trains and automobiles, whatever will get us there," Kimzey says.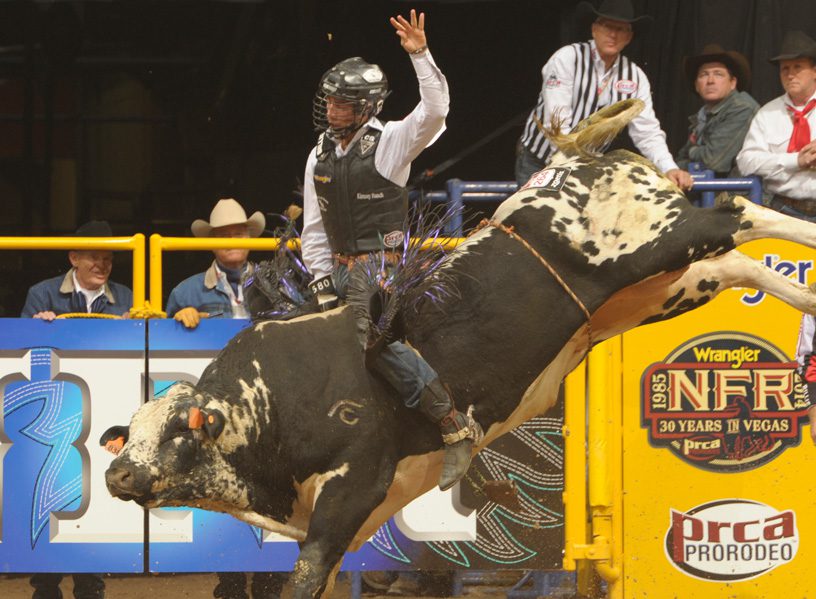 Life on the road seems to work fairly well for Kimzey, whose simple tastes make for low-key travel. Unlike touring rock stars, he has no special routines or requests when out traveling, not even any good luck charms he has to take with him. Just a few bags of clothes, and he is ready to go. All the traveling does mean Kimzey has wandered far beyond the borders of his home state. Arizona has the craziest bull riding fans, he confides, but his favorite place so far has been Montana, which he describes as gorgeous and having perfect weather.
Of course his main focus out on the road is in honing his skills as a rider. His patient dedication has certainly paid off. The last year a rider won the championship in his first year was 1963 – a streak Kimzey was happy to break.
"It's something I've been working towards since I was a baby, so for it to come true this quick – it's a cliché, but it really is a dream come true," he says.
Despite his rapid success, Kimzey has no intentions of letting up; for now, his focus is entirely on winning more championships. The career of a bull rider is short, generally only 10 years or so, due to the high impact nature of the sport – Kimzey has broken several bones – but when his riding days are over, he hopes to keep living the dream life as a cowboy. As long as the future involves riding, it will be a good one for this champion.