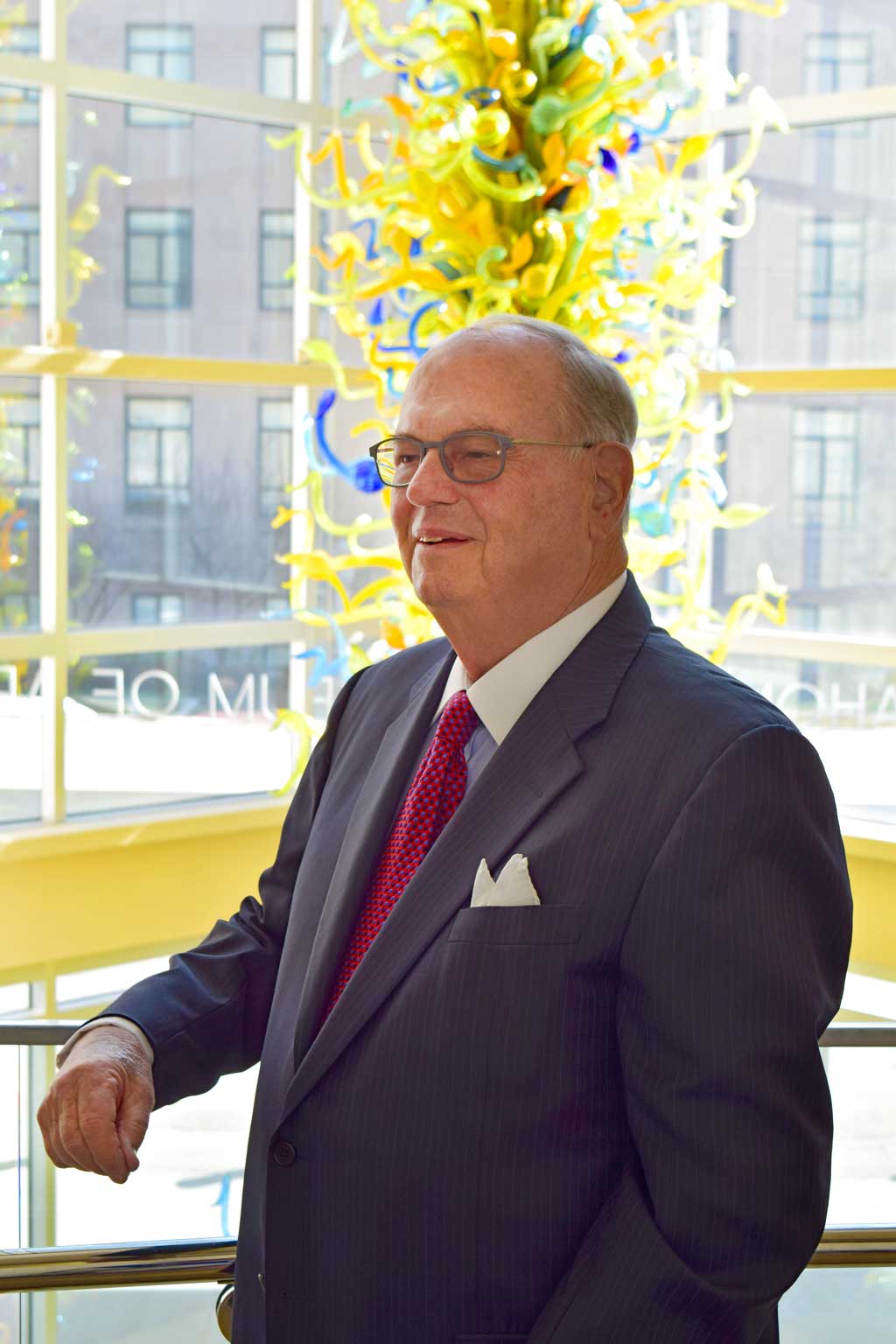 J. Edward Barth, patron of the arts and humanities, is chairman of the board of trustees of the Oklahoma City Museum of Art and a practicing lawyer as president of the Judicial Learning Center and Museum of Historical Society of the U.S. District Court for Western Oklahoma. The Oklahoma City native serves on the boards of the Oklahoma City Philharmonic, the Oklahoma City Philharmonic Foundation, the Oklahoma Arts Institute Foundation, and Oklahoma Humanities. Barth was chairman of the first Oklahoma City Metropolitan Area Projects initiative and the Oklahoma City Community Foundation. We caught up with Barth and got his thoughts on …
… his passion for arts and humanities. 
I have been a staunch advocate for my clients and for my community. Beginning with grade school, my teachers stimulated me to pursue a professional career, as well as my interest in the arts and humanities. Since I decided to remain in Oklahoma to practice law, I have always been dedicated to the improvement of our community. I firmly believe that strong arts and humanities programs are the cornerstones of a thriving, vibrant and growing community.
… arts and history enhancing
his career and life.
The visual and performing arts and history are my passions. Wherever I travel, my curiosity inspires me to inquire about the history of the place and to explore the art museums, galleries and local performing arts. In law, it is always an exciting new challenge to learn about a client's business and the nature of the client's legal issues.
Art and law have much in common. The intellectual lens often used by attorneys to inquire about the "when, where, what, why and how" readily applies to the analysis of a work of art. Both rely on facts and interpretation to understand fully the experience. When you view a painting or sculpture through this lens, your knowledge is enhanced if you are informed about the historical context, the artist's background, the materials and technique, the composition and the visual impact. It is also fascinating to discover the many nuances in both the law and art across differing disciplines and periods of time. In both fields, there are always new pronouncements or perspectives to understand, and new ideas to explore.
… staying in Oklahoma.
I had expected to begin my legal career in New York City or Washington D.C. However, I was offered an incredible opportunity to return to Oklahoma City to spend a year as law clerk to then Chief Judge Alfred P. Murrah of the United States Court of Appeals for the 10th Circuit. During that year, in which I learned so much about the law and the courts, my friend from high school, Richard L. Bohanon, persuaded me to stay in Oklahoma City and begin a law practice with him. That was one of the best decisions of my life.