The Pros of Volunteering
One innovative way for seniors to get moving is to dedicate their time to helping others. Volunteering helps keep bodies running, minds nimble and hearts softened.
Tara Powell, director of education and training at Cedarhurst at Woodland Hills, explains how its communities organize events for the Walk to End Alzheimer's to benefit the Alzheimer's Association.
"Our team members, residents, family and loved ones are always welcome and encouraged to attend," she says. These events are a great way to stay active and support an important cause.
"Covenant Living at Inverness offers both short-term and long-term volunteer opportunities," says Sharon Goforth, resident life director. "We have residents who volunteer with other levels of care on outings, pushing wheelchairs, reading to residents, providing Bible studies, giving of their musical talents and other needs."
The benefits of volunteering for seniors – or anyone – are vast.
"Volunteering adds to anyone's sense of purpose," says Goforth. "It also provides social interaction with those of like interests. Our residents are not isolated because of volunteer opportunities in the community."

Staying Fit, Staying Safe
Many of these volunteer opportunities bring groups of seniors together while they get out and about. Participating in group activities is a proven way to stay motivated toward movement goals.
"Having a friend join a fitness class with you is helpful to keep you consistent – which seems to be the case for anyone at any age," says Powell. Cedarhurst offers dedicated staff members who provide encouragement and help tailor fitness programs, including tai chi, yoga, cardio and more, to keep residents interested and building strength and improving balance. For those who prefer a more competitive component to their exercise, they can participate in cornhole tournaments, chair soccer, balloon volleyball and horseshoes.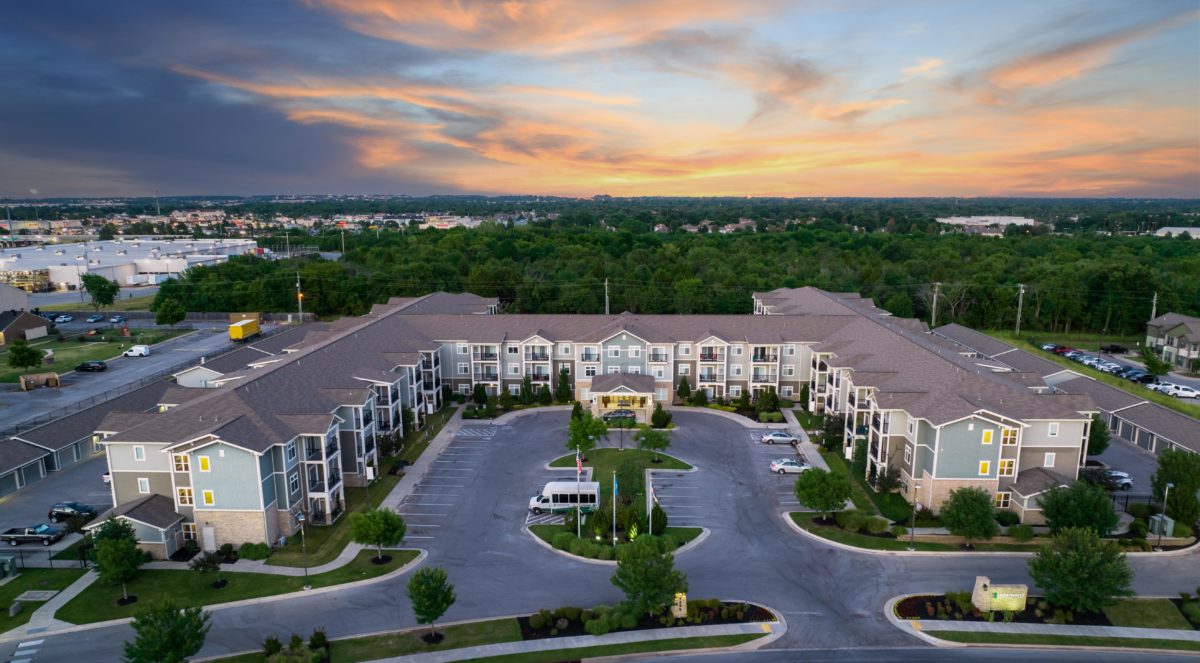 While staying active can lengthen and improve anyone's life, it remains important to know physical limitations, especially as we age. Considerations such as beginning an exercise program gradually, making sure to drink plenty of water while exercising, wearing appropriate clothing and footwear, and consulting a physician before starting a new exercise program are always important, but can be especially critical for seniors to keep in mind.
Goforth mentions that Inverness residents "have access to well-trained fitness professionals who stay abreast of education and safety. We also partner with our on-campus therapy department for programming and recommendations when needed."
At Cedarhurst, leadership emphasizes the importance of checking with a physician to ensure the safety of a new exercise plan.
"Our Life Enrichment team members also encourage residents to do what the body allows, and they also offer modifications to the exercises for anyone that may have limitations," says Powell.
Exercising the Brain
The many benefits of staying active – especially when done carefully and in groups – go well beyond the physical.
"Exercise has been proven to help brain health simply because of the vascular benefits," says Goforth.
At Covenant Living at Inverness, they pair brain challenges with physical exercises for even more advantages for the residents.
These types of activities are beneficial because mental health and exercising the mind as we get older are just as important as keeping the body active. And living within a community means that many seniors have a lot of opportunities to increase their mental acuity.
"Residents in our community have the opportunity to participate in activities which improve brain function," says Goforth. "They exercise their brains together while laughing and encouraging one another."
They offer resident-led activities such as art and bridge, as well as programs on technology and other topics of interest.
"We implement brain-boosting food in dining with our Crafted by Cedarhurst program, as well as brain-boosting activities which can be done in social settings such as trivia-type games including Jeopardy, brain puzzles and charades," says Powell.
Senior living communities are also vital in caring for a special group – residents living with dementia. At Covenant Living at Inverness, for example, they "offer a non-pharmacological program … [that] pairs supporters with learners [with dementia] for brain exercise. This brings enhancements and blessings to both sides of the table," says Goforth.
A Focus on the Holistic
A move toward a more holistic lifestyle for older adults is a major trend for retirement communities. Both Inverness and Cedarhurst work hard to keep up with these changes and stay on top of what their residents want and require.
Powell mentions that it is important to have a focus on how today's seniors want to spend their time. They have noticed changes as newer generations begin to move into the community. She mentions that today's seniors tend to have much more familiarity with technology and more awareness of the importance of a physical lifestyle.
This "allows us to change our programs to be relevant to their lifestyle choices," she says. "Residents in our communities want opportunities to continue enjoying things they were active in before moving in and to continue learning and growing as well."
At Covenant Living at Inverness, activities are always steered by the desires and input of the residents. Everyone wants to know they have control over the choices of activity available to them.
"The lifestyle is designed to provide a variety of experiences to lessen stress, improve health and mobility, and improve nutrition," describes Goforth. Inverness also utilizes their network of 19 other communities within the Covenant Living organization to stay on top of best practices and cutting edge principles.
So whether seniors are taking advantage of active volunteer opportunities or exercising their brains and bodies, staying active can lead to a longer, healthier, more fulfilling life. There is not a substitute for an active lifestyle, no matter a person's age.
Perfecting Vacation Safety
Vacationing can be an excellent way to stay active and continue learning as an older adult. But as we age, there are new considerations when it comes to staying safe while traveling. Powell offers these suggestions:
1. Be sure to let someone know the address where you'll be staying;
2. Ensure that you have your cell phone, any accompanying chargers, and your purse or wallet with your ID inside;
3. Know your body's physical limits and take necessary breaks;
4. Be mindful of your surroundings and research the area you're visiting so you are familiar with the terrain and other safety concerns that might arise;
5. Check beforehand for the presence of stairs or steep areas you may have to walk during your trip. If you are not booking the lodging yourself, be clear with whomever is about any limitations you may have;
6. Have a talk with your doctor if you are unsure about your limitations preventing you from being able to enjoy parts of the trip;
7. Stay hydrated and use sunscreen for any prolonged outdoor
activity.